25 WNC Luxuries
25 WNC Luxuries:
Locals, especially, can confirm Western North Carolina holds a wealth of riches. From natural wonders and cultural treasures to splurge-worthy experiences, the indulgences afforded in our mountains are, in many ways, priceless.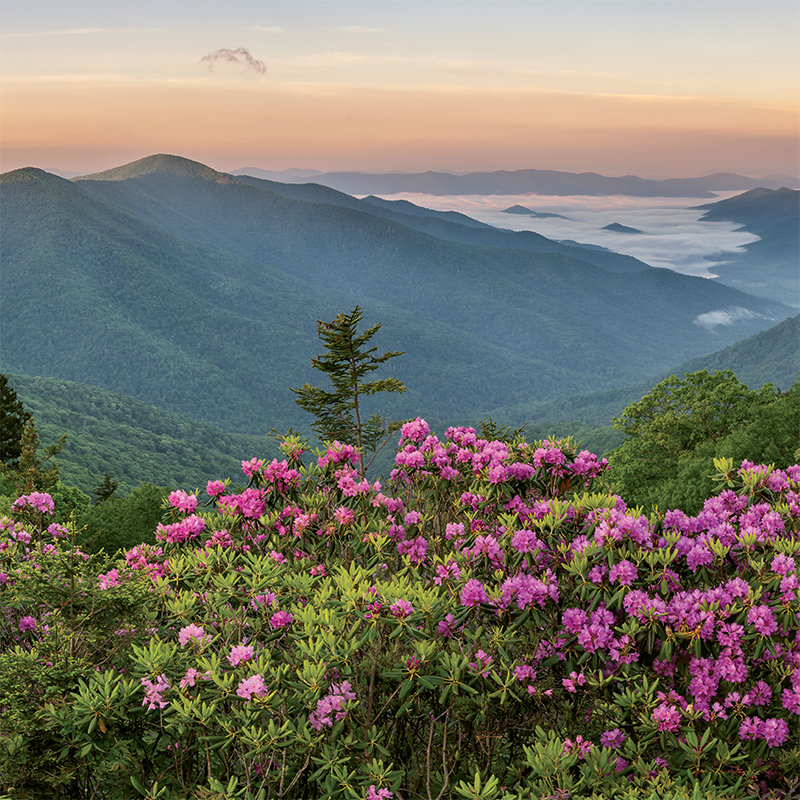 1. Spectacular Wildflowers
"It was the wildflowers, above all, that held my interest. I came to know the spring ephemerals, the toothwort and trout lily, bloodroot and mayapple, whose parasol leaves huddle in April like the Kentucky Derby's infield crowd. Early summer had is own charms—the fire pink and Indian paintbrush along the rocky, south-facing slopes; bluebead in the seeps and low places; and later, in the damp clearings, the Turk's Cap Lily, seven feet or more of whorled leaves and speckled blooms. Higher up the mountains, purple-flowering raspberry, carrion flower, and poke milkweed put on their own modest show against a backdrop of passing clouds." —Kent Priestley, from "Why We Love Western North Carolina," WNC magazine, July 2012
Hawksbill Mountain, overlooking Linville Gorge
2. The Great Outdoors
Without argument, WNC is a mecca for outdoor recreation, and no matter your pace, everyone from leisure hikers to speedy off-road bikers can participate. Whether you seek a quiet walk in the wintery woods, wildflowers in the spring, a cooling waterfall during summer, or a scenic overlook at the peak of fall, there's a trail that will get you there. In addition to the miles and miles of pathways, our blue ridges and green valleys are the playground of white-water kayakers, rock climbers, mountain bikers, road cyclists, and other adventure seekers. Here, nature reigns supreme, and there are myriad ways to enjoy it that bring health, wellness, and fun.
Our Trail Guide column features one great hike in each issue. Find the archive of hikes, complete with details and directions, online at wncmagazine.com/trail-guide.
Roots & Branches artisan bread, North Asheville Tailgate Market
3. Fantastic Markets
From sweet potatoes to kale to apples and everything in between, WNC produces some fantastic produce—in fact, it's our number one cash crop. Appalachian Sustainable Agriculture Project in Asheville and Boone-based Blue Ridge Women in Agriculture are fantastic resources for anyone interested in producing or purchasing local food—and the plentiful array of farmers markets across the region makes loading up on fresh-as-can-be fruits and veggies easy. Instagram user @jamiechestnut loves the local produce and heritage crafts at Haywood Market, and @shantielixirs adores the variety of wares found at Asheville City Market, North Asheville, Weaverville, and West Asheville tailgate markets.
Cherohala Skyway; (Bottom right) Dry Falls
4. Scenic Drives
Reader pick WNC magazine reader Bonnie Brock shared that she particularly likes "the drive from Franklin to Highlands—old barns, porch sitting, fall foliage, Nantahala Gorge, Dry Falls, The Rickman Store, the Historical Museum in Franklin, Deal Farms Fresh Produce (corn maze), and Rose Creek Gem Mine."
You don't have to hit the Blue Ridge Parkway to take a sight-seeing drive in the mountains—a handful of designated scenic byways and countless winding back roads are dotted with dramatic panoramas, historic encounters, and quaint towns that are worth the detour. Popular routes include the Cherohala Skyway, which passes through Cherokee and Nantahala national forests in Graham County; NC 9 (aka the Black Mountain Rag), which cuts across the Eastern Continental Divide from Black Mountain to Chimney Rock; the Nantahala Byway through the Nantahala Gorge; and Mountain Waters Scenic Byway, which travels from Almond to Highlands.
Eastern hellbender salamander; Omphalotus illudens (aka jack-o'-lantern mushroom)
5. Tremendous Biodiversity
From high, mountain peaks and boreal forests to deep gorges flush with subtropical species, Southern Appalachia is one of the most biologically diverse regions in the world. Around 10,000 species are known to exist here, including more than 4,000 plant species, 2,000 species of fungi, and 500 moss and lichen varieties. Nowhere else in the world do more species of salamanders exist, including the giant Eastern hellbender, and more old-growth forests stands are found in WNC than in any other Southern Appalachian state. Since the days when the early botanists William Bartram, Asa Gray, and André Michaux set foot in these mountains, countless individuals, government agencies, and organizations have worked to protect our natural places, forming national and state parks and placing tracts of land under conservation easements, preserving our natural resources for generations to come.
6. Mountains for Miles
"The mountains were his masters. They rimmed in life. They were the cup of reality, beyond growth, beyond struggle and death. They were his absolute unity in the midst of eternal change." —Thomas Wolfe, Look Homeward, Angel
(Left) Beers at Wedge Brewing Co. in Asheville; (top right) Burntshirt Vineyards; (bottom right) The Chemist
7. Craft Beer and Spirits
They don't call Asheville "Beer City, USA" for nothing: beginning in 1994, when Highland Brewing Company launched and became the city's first legal brewery since the days of Prohibition, craft breweries have been popping up like wildflowers. Today, there are 30 breweries in Asheville alone, and upwards of 60 throughout the region, including Innovation Brewing in Sylva, Fonta Flora in Morganton, Appalachian Mountain Brewing in Boone, and Nantahala Brewing in Bryson City. In an intoxicating move, wineries and distilleries have followed suit. Burntshirt Vineyards in Hendersonville, Overmountain Vineyards in Tryon, and Grandfather Vineyard in Banner Elk are just a few of the region's award-winning wineries, while Eda Rhyne and The Chemist in Asheville and Blue Ridge Distilling Company in Bostic craft small-batch spirits like European fernet, gin, brandy, and whiskey from local ingredients.
(Left to right) Linville Gorge; Cullasaja River Gorge; The Gorge zip line in the Green River Gorge
8. Spectacular Gorges
WNC puts the gorge in gorgeous. Ages of shifting forces and weather carved these deep ravines into some of the area's most striking natural features, creating microclimates with unique ecosystems. Our gorges are the realm of sparkling waterways, dense forests, five-star trails, history, dazzling views, and remarkable creatures. Burke County's Linville Gorge, Cullasaja River Gorge in Macon County, and Green River Gorge near Saluda are among the region's most popular.
9. Cherokee Culture
Forget about the days when the lands of the Eastern Band of Cherokee Indians were a home for kitschy tourist attractions: now, the Qualla Boundary is an authentic cultural mecca. Frequent festivals celebrate the tribe's history and present, and then there are the permanent fixtures like the comprehensive Museum of the Cherokee Indian, the epic outdoor drama Unto These Hills, and the Oconaluftee Indian Village, which takes visitors back in time to experience a Cherokee community circa the 1700s. What's more, the Eastern Band continues to invest considerable sums and energy into preserving the Cherokee's traditional arts and language.
(Left) Dan and Jael Rattigan, owners of French Broad Chocolates; (right) Paul and Sarah Klaassen, owners of HenDough Chicken & Donuts
10. A Small Business Backbone
Independent businesses have staked their claim in WNC for ages, and today entrepreneurship thrives here as much as ever. The region continues to carve out economic success in new ways from some of the bases it always sprang from: active risk-takers, a culture that supports them, and organizations like Mountain BizWorks (a nonprofit that has helped thousands of startups take flight) and SCORE (a national organization of volunteer executive counselors that was founded in Asheville in 1966). Joining in the synergy is an ever-growing number of coworking spaces, small business incubators, and venture capital supporters.
(Clockwise from top left) Meat from Hickory Nut Gap Farm; The Marketplace in Asheville; Chef Katie Button; Carolina Mountain Cheese Fest; The Library Kitchen + Bar in Sapphire; Chai Pani in Asheville; Lusty Monk Mustard; Cyprus in Highlands; Mac 'n' Cheese by Chef John Fleer
11. The Food Scene
While locals have always enjoyed eating here, our food scene has evolved into one that's nationally recognized. Juggernauts like Asheville-based James Beard nominees Katie Button (of Cúrate, Nightbell, and Button & Co. Bagels) and John Fleer (of Rhubarb, The Rhu, and Benne on Eagle) help keep things robust and diverse. Already a region rich in food and drink festivals—the Asheville Bread Festival, Marion's Livermush Festival, Carolina Mountain Cheese Fest, and Brewgrass, to name a few—the culinary scene will only get tastier: In September, Button, along with a board of Asheville food professionals, are organizing the inaugural Chow Chow: An Asheville Culinary Event, which promises to educate, entertain, and satisfy. Add to that the ever-growing list of locally produced artisan food products—including Lusty Monk mustards, No Evil Foods' plant-based "meats," Smiling Hara Tempeh, Hickory Nut Gap meats, and beer, wine, cider, and spirits galore—and you can see why the best way to experience the region is with your taste buds.
Wine & Dine: Find restaurant reviews, new and notable eateries, and a selective guide for dining by county at wncmagazine.com/eat-drink.
(Left) Mount Jefferson; (top right) Great Smokey Mountains National Park; (bottom right) Chimney Rock State Park
12. So Many State and National Parks
It's hard to imagine WNC without its spectacular state and national parks. Much more than just eye candy, they're public playgrounds for all to enjoy throughout the year. A walkable route from Clingmans Dome in the Smokies to Jockey's Ridge on the Outer Banks, the Mountains-to-Sea State Trail is ideal for exploration year-round, while Elk Knob State Park in Watauga County is perfect for those seeking wintertime snow sports. Transylvania County's Gorges State Park offers dazzling views of myriad waterfalls, whereas South Mountains State Park in Burke, Cleveland, and Rutherford counties is a multiuse destination for hikers, horseback riders, and mountain bikers. With glorious blooms and 360-degree vistas, Mount Jefferson State Park in Ashe County offers perfect summer hikes. And with more than 11 million visitors in 2017, Great Smoky Mountains National Park is the most visited national park in the country.
(Left) Banner Elk; (top right) Blowing Rock; (bottom right) Innvocation Brewing in Sylva
13. Great Small Towns
For all of our sizable features—big skies, mountains, and rivers—sometimes it's the small towns that make WNC shine. Each has its own attributes, character, and stories to share. Consider Saluda, with a population of just over 700, a truly small and inarguably great town that hosts some of the region's longest-standing businesses and a wealth of outdoor activities nearby. Or Sylva, with its host of bookstores, eateries, and breweries, along with one of the finest public libraries to be found in these parts. And then there's the likes of Blowing Rock and Banner Elk, High Country towns that fit huge offerings into relatively little packages.
Visit wncmagazine.com/feature/13_best_small_towns_western_north_carolina to learn all about the region's 13 best small towns. And you can discover more of WNC's great locales at wncmagazine.com/travel-outdoors.
(Left) The Omni Grove Park Inn and Spa; (inset top right) The Spa at Old Edwards Inn; (inset bottom right) Westglow Resort and Spa
14. World-class Spas and Pampering Treatments
WNC has long been a refuge for healing, and between the stress-relieving scenery, outdoor activities, plentiful yoga classes, and cool mountain air, a pampering spa experience is just the icing on top. From day spas to destination retreats, there's no shortage of opportunities for such relaxation. In Asheville, alternative treatments include sensory deprivation at Still Point Wellness, enriching salt therapy at Asheville Salt Cave, and hydrotherapy at the Japanese- or Swedish-style soaking experiences found at Shoji Spa & Lodge and the new Bada Bastu, respectively. And talk about luxurious—don't miss the splurge-worthy opportunities to be had at the region's top award-winning spas: Old Edwards Inn in Highlands, Westglow Resort in Blowing Rock (which also offers wellness coaching), and The Omni Grove Park Inn in Asheville, where the multiple mineral pools surrounded by ambiently lit cavernous rock walls might be one of the most lavish settings of them all.
15. America's Favorite Drive
For countless people, driving the Blue Ridge Parkway is an experience that holds beloved memories. Originally conceived as the "Crest of the Blue Ridge Highway" in 1909, it wasn't completed until 1936, during Franklin Roosevelt's presidency. America's longest linear park runs 469 miles from Virginia to North Carolina, passing through 12 WNC counties as well as Pisgah National Forest, and ends in Great Smoky Mountains National Park. Millions of people travel the parkway each year, experiencing what locals love: fishing, hiking, picnicking, and more, as well as stops at landmarks like Julian Price Park and Linn Cove Viaduct.
(Clockwise from top left) Brevard Music Festival, Brewgrass Festival Asheville, LEAF Downtown Asheville
16. Festivals Aplenty
Western North Carolinians love a good celebration, as evidenced by the myriad festivals that take place nearly every weekend across the region. There are plentiful cultural arts gatherings like LEAF in Black Mountain, Brevard Music Festival, Folkmoot USA in and around Haywood County, and App State's Appalachian Summer Festival, as well as ample beer and food fests. There are also a number of curious celebratory traditions, like Brevard's White Squirrel Festival in May, Banner Elk's Woolly Worm Fest in October, and Saluda's Coon Dog Day event in July.
17. The East's Highest Peak
The highest peak in the U.S. east of the Mississippi River, Mount Mitchell was first surveyed in the mid-1830s by University of North Carolina professor Elisha Mitchell, after whom the mountain was later renamed. A truly awesome sight, it is surrounded by Mount Mitchell State Park—North Carolina's very first state park—and its nearly 2,000 acres offer visitors 85-mile views on clear days as well as up-close glimpses of diverse plant and animal life, including more than 90 species of birds. In addition to hiking and camping, the park features a history museum and restaurant. The attraction is not only culturally significant, but serves as an economic driver for Yancey County as well.
(Left) Pinball Museum; (right) Hart Square Village
18. A Wealth of History
Love local history? Then you're lucky to be in WNC, where museums dedicated to the past are astoundingly present. County heritage museums abound, each offering a unique take on local stories, and then there are those focused on niche topics that fascinate, including Maggie Valley's Wheels Through Time, Cherokee's Mountain Farm Museum, Asheville's Pinball Museum, the Smoky Mountain Trains Museum in Bryson City, and Hendersonville's Western North Carolina Air Museum, to name just a few. When it comes to living history, Hart Square Village in Catawba County is remarkable; it preserves the log cabins, trades, and culture of early America.
19. The French Broad River
The world's third oldest river has shaped our land, people, and culture, and never seems to stop reinventing what is has to offer. From its headwaters in Rosman to its North Carolina terminus on the border with Tennessee, where it continues on, the French Broad has earned its outstanding place in regional history. Raft it, tube it, fish it; camp, picnic, or imbibe by its mostly gentle waters; or kayak its ample stretches of rapids. Any which way, the French Broad flows with reminders of how good ol' H2O enriches our lives. Depending on where you get into or out of it, the options are plentiful. Check out Asheville-based nonprofit RiverLink, at riverlink.org, for a cornucopia of opportunities.
20. First in Fly Fishing
If there's a better place to cast a line, we haven't heard of it, and no one is saying. Western North Carolina is rife with rivers and streams that are home to some of the most prized fish on the planet, especially the mountain trout that delight in the freshest of waters. So it's fitting that WNC is home to both the Fly Fishing Museum of the Southern Appalachians (in Bryson City; learn about its offerings at flyfishingmusem.org) and the country's first official fly-fishing trail, which highlights 15 spots that make Jackson County a prized location for anglers (details at flyfishingtrail.com).
(Top) Grammy-winning kid hop act Secret Agent 23 Skidoo; (bottom left) The Orange Peel; (bottom right) Buskers in Asheville
21. Music Traditions and Diversity
If the mountains had a soundtrack, it would surely be one of old-time and bluegrass tunes, of little-known talents playing the fiddle, mandolin, bass, and guitar on porches and in backroom picking parlors, crooning ballads and folk songs whose roots stretch far back to the region's Scots-Irish ancestors. It might also well be a playlist that showcases diversity. Increasingly, Asheville in particular has a music scene where you'll find local musicians performing everything from funk and jazz to hip hop to West African genres. Three symphonies across WNC are keeping the classics alive and well. And there's an ever increasing collection of fantastic venues where you can take it all in, including The Crossing at Hollar Mill in Hickory, Legends in Boone, and Isis Music Hall, Salvage Station, The Orange Peel, and many more in Asheville, just to name a few.
22. A Trove of Gemstones
Dig just beneath the surface in WNC, and you never know what you might find—there's truly a wealth of wonders down there. Over millennia, our mountains have generated some of the most precious materials to be found on Earth. The Spruce Pine area, for example, is historically and to this day one of the richest regions in the country for gems and minerals. You can experience the phenomenon at many places, but we heartily suggest Emerald Village, near Little Switzerland, where these riches are shared in ways that delight both professional geologists and amateur gem hunters alike.
Upper Whitewater Falls
23. Waterfalls
No matter your age, the allure of sitting before a lovely cascade, feeling the cool spray, or swimming in the pool below doesn't go away. WNC is blessed with countless such wonders, but perhaps no place else can complete with the trove found in Transylvania County, aka the Land of Waterfalls. Some 250 of these waterworks are sprinkled primarily throughout the public lands of Pisgah National Forest, DuPont State Recreational Forest, and Gorges State Park. Here, you'll also find the state's tallest cascade: Upper Whitewater Falls, which plunges 411 feet. See explorebrevard.com for a waterfall guide and list of tour operators. You can also learn about the extreme sport of ice climbing on frozen waterfalls and how you can take part at wncmagazine.com/feature/ice_breakers
(Clockwise from top left) UNC Asheville, Biology research at Appalachian State University, Western Carolina University, A-B Tech Community College's Culinary Arts program
24. Higher Education
When it comes to higher education, WNC's public universities continually rise to the top of their games. Western Carolina University, for example, is riding high on the wings of a state-mandated tuition deal, making it one of the most cost-effective educational opportunities in North Carolina. Appalachian State University is earning accolades for its programs in business and the health sciences, among many others. And UNC Asheville is providing not only a well-rounded liberal arts experience but also stellar continuing-education programs, developing a reputation as a place where learning never stops.
(Left to right) Print artist at Penland School of Crafts, Vase by Zan Barnes from John C. Campbell Folk School, Coffee table by Brian Boggs Chairmakers in Asheville
25. The Wealth of Artists, Crafters, and Creators
Creativity abounds in WNC. These hills and hollows are home to thousands of artists and crafters working in clay, metal, wood, fiber, paint, and more. The region holds two of the nation's highly revered craft schools: Penland School of Crafts and John C. Campbell Folk School. Black Mountain College Museum + Arts Center in Asheville is a gem of an institution that showcases exhibits and opportunities to learn about the famed experimental arts college. And art collectors and shoppers will find no shortage of one-of-a-kind pieces and opportunities to meet the makers. Countless fine art galleries and jewelers' stores dot the region, and you can tour studios through various annual events like the Toe River Studio Stroll (held in June and December) or at your leisure in Asheville's booming River Arts District.
RESOURCES:
Photograph by Steve Yocom Photography, Photographs by (2, Farmers Market) Bryce Alberghini; (Wedge Brewing) Tim Robison; Courtesy of Highland Brewing; Courtesy of Burntshirt Vineyards; (The Chemist) by Jill Schwarzkopf; Photographs courtesy of (zip-lining) the gorgezipline.com; (Cherokee) EBCI Destination Marketing; (French Broad Chocolates) Katrina Ohstrom; (HenDough) Mountain BizWorks; (Hickory Nut Gap Farm) Caitlin Ragan; (The Market Place) by Johnny Autry; courtesy of Katie Button; (Mac' n' Cheese) Johnny Autry; courtesy of Lusty Monk; (The Library Kitchen + Bar) Latoya Dixon Photography; (Buxton Hall) Andrew Thomas Lee; (Chai Pani) Jack Sorokin; (Cheese Fest) Rachel English; (Cypress) Kelly Barbato; Photographs courtesy of (Mount Jefferson) NC Division of Park & Recreations; Chimney Rock State Park; (Banner Elk & Blowing Rock by Todd Bush; Courtesy of Innovation Brewing; Photographs courtesy of The Omni Grove Park Inn; The Spa at Old Edwards; Westglow Resort & Spa; Photographs courtesy of Brevard Music Center; Brewgrass Festival; LEAF Community Arts; (Mount Mitchell) NC Division of Parks & Recreation; Asheville Pinball Museum; (Hart Square) by Reggie Thomas; Photographs (Paddlers) courtesy of Transylvania County TDA; (23 Skidoo) by Mike Belleme; (The Orange Peel) by Sandlin Gaither; Photographs courtesy of UNC Asheville; A-B TECH COMMUNITY COLLEGE; Appalachian State University; Western Carolina University; Brian Boggs Chairmakers; John C. Campbell Folk School; Penland School of Crafts