Welcome to Asheville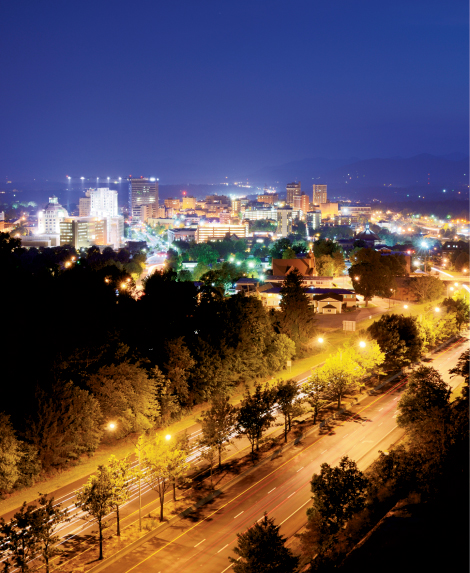 With all the accolades showered upon our mountain city in recent years, scores of visitors come year-round—more than nine million in 2012 alone.
And any time friends or family call and joyously proclaim "I'm coming to Asheville!"—as they tend to do around the holidays—we locals are tasked with tailoring a tour to suit their interests. But who doesn't want to show their guests a good time? Especially when you can get in on the fun and try a few of the restaurants and activities you've been putting off. Here are four itineraries to entertain the in-laws (or your own parents), friends with kids, foodies, and guests looking for a laid-back local experience.
---
In-laws and Parents
When the folks come to town, it's always a good idea to turn to the classic crowd-pleasers and throw in a bit of cultural and culinary exploration.
---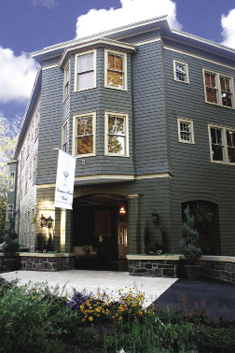 To steer clear of the city hubbub, advise the in-laws to check into one of 16 spacious rooms at the graceful 1924 Princess Anne Hotel, set in a quiet historic neighborhood. The handsome parlor is a great spot to regroup in the afternoons with complimentary wine and hors d'oeuvres. 301 E. Chestnut St.; rates from $129 per night; www.princessannehotel.com
---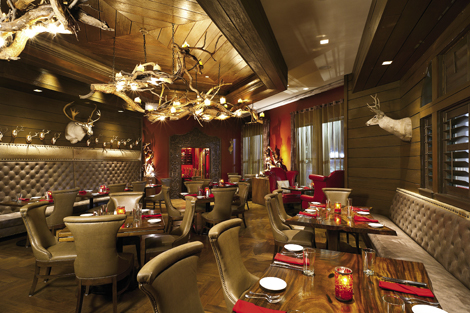 Dinner Date
Settle in for dinner at Red Stag Grill inside the European hunting lodge-inspired Grand Bohemian Hotel. Plush leather seats and wood-paneled walls set the tone for a decadent, locally sourced menu by Executive Chef Adam Hayes. Order the Brasstown Beef strip steak or bison rib eye from Carolina Bison. 11 Boston Way; www.bohemianhotelasheville.com
---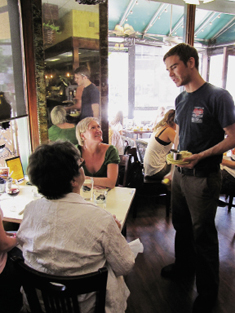 Southern Comfort
Soon your in-laws may be able to hit a Tupelo Honey Café in their hometown, as this expanding enterprise opens locations across the Southeast, but there's nothing like the original. And let's face it; even for a local, it's hard to pass up sweet potato pancakes, biscuits oozing with the namesake sweetener, or a fried egg BLT. Go on a weekday to skirt the crowds or early on weekends for a shorter wait. The downtown location doesn't take reservations, but you can call ahead to get your name on the list. 12 College St. & 1829 Hendersonville Rd.; www.tupelohoneycafe.com
---

All Aboard
After your in-laws enjoy a complimentary breakfast at the Princess Anne, meet up at the Asheville Visitor Center for a historic cruise through town on a Gray Line Trolley. Even as a local, you'll pick up historic tidbits, including the fact that Asheville was the second city in the nation with an all-electric trolley system. From Grove Park Inn to the River Arts District to Biltmore Village, the 90-minute ride hits the highlights. You can hop on and off at 10 stops, and a ticket is good for two days, allowing freedom to explore on your own. 36 Montford Ave.; $21; www.graylineasheville.
---
Explore & Shop
Each morning, particularly during the holidays, throngs of visitors roll through the gates at Biltmore. No matter how many times you visit, the history of George Vanderbilt's masterpiece is enthralling and grandeur impressive. The house is decked for Christmas starting November 2. Allow at least 90 minutes to explore indoors, and reserve extra time to browse the grounds, winery, and Antler Hill Village, which showcases early working life on the estate with displays and demonstrations. To save time, purchase tickets in advance online. 1 Lodge St.; www.biltmore.com. Exit the estate in time to visit the dozens of adorable boutiques and galleries in Biltmore Village. Pop into the new Southern Highland Craft Gallery to pick up a piece of pottery, jewelry, or clothing made by top-notch Appalachian artisans. 26 Lodge St.; www.biltmorevillage.com
---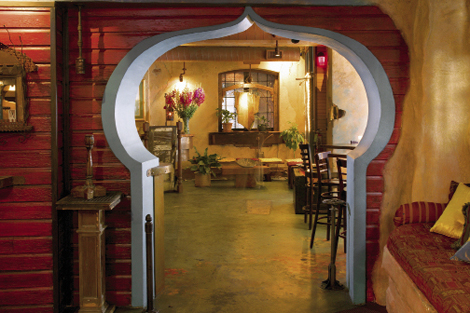 Scene Setters
Round out the day with dinner and a show. Reserve a table at Zambra, a longtime locals' favorite. Inside this exotic den, a panoply of Spanish and Northern African tapas are best washed down with a glass of velvety wine. Set off early for a performance at Asheville Community Theatre. The Best Christmas Pageant Ever, running November 22-December 8, will put everyone in the holiday spirit. 85 W. Walnut St.; zambratapas.com; 35 E. Walnut St.; www.ashevilletheatre.org
---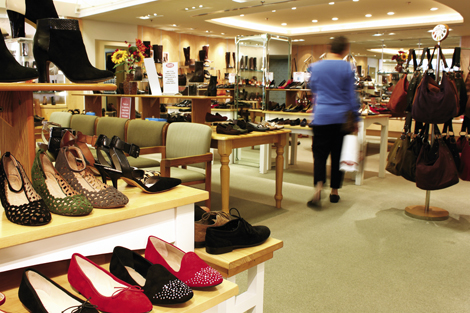 Dive into Downtown
You can explain why Asheville is called the "Paris of the South" over lunch at Crêperie Bouchon, tucked in a quiet, oh-so-French courtyard. The savory Toulouse crepe, stuffed with caramelized onions, mushrooms, goat cheese, and duck confit is a best bet. Afterward, pop into Tops for Shoes to browse hundreds of stylish kicks on two floors, then make your way to the historic Grove Arcade to pick up the next leg of your trolley tour. If you arrive early, check out the shops, from jewelers to furniture dealers, housed in this architectural gem. Or linger for a glass at Santé Wine Bar & Tap Room and toast to the novelty of enjoying vino on tap. 62 1/8 N. Lexington Ave.; creperiebouchon.com; 27 N. Lexington Ave.; topsforshoes.com; 1 Page Ave.; www.grovearcade.com
---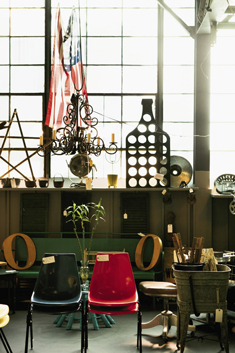 If the parents are treasure seekers, make time for a jaunt through the Biltmore Antiques District. Nearly a dozen warehouses, including Antique Tobacco Barn and ScreenDoor, hold furnishings, European imports, one-of-a-kind architectural accents, and art. Pick up a guide at the Asheville Visitor Center or any of the shops.
---
Friends with Kids
As soon as friends with youngsters come knocking, the game plan calls for adventurous activities that promise to keep mom, dad, and the brood entertained.
---
At Crown Plaza Resort, the on-site zipline and treetop adventure courses and indoor pool will make the kids squeal with joy. Mom and dad get the bonus of free child care while fitting in a workout at the gym. 1 Resort Dr.; rates from $139 per night; www.ashevillecp.com
---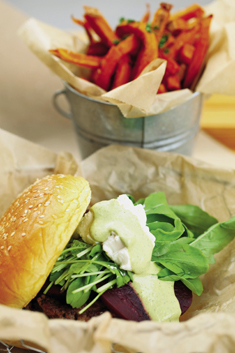 Burger Bonanza
After a day that will surely work up an appetite, take the group to Farm Burger, where the adults can go gourmet with toppings as varied as smoked paprika mayo and oxtail marmalade. Mini cheeseburgers, chicken lollipops, and root beer and coke floats are among the kid-approved bites. 10 Patton Ave.; www.farmburger.net
---
Biscuits, Baby
Load up the minivan and hit Biscuit Head in West Asheville to "put some South in your mouth," as the eatery's slogan says. This hot spot serves an array of fixin's atop cathead biscuits. Dad can go for the heaping brisket biscuit with eggs, smoked chèvre, and barbecue hollandaise. Keep it simple for kids and order plain biscuits, which they can jazz up to their liking with yummy selections from the jam and butter bar. They'll also enjoy the play area. 733 Haywood Rd.; www.biscuitheads.com
---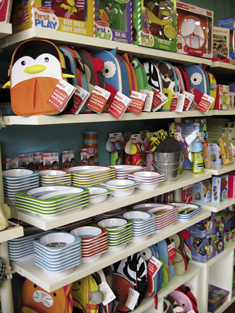 Urban Adventures
Spend the afternoon exploring downtown's child-centric spots. Packed with art supplies, snuggly stuffed animals, games, and science projects, Curio is a great place to snag Christmas gifts. At Fired Up! Creative Lounge, any age can paint pottery, fuse glass, or complete a mosaic. If the kids are rambunctious, wear them out at ClimbMax gym with 30 minutes to an hour of bouldering or belay-assisted climbing. 2 Battery Park Ave., www.curioasheville.com; 26 Wall St., www.fireduplounge.com;43 Wall St., www.climbmaxnc.com
---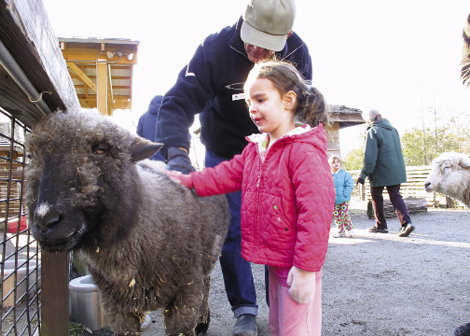 Meet the Locals
In the a.m., head to the WNC Nature Center, which guarantees up-close encounters with gray wolves, otters, a rare hellbender salamander, and about 150 other creatures native to Southern Appalachia. Spend a couple of hours exploring the indoor habitats and loop trail, and check out an Ed-venture Pack to partake in learning activities. 75 Gashes Creek Rd.; $8, $4 ages three to 15, free for two & younger; www.wncnaturecenter.com
---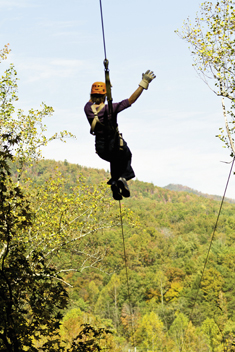 High-flying fun
Bundle up to soar with Asheville Zipline Canopy Adventures or tackle the high-in-the-sky obstacle course at Treetops Adventure Park. The zipline course (10 and older) offers several sky bridges and 10 zips, the longest stretching nearly 1,200 feet. Children as young as seven can choose a route that matches their skill level at the adventure park, which features climbing, swinging, and rappelling challenges. 1 Resort Dr.; zipline $79, $59 youth, adventure park $49, $44 youth; www.wildwaterrafting.com
---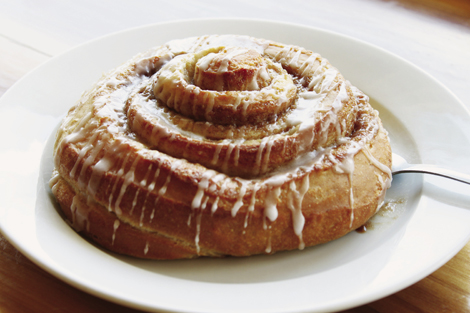 Awesome Eats
Grab a morning meal at West End Bakery, where you can fill up on fluffy muffins, sweet and savory scones, and breakfast sandwiches. The cinnamon rolls are arguably the best in town. 757 Haywood Rd.; www.westendbakery.com
---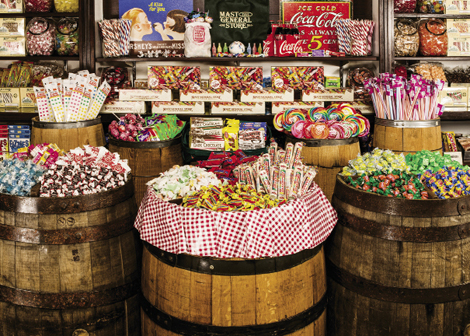 Candyland
At Mast General Store you can pick up anything from hiking boots to cast-iron cookware, but the kids will make a beeline to the barrels brimming with old-fashioned candies. You'll have to tear them away from the toy section packed with gadgets both novel and nostalgic, such as stick-on mustaches, Slinkies, and Silly Putty. 15 Biltmore Ave.; www.mastgeneralstore.com
---
Pizza & Games
Refuel at Asheville Pizza & Brewing Co., home to an arcade and theater that shows films for $3. Matinees are kid-appropriate, and the beer selection and first-rate pizzas and pub grub, like the Napoleon Dynamite breadsticks, Men in Black Beans & Rice, and Zorba the Greek salad, will keep adults happy too. 675 Merrimon Ave.; www.ashevillebrewing.com
---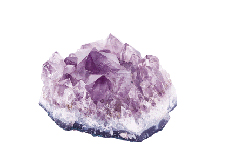 Rock Out
Stop in at Colburn Earth Science Museum, which houses more than 5,000 gems and minerals. Children can take part in a scavenger hunt, explore a mock mine, and inspect luminescent minerals. 2 S. Pack Sq.; $6, $5 children & students, free ages six & younger; www.colburnmuseum.wordpress.com
---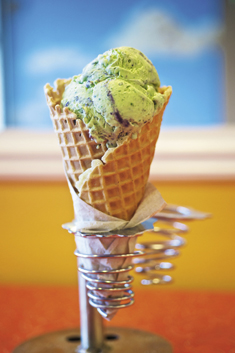 Cool Entertainment
At The Hop, indulge in house-made ice creams, sorbets, and shakes with a side of entertainment. On Tuesday nights, check out activities ranging from juggling and face painting to a youth poetry slam (November 26) and pajama party (December 17). A balloon artist is on hand Friday evenings. 640 Merrimon Ave., Ste. 103; www.thehopicecreamcafe.com
---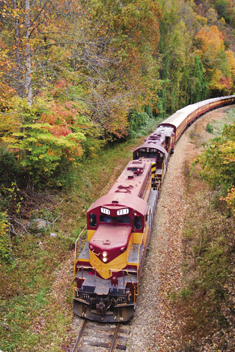 Skip town for Bryson City (a one-hour drive) and take a ride aboard Great Smoky Mountains Railroad. The four-hour Tuckaseegee excursion chugs through the countryside, past the wreckage scene where The Fugitive was filmed, to the quaint town of Dillsboro and back. During the holidays, kids will love The Polar Express-themed excursion, which unfolds the classic tale during a trip to the North Pole. 226 Everett St.; rates from $55, $31 children, free-$10 ages two & younger; www.gsmr.com
---
Foodie Friends
If your epicurean pals show up with empty stomachs, pack their plates with a food tour, cooking class, beer tasting, and other satisfying offerings.
---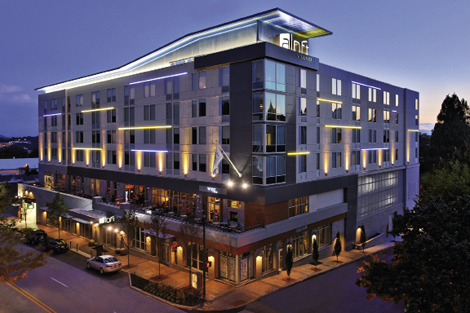 Put your guests up in the heart of the culinary action at pooch-friendly Hotel Indigo or Aloft. As a bonus, you can start or cap each night at the hotels' über chic cocktail lounges, oneFIFTYone Boutique Bar & Kitchen (Indigo) and WXYZ bar (Aloft). 151 Haywood St., www.ashevillehotellodgingdowntown.com; 51 Biltmore Ave., www.aloftashevilledowntown.com
---
Sweet start  Kick off a day of indulgence with a locally roasted espresso and European pastries at Karen Donatelli Cake Designs. Cinnamon rolls, brioche studded with apricots, raisins and pecans, and savory ham and cheese or sweet almond croissants make the morning delicious. 57 Haywood St.; www.donatellicakedesigns.com
---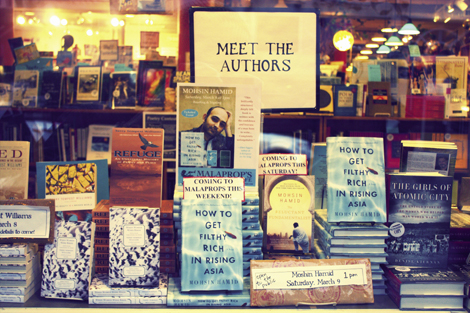 Shop Local Flavors
Keep a mid-morning shopping jaunt in the culinary vein with a stop at Malaprop's Bookstore & Café to pick up the latest foodie titles from local authors, Asheville: A History of High Country Cuisine by Rick McDaniel or The Fresh Honey Cookbook by Laurey Masterton (read more, page 73). At the Spice & Tea Exchange, you'll find a hoard of exotic spices, herbs, sugars, salts, and teas. Pick up a sampler of house-blended rubs or pre-paired tea and sugar gift sets complete with recipes. The Cheese Store of Asheville at the Weinhaus is stocked with artisan cheeses from area creameries, jams, cured meats, and thousands of wines and beers. 55 Haywood St., www.malaprops.com; 46 Haywood St., www.spiceandtea.com; 86 Patton Ave., www.weinhaus.com
---
Cheers! 
For a nightcap, go to Imperial Life to enjoy an original concoction. The creative mixologists take sips to another level with hand-carved blocks of ice, top-shelf liquors, and house-made elixirs. 48 College St., www.imperialbarasheville.com
---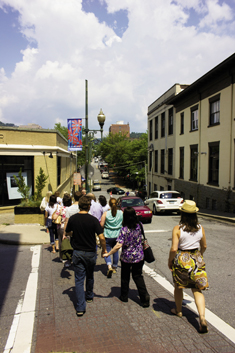 Tasty Tour
Make your way to the Battery Park Book Exchange & Champagne Bar for a 1 p.m. food stroll with Eating Asheville. The High Roller tour takes in seven farm-to-table restaurants and five beverage pairings over two and a half hours. You'll get to nibble while meeting the chefs at some of Asheville's top restaurants, including Table and Cucina24. 1 Page Ave.; $47-$57; www.eatingasheville.com
---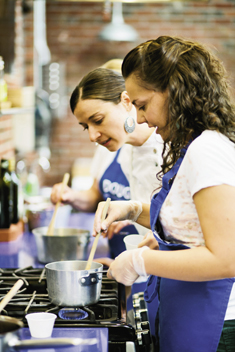 Class Act
Take the food experience into the kitchen with a cooking class at DOUGH, a bakery, eatery, and gourmet market. Sessions focus on a variety of dishes, from rustic tarts and pasta to holiday crêpes (November 23). Classes are Monday-Friday, 6-8:30 p.m., and Saturday, 11 a.m.-1:30 p.m. 372 Merrimon Ave.; from $30; www.doughasheville.com
---
Tempting Tapas
Anticipate an unhurried dining adventure at Cúrate, renowned for artful Spanish tapas prepared by James Beard Award-nominated Chef Katie Button. Start with a pitcher of red or white sangria prepared tableside to enjoy with a parade of exquisite plates. From delicious Spanish charcuterie to squid ink paella to fried eggplant with honey and rosemary, you can't go wrong. The bar is a prime spot to catch the action in the open kitchen.  Reservation recommended.
11 Biltmore Ave.; www.curatetapasbar.com
---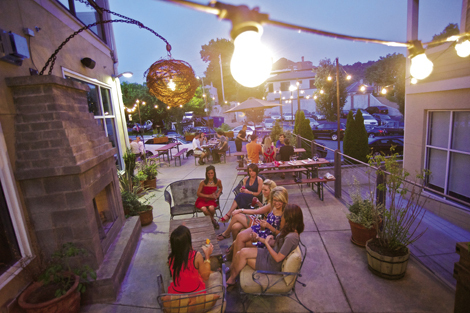 Late Bites 
Cap the night at Storm Rhum Bar & Bistro over small plates of pimento cheese with bacon jam or veal sweetbreads. The entrée options are as fancy as roasted duck breast and as simple as a lamb burger. Asheville's sole rum bar sports an expansive menu of fine rums and tequilas, and the cocktails are excellent. 125 S. Lexington Ave., www.stormrhumbar.com
---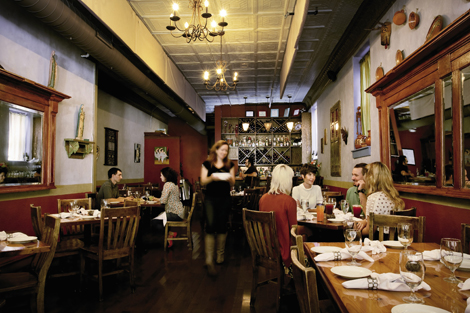 Early Eats
Beloved for its creative Mexican and California cuisine and fine selection of tequilas, Limones is decidedly one of Asheville's top-tier restaurants. Dinner here is a special affair, but brunch (weekends only) is equally inspired and less pricey. Say good morning to poblano-smoked duck sausage burritos, goat cheese and crab empanadas, and smoked chipotle chilaquiles. 13 Eagle St.; www.limonesrestaurant.com
---
Pints & Spirits 
Travel east to check out Asheville's original brewery and first distillery. At Highland Brewing Company, join the 4 p.m. tour. In roughly 30 minutes, you'll learn what it takes to brew 50,000 barrels annually and still have time to sample a flight. Follow up next door with a 5 p.m. tour and tasting at Troy & Sons Distillery. Here, you'll get to see the 5,000-liter, custom copper still and learn how the popular moonshine whiskeys are crafted. 12 Old Charlotte Hwy.; www.highlandbrewing.com; www.troyandsons.com
---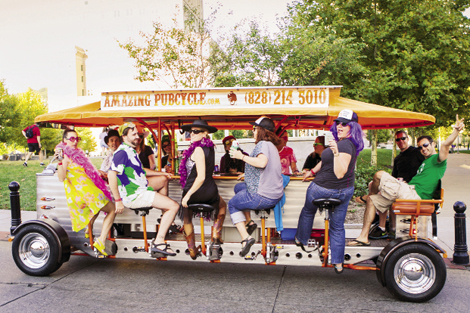 For an experience your friends won't soon forget, take a tour on the Amazing Pubcycle. This 13-person pedal-powered (and motor-assisted) bar on wheels is a zany way to see town. You bring the beer or wine, and get to spinning. And let's admit it, after all the eating, the exercise can't hurt. Tours from $10; www.amazingpubcycle.com
---
Wannabe Locals
For friends who envy the quirky/hip/zen lifestyle our mountain berg is exalted for, give them a taste of the local life—yoga sessions, tarot readings, and all.
---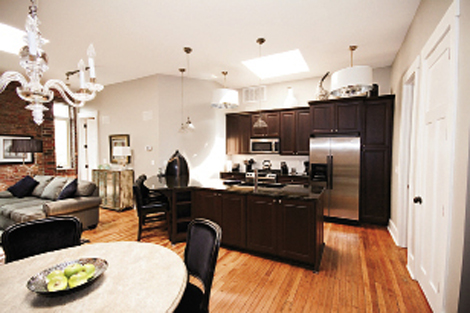 Your pals can pretend they're downtown dwellers by snagging one of the four stylish urban apartments at The Lofts at 16 Church Street. They'll be perched on a quiet, tree-lined avenue among architecturally stunning houses of worship. 16 Church St.; rates from $250 per night; www.theloftsat16church.com
---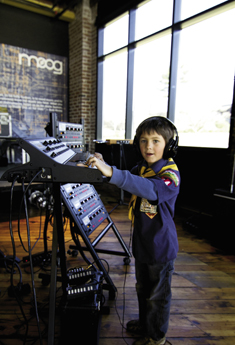 Sound Bite
Don't skip the Moog Factory, where all manner of sound-bending instruments—Moogerfoogers, Mini Moogs, Moog Guitars—are manufactured. Named for electronic music pioneer Bob Moog, the factory offers free tours weekdays between 10 a.m. and 3 p.m. You can even play the instruments in the store. 160 Broadway St.; www.moogmusic.com
---
Catch A Buzz
Head down bohemian thoroughfare Lexington Avenue to grab a cup of Counter Culture java and bagel or muffin at Izzy's Coffee Den. The coffee is outstanding and the no-frills ambience, enhanced by edgy art on the walls, screams indie. 74 N. Lexington Ave.; www.izzyscoffeeden.com
---
Drive-by Snack 
Track down one of the stellar food trucks. From Lebanese eats at Gypsy Queen Cuisine to Vietnamese bites at Pho Ya Belly, the offerings are varied and delicious. Locations at www.roaminghunger.com/ash
---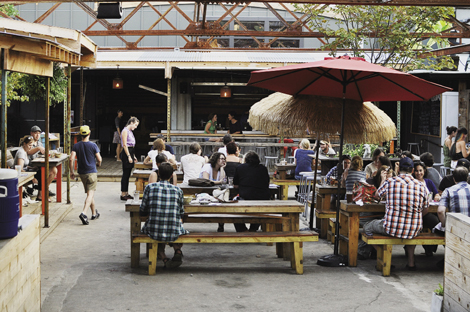 Fresh Hangout
Take the crew to dinner at Ben's Tune Up. This repurposed mechanic's shop surprisingly serves Japanese pub fare. Think grilled meat skewers, house-made ramen in pork broth, and plenty of sake. The menu of mostly small plates encourages sharing. Invite your friends back in the warmer seasons to enjoy the awesome patio. 195 Hilliard Ave.; www.facebook.com/benstuneupNC
---
Wild Ride
Embark on the big purple bus for an after-dark excursion—part tour, part comedy show—with LaZoom. Bring the beer and prepare for a cast of characters, including a nun trailing alongside on a six-foot bike. 1½ Battery Park Ave.; $24, $21 locals; www.lazoomtours.com
---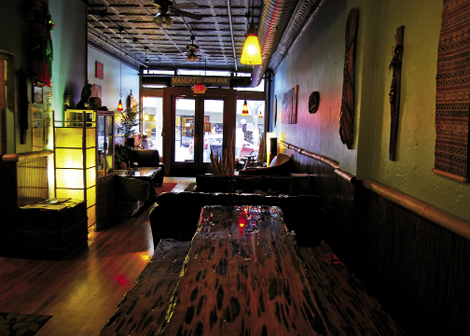 Exotic Elixir 
Partake in a novel nightcap at Vanuatu Kava Bar, where the strange brew is served traditionally in a coconut shell that first-timers get to keep. The den is serene and dimly lit, indicative of a Vanuatu nakamal, or gathering place. The somewhat bitter ground kava root, served blended with water, holds sedative and anesthetic properties—just the thing to wind down from a busy day. 15 Eagle St.; www.vanuatukavabar.com
---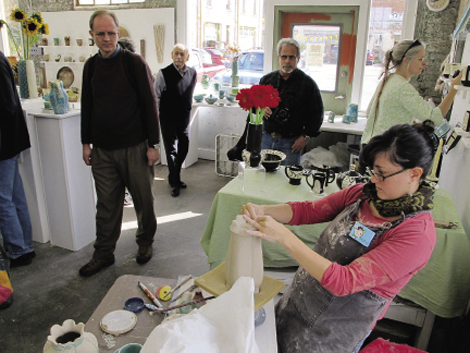 West Side Story
Take time to explore a handful of the 150 artist studios of the River Arts District, where some of Asheville's most revered and burgeoning talents paint, sculpt, carve, and craft. New to the mix is Splurge, a gallery of curiosities and purveyor of vintage and custom lighting and furnishings. And when you're hungry, go to White Duck Taco Shop. The Bangkok Shrimp taco, filled with sweet and spicy fried shrimp, pickles, and carrots, is not to be missed. A side trip to Harvest Records is a must for new, used, and rare CDs and vinyl. You'll also find an ample selection of music by local acts. After it all, take a load off at the Wedge Brewing Company with a pint of Iron Rail IPA. www.riverartsdistrict.com; 37 Payne's Way, Ste. 3, www.splurgedesign.com; 1 Robert St., www.whiteducktacoshop.com; 415 Haywood Rd., www.harvest-records.com; 125B Roberts St., www.wedgebrewing.com
---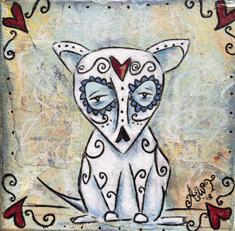 Shop Independent
Put the "buy local" mantra into full effect downtown. Honeypot sells vintage duds, hip shoes, jewelry, sunglasses, handbags, and other one-of-a-kind regalia. Look for the plethora of lawn ornaments outside an orange and red striped building and you've found L.O.F.T. The shop is equally vivacious inside and holds a trove of novelties and gifts. Across town, ZaPow!, a gallery devoted to illustration and pop culture, displays works by some 80 artists. It's a great place to pick up affordable art. And since Asheville was New Age when the movement was actually new, sign up for a tarot card or astrology reading at A Far Away Place. The spirituality store sells books, incense, CDs, and all manner of ceremonial supplies. Honeypot, 86 N. Lexington Ave.; 53 Broadway St., www.loftofasheville.com; 21 Battery Park, Ste. 101, www.zapow.com; 16 Battery Park Ave., www.afarawayplace.com
---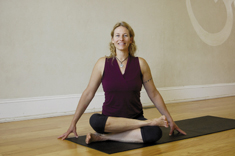 Healthy Start
Get a jump-start with an invigorating class at West Asheville Yoga, followed by a meal at Sunny Point Café. Choose from heaping plates of huevos rancheros or organic cornmeal hot cakes with candied walnuts and crasin butter. 602 Haywood Rd., www.westashevilleyoga.com; 626 Haywood Rd., www.sunnypointcafe.com
---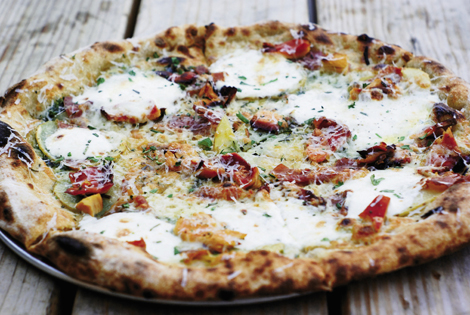 Pizza & A Concert
For dinner, head to All Souls Pizza where the kale Caesar salad is fantastic and wood-fired pizzas are inventive—clams with mozzarella and chilies or country ham and egg, for example. The Grey Eagle, one of Asheville's enduring music halls, is just across the street. It's the place you're most likely to hear the next big act on the rise, including local favorites like Red June (November 16). 175 Clingman Ave., www.allsoulspizza.com; 185 Clingman Ave., www.thegreyeagle.com
---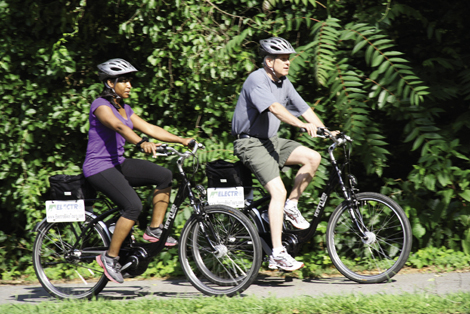 For the group that's motivated, but not too motivated, sign up for a two-hour guided excursion with Electro Bicycle Tours. It's a chance to breeze past the highlights, including the Grove Park Inn and Asheville Botanical Gardens, and through the historic Montford neighborhood on a pedal-assisted, eco-friendly ride. $45; www.electrobiketours.com