So Fresh & So Green
So Fresh & So Green:
Sunny Point Café's April Moon creates zesty dishes with sorrel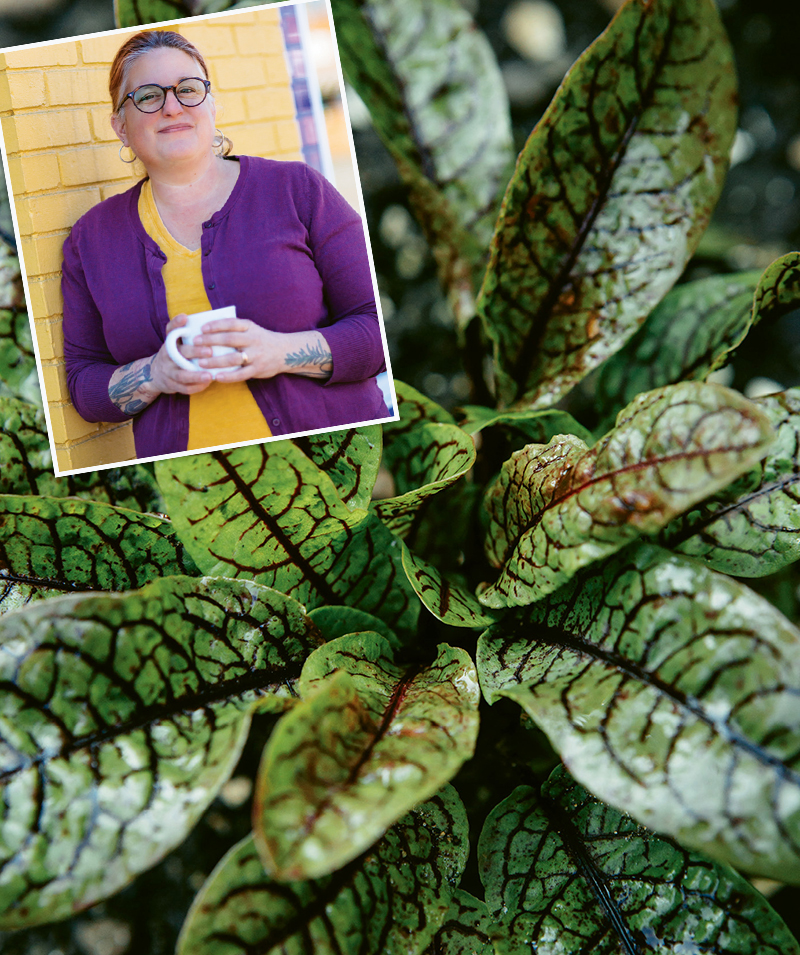 Very Vibrant - In addition to common sorrel, Sunny Point's garden also grows red-veined sorrel (above), a less flavorful, ornamental variety, which co-owner April Moon (inset) uses as a fiery-tinged garnish.
"If you crossed spinach with lemon, the result would be sorrel," says April Moon, co-owner of Sunny Point Café in West Asheville. Used in French cooking in the 1980s to balance rich fare with acidity, the green is making a comeback in the local food scene.
Less ubiquitous as kale or as trendy as ramps, sorrel is a delicate, leafy perennial herb that looks a lot like spinach but is distinguished by its bright, citrusy taste. Its refreshing flavor, coupled with the fact that it grows readily and easily here from spring through fall, make sorrel one of the permanent greens grown annually in Sunny Point's small but mighty half-acre on-site garden. Everything the garden grows is showcased in the restaurant's specials during the growing season from April through November. "Over the years, we've learned how to maximize our harvests," Moon says. "Sorrel doesn't take up a lot of space, and you can access it very early in the season, when it's cold and nothing else is growing."
A Waynesville native who studied culinary arts at A-B Tech in Asheville, Moon worked as a traveling chef for a tech company before settling in Atlanta to helm the kitchen at the city's popular Flying Biscuit Café. Thirteen years later, Moon found herself pining to return home to Western North Carolina. With her mother and co-owner, Belinda Raab, the two opened Sunny Point in 2003.
Green Thumb - Sunny Point's garden manager, Melissa Metz
The popular restaurant offers garden-to-table Southern fare with a classic bent, reflecting both Moon's mountain heritage and her culinary training. "Being taught with that sort of classic French style helped me learn how to more easily blend flavors," Moon says. "It made my cooking more instinctive."
These instincts shine throughout Sunny Point's menu, and are highlighted in the recipes where sorrel features prominently. "I use it a lot with seafood dishes," she says. "The lemon flavor is just so complementary. I also blanche and purée it into sauces to make a green beurre blanc. It's also great in vegetable soups in place of kale." Head to a local tailgate market to pick up sorrel and try Moon's zingy, flavor-rich dishes that are versatile enough to appeal to a variety of palates.
Sunny Point Cafe
626 Haywood Rd., Asheville
(828) 252-0055
sunnypointcafe.com
The Scoop
Chef April Moon, Sunny Point Café
Favorite meal of the day? "Dinner—it's when we take time for each other and the food without being rushed."
Coolest thing about Asheville's restaurant scene? "The number of women in the industry here is pretty high."
What's next? "We're opening up a catering kitchen and event space in the house on the property later this year."
Recipes
- Mussels with White Wine and Sorrel