Creamy Sorrel Pasta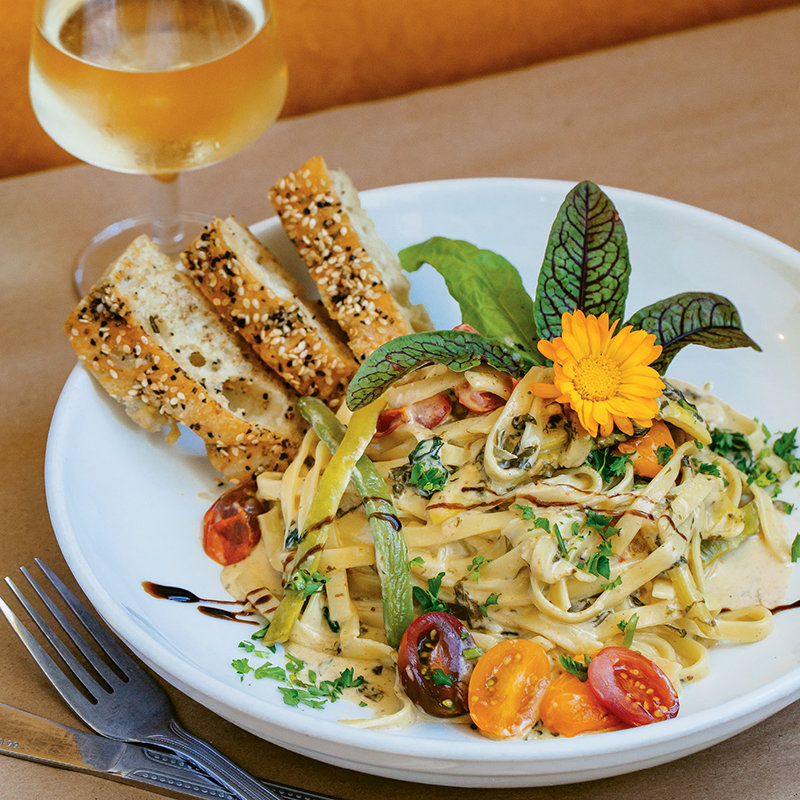 DESCRIPTION:
Courtesy of April Moon, Sunny Point Café 
INGREDIENTS:
1½ cups heavy cream
1 cup veggie stock
1 lb. pasta
2 Tbsp. + 1 tsp. salt
2 Tbsp. butter
1/2 lb. fresh sorrel leaves, stems removed
1 tsp. white pepper
1/2 lemon, juiced
2 Tbsp. olive oil
1/2 cup leeks, julienned
2 cups green beans, halved
2 cloves garlic, minced
2 cups cherry tomatoes, halved
4 cups fresh spinach
1/4 cup white wine
DIRECTIONS:
Place heavy cream and veggie stock in a pot and bring to a simmer. Reduce by half. Set aside.
Bring a large pot of water to a boil. Add the pasta, two tablespoons of salt, and cook until al dente. Drain and set aside.
Place a large sauté pan over medium-high heat and add butter. Once melted, add sorrel and cook a few minutes until wilted. Transfer to a food processor. Add cream-stock mixture and purée. Season with one teaspoon of salt, white pepper, and lemon juice. Set aside.
Return sauté pan to medium-high heat and add olive oil. Once hot, add leeks, beans, and garlic, and cook until leeks are slightly wilted. Add cherry tomatoes and spinach. Toss gently and add white wine to finish. Remove from heat and combine with pasta and sorrel sauce. 
Read the story, with April Moon's tips on using this lemony spring green, and find her other sorrel recipes—Sorrel Scramble and Mussels with White Wine and Sorrel.