Sorrel Scramble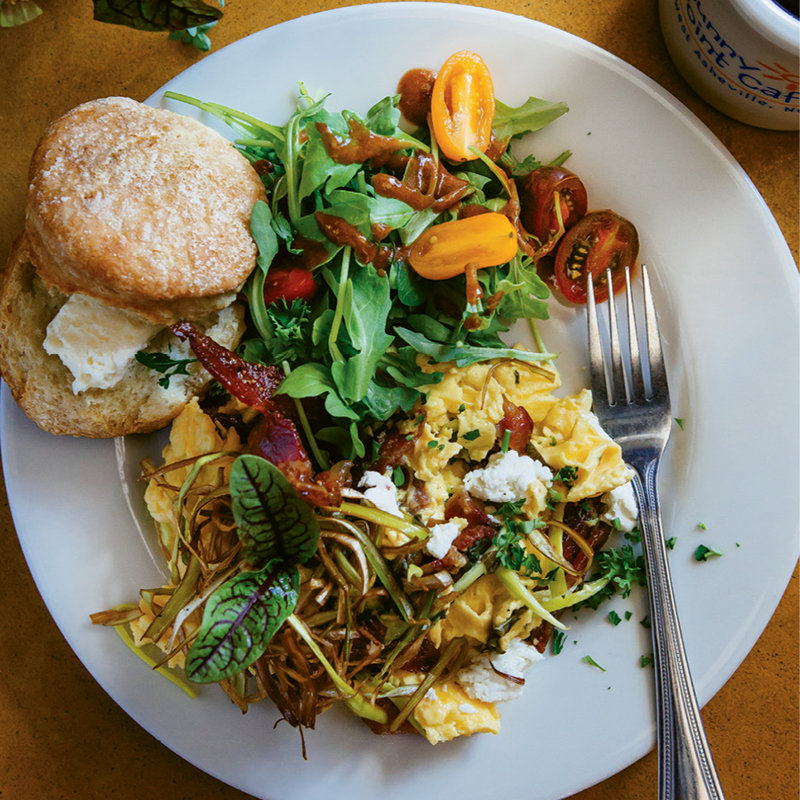 DESCRIPTION:
Courtesy of April Moon, Sunny Point Café 
INGREDIENTS:
1 Tbsp. olive oil
2 cups fresh sorrel, coarsely chopped
1 cup leeks, julienned
1/4 lb. bacon
2 Tbsp. heavy cream
1/2 tsp. salt
1/4 tsp. white pepper
8 eggs
2 oz. crumbled goat cheese
DIRECTIONS:
Heat one teaspoon of olive oil in a large sauté pan over medium-high heat. Add sorrel and cook until wilted. Remove from heat and set aside. Clean pan and return to heat. Add remaining olive oil. When oil is hot, add leeks and cook over medium-high heat, stirring frequently until brown and crispy. Remove from heat and drain on a paper towel.
Return sauté pan to the heat and cook bacon strips until desired crispiness is reached. Remove from heat, and dice, leaving at least a tablespoon of bacon fat in the pan. Spoon out the excess and set aside for another use.
In a large bowl, add heavy cream, salt, white pepper, and eggs. Whisk everything together. Return sauté pan to medium heat. Add egg mixture and allow to begin to cook around the edges of the pan. Just as eggs begin to cook, stir gently, working from the edge of the pan to the center every few seconds until the eggs are soft but just starting to set. Add goat cheese and sorrel and remove pan from heat. Plate and top with chopped bacon and fried leeks.