Holiday Cheers
Holiday Cheers:
Throw a festive fête with help from local experts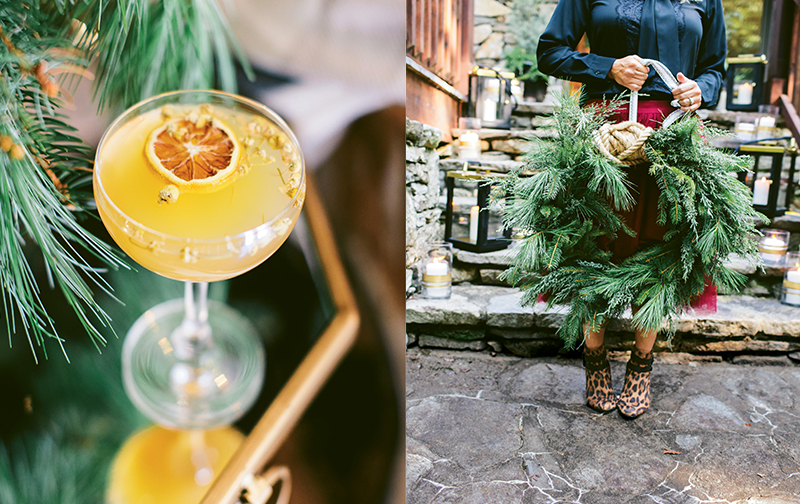 A spectacular party sets the tone for a memorable holiday season. The alchemy of delicious bites, festive drinks, and glittering décor brings people together for a truly joyous night. Whether you're planning a small gathering of friends or a big blowout, you'll enjoy your party more with a little advanced planning to help guests feel at home. To assist, we pulled together four local experts to offer their advice for a festive party that even the busiest host can pull off. From gathering the greenery in your backyard to setting up do-it-yourself beverage bars, these tips from top event and food specialists will make your holiday soirée a cinch.
(Left to right) Candace Hightower; The Finer Points The delight is in the details when creating an Instagram-worthy soirée. Party favors, such as homemade peppermint bark packaged and adorned with evergreen sprigs and guests' names, are a thoughtful way to say thanks for coming. A decorated letterboard is an opportunity to add a welcoming touch or spell out the night's menu. 
Planning & Entertaining
Thinking ahead is the key to throwing a successful, stress-free party. These tips from Candace Hightower of Mingle Events will help you strategize so you can be the host or hostess with the mostess.
Plan ahead and enjoy later
A creative and detailed event does not have to be stressful, as long as you plan ahead. Remember, the guests are your friends and they will be excited to enjoy the night. Plan your menu at least one week in advance so you can have everything you need on hand when setup and food preparation begins. Make lists and execute them. Do not wait to the last minute, or you will be running around prepping instead of enjoying the festivities yourself. The host deserves a night away from the hustle, too!
Save time and money with digital invitations
The best option for invitations to an Instagram-worthy cocktail party at your home is to go digital. "I love the way beautiful paper filled with calligraphy feels in my hand, but let's be real, not many of us have the time or budget to create something so eloquent for a fun get-together," says Hightower. Electronic invitations are not only environmentally friendly, they are also inexpensive, and guests can RSVP in a click.
Don't stress about how to dress
If the party is at your house, wear something cute and comfy so you feel relaxed, then glam it up with festive earrings or sparkly shoes. This small gesture can make you feel ready to party without being uncomfortable in your own home.
Get yourself in the mood
Spend the hour before the party lighting candles and enjoying the ambience. These small details create an inviting and warm atmosphere for guests, and also get you ready to entertain.
(Center) Whitney Randall of Springvine Design
Décor
Welcome your guests into a wintertime wonderland by making every corner of your home festive and inviting. It's the little touches like fresh greenery and flickering candles that immerse guests in holiday joy. Use décor advice from Whitney Randall (pictured above) of Springvine Design to make your home picture-perfect.
Use what you have
Foraging is the best-kept holiday décor secret. "In the South, we have access to so much beautiful foliage and flowers that grow in our own backyards," says Randall. Simply walk outside or visit a friend's yard (with permission, of course) to collect varieties of pine, cedar, magnolia, cypress, and hemlock. When it comes to Christmas greenery, the more variety and texture, the better.
Keep it timeless with metallics and neutrals
When choosing a piece of holiday décor you'll use year after year, like candleholders or platters, use metallic and neutral colors to create a palette that will stand the test of time. Bring in hints of color with flowers or special holiday wrapping paper like red and white polka dots, but stick to neutral colors for the larger pieces.
Short on time? Focus on the front door
The two most important places to decorate are your front door and mantle. If you have no idea where to start, buy a fresh wreath from a tree lot or home improvement store. Hang it with a wide, pretty ribbon on your door and place evergreen plants in planters on either side of the door for a balanced composition.
Create a spectacular mantle
For the mantle, either buy a fresh evergreen garland or ask for clippings at a tree lot. Lay them on top of the mantle so they gently spill over the front. Add some candles to anchor the clippings and enjoy all season long.
(Left to right) Old Fashioned; Heidi Perrone and Lexie Harvey; and Loose Leaf Cocktail.
Drinks
Libations can make or break a party, and a well-stocked bar tells guests that they're in for lively evening. Try these pointers for memorable refreshments from Heidi Perrone and Lexie Harvey of Cordial 
& Craft.
Get guests involved with an Old Fashioned bar
Why spend your party crafting fancy cocktails when your guests can happily make their own? Set the scene with a sophisticated bar cart or buffet stocked with whiskey, bitters, muddling sugar, and candied orange slices. Guests can make a cocktail that suits their tastes as you welcome everyone to your home.
All hail holiday punch
For friends and family who are not aspiring bartenders, prepare a big batch of punch before the party begins. Combine red or white wine or the spirits of your choice with a citrus/spice blend in a punch bowl. Remember to set out an elegant ladle and plenty of ice.
Make your bar cart merry
Decorating the bar cart is a lovely way to showcase your personality. Let silver trays, garlands, candied fruits, and botanical touches reflect your vision of the holidays.
Savor seasonal fruits
Dried and candied fruits do double duty on the bar cart. Slices of candied oranges and blood oranges not only look beautiful, but elevate cocktails at the same time. Sugared cranberries are an enticing addition to a simple glass of prosecco.
Provide an alcohol-free option
Offer a festive drink for guests who don't drink alcohol or want to switch to a less potent libation before driving home. Sparkling water with candied fruit is a delicious way to celebrate.
Give and accept gifts
Whether you're a host or guest, consider the bar when you're picking out gifts. Homemade bitters are easy to make and look impressive, and a nice bottle of bourbon or wine is always appreciated by the host.
Check out the recipes for Cordial & Craft's Loose Leaf cocktail, made with grapefruit and Sutler's gin, and the Piney Old Fashioned.
(Left) Corey Marino of Catering by Corey
Eats
A party isn't complete without plenty of tasty bites, and food is a creative way to show guests that you've thought of their every need. Corey Marino (pictured above) of Catering by Corey shares these tips for putting out a beautiful spread.
Cook what you know
The day of your event is not the time to try an elaborate new recipe for the first time. Stick with your tried and true dishes or at least try the new recipe prior to the day of your gathering so you won't be stressed about the outcome. The last thing you want is to be sweating over an oven when everyone is having fun because your soufflés aren't rising.
Make ahead and freeze
Choose recipes that can be made weeks in advance, such as bourbon-molasses bison meatballs or bloody Mary cocktail sauce, and put them in the freezer right away. For foods that don't freeze well, pick recipes that can be made a day or two before the event, like a salmon rillette, pickled grapes, and white chocolate peppermint bark.
Bring out special serving vessels
It's easy to make food look amazing when it's served on a marble platter or wooden cheese board and spruced up with botanicals like a magnolia leaf from your yard. Have fun being creative with the display; just make sure to keep it functional.
Set out DIY coffee and water stations
Brew coffee before the party, keep it hot in an airpot, and set out cream and sugar for guests to help themselves. Put out big dispensers of infused water (apple and cinnamon are perfect for the season) and include plenty of glasses. Guests feel at home when they know where things are and can help themselves. Plus, you'll have more time for sparkling conversation with family and friends.
A feast for the senses
Wow your guests with a dramatic spread prepared mostly in advance, like salmon rillette with baguette, which can be made a day or two ahead of time. When planning your menu, consider no-forks-required finger foods, such as Marino's bourbon-molasses bison meatballs served with toothpicks. Dishes that are easier to eat encourage mingling and can make for an easier clean up. And you can never go wrong with a beautifully arranged cheese and meat board. Don't be afraid to mix color, texture, sweet, and savory for an array that will appeal to everyone.
Click the links to find Marino's recipes for Pickled Grapes, Sweet & Spicy Candied Bacon, Smoked Salmon Rillette, Bison Meatballs, and White Chocolate Peppermint Bark.
Want to forego the planning or prep? Let the experts assist.
Planning & Décor
Candace Hightower 
Mingle Events
(865) 803-3900
mingleeventsandrentals.com
Whitney Randall
Springvine Design
springvinedesign.com
Catering & Desserts
Lexie Harvey & Heidi Perrone
Cordial & Craft
(828) 316-1502 or (386) 334-8625
cordialandcraft.com
Corey Marino
Catering by Corey
(828) 484-9556
cateringbycorey.org
Mandy Butler
50/Fifty the Art of Dessert
(828) 280-2184
50fiftytheartofdessert.com