Gotcha a Kabocha
Gotcha a Kabocha:
Chef Philip Bollhoefer amplifies autumn flavors with Japanese winter squash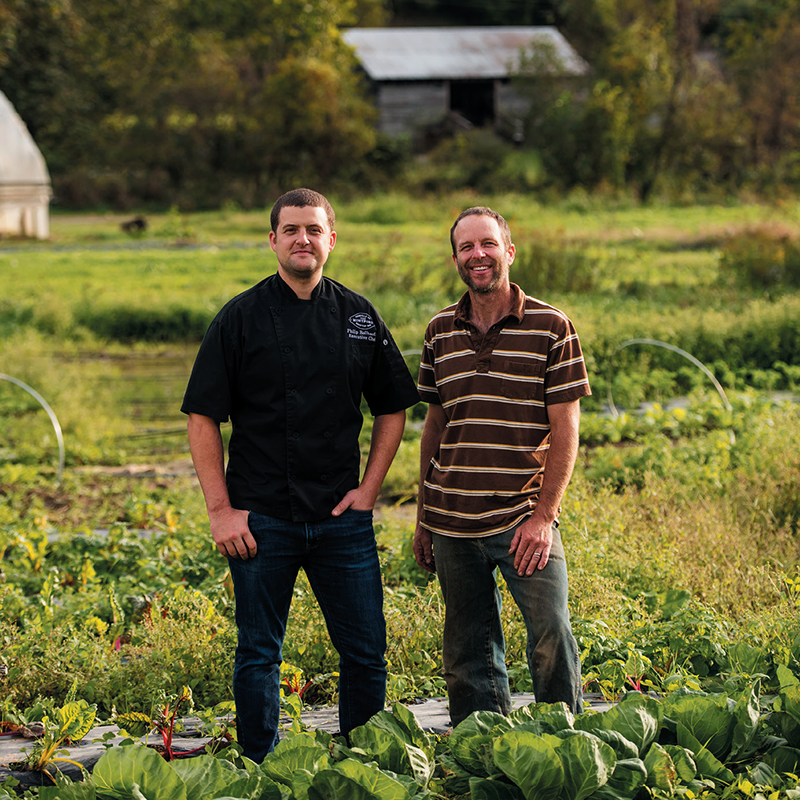 Teamwork Makes the Dream Work - Chef Philip Bollhoefer (left) utilizes locally purveyed vegetables for the dishes he creates at The Montford Rooftop Bar, including kabocha squash and other veggies grown by Paul Littman (right) of Ivy Creek Family Farm in Barnardsville.
A plump winter squash is like a time capsule—planted in the spring and harvested in early fall, a properly stored gourd captures the flavor of the fields during the darkest months of the year. Most people are familiar with butternut and acorn specimens, but Chef Philip Bollhoefer prefers Japanese kabocha squash for many of his autumn dishes due to its sweet, buttery flavor.
Bollhoefer is the food and beverage director at The Montford Rooftop Bar at Hyatt Place in downtown Asheville. He seeks out dark green kabocha squash for a wide range of fall dishes, then carefully slices through the coarse skin to reveal orange flesh that can be roasted, puréed into soup, or whipped up into desserts.
Squash It - Kabocha squash's buttery, sweet flavor is akin to that of the butternut variety.
A graduate of Le Cordon Bleu College of Culinary Arts in Orlando, Florida, Bollhoefer worked in professional kitchens in Chicago and San Antonio before arriving in Asheville in 2014 to join the culinary team at The Omni Grove Park Inn. During his time there, he formed strong bonds with local produce farmers, and continues to source vegetables, including kabocha squash, from Ivy Creek Family Farm in Barnardsville.
With its tough, leathery skin, kabocha squash can be trickier to cut into than butternut or spaghetti varieties, but after that, it's straightforward to peel the skin and scoop out the seeds. 
Preparing kabocha squash can be time-consuming. "You have to treat it with a little bit of care and love to actually get good use out of it," Bollhoefer says, "but I personally think it's worth it."
The Scoop - Chef Philip Bollhoefer, The Montford Rooftop Bar
Favorite Season to Be a Chef: Spring, because I'm hungry for different ingredients, colors, and flavors. 
Last Meal: Comfort food like black bean nachos
Crowning Culinary Achievement: The local food program at Omni Grove Park Inn, where I partnered with farms like Ivy Creek Family Farm.
Advice for Home Cooks: Don't be discouraged. If something doesn't work, try again. 
The Montford Rooftop Bar
199 Haywood St., Asheville
(828) 505-8750
themontford.com
RECIPES
Kabocha Squash Soup with Pumpkin Seed Brittle