Autumn Bowl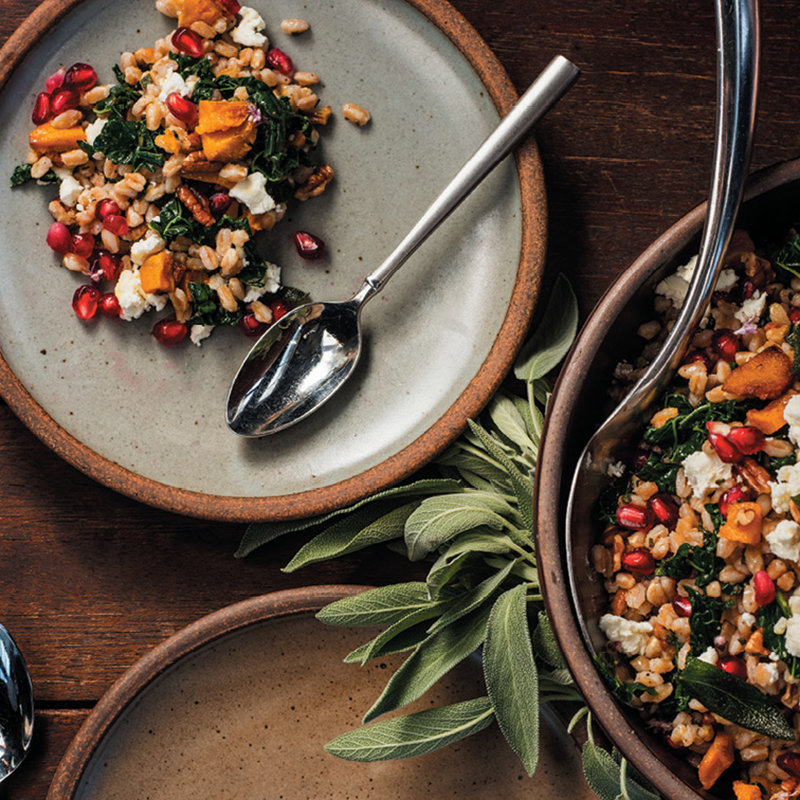 DESCRIPTION:
Recipe courtesy of Chef Philip Bollhoefer, The Montford
INGREDIENTS:
1 cup kabocha squash, cut into ½-inch pieces
2 Tbsp. fresh sage, chopped
3 Tbsp. + 1 tsp. olive oil
Salt & pepper, to taste
1 bunch kale, destemmed & chopped
6 cups cooked farro
3/4 cup pomegranate seeds
1 cup pecans, roasted
1/2 cup sherry vinaigrette
10 oz. chèvre
Sherry Vinaigrette
1 medium shallot, minced
1/4 cup sherry vinegar
1 tsp. honey
2 tsp. Dijon mustard
3/4 cup extra virgin olive oil
Salt & pepper, to taste
DIRECTIONS:
Preheat oven to 350°F. Toss squash and sage in three tablespoons of olive oil, sprinkle with salt and pepper, and bake for 20 minutes, or until tender. Transfer squash to refrigerator to chill for one hour.
Place kale in a large bowl. Season with salt, pepper, and one teaspoon of olive oil and massage kale by hand. Add squash, farro, a half-cup of pomegranate seeds, and a half-cup of pecans and combine. Add vinaigrette (recipe follows) and lightly toss. Season with salt and pepper and add additional vinaigrette if desired. Transfer to a serving dish and top with chèvre, the remaining pecans and pomegranate seeds.
For the Sherry Vinaigrette, place shallot, vinegar, honey, and mustard in a food processor or blender. With blender on slow, add olive oil until mixture is emulsified. Add salt and pepper to taste.