Kabocha Squash Soup with Pumpkin Seed Brittle
Kabocha Squash Soup with Pumpkin Seed Brittle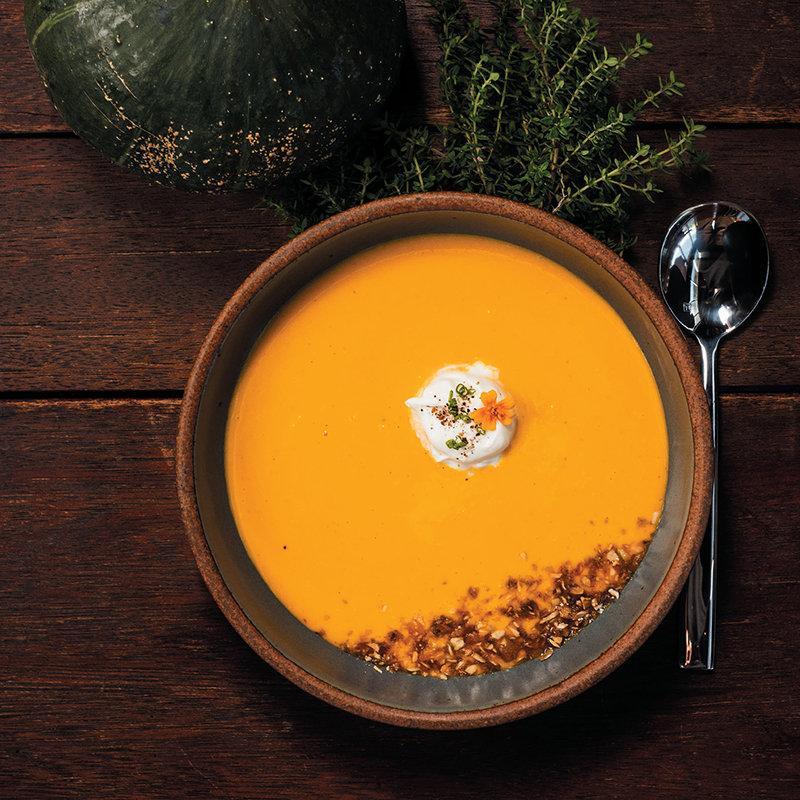 DESCRIPTION:
Recipe courtesy of Chef Philip Bollhoefer, The Montford
INGREDIENTS:
2 Tbsp. unsalted butter
1 kabocha squash, or 1.5 lbs. cut into 1-inch pieces
1 cup yellow onion, diced
1/2 cup carrots, chopped
1/2 cup parsnips, chopped
4 cloves garlic, chopped
1/2 tsp. nutmeg, freshly grated
1/8 tsp. cayenne pepper
1 Tbsp. fresh thyme
1 tsp. ground sage
1 cup dry white wine (vermouth recommended)
5 cups vegetable or chicken stock
3 Tbsp. maple syrup
1 bay leaf
2 Tbsp. apple cider vinegar
Salt & pepper, to taste
Crème fraîche, for garnish
Pumpkin Seed Brittle
1/4 cup water
1 cup sugar
1/2 cup light corn syrup
1 cup pumpkin seeds
1/2 Tbsp. butter
1/8 tsp. salt
1/2 tsp. vanilla extract
1/2 tsp. baking soda
DIRECTIONS:
Kabocha Squash Soup 
Preheat a large saucepan over medium-high heat. Add butter and squash and cook for four minutes until lightly browned. Add onion, carrots, parsnips, and garlic, and cook until onions are translucent. Add nutmeg, cayenne, thyme, and sage and cook for one minute. Add wine and reduce by two-thirds. Add stock, maple syrup, bay leaf, and vinegar, and simmer for approximately 25 minutes, or until vegetables are very tender. Transfer to a blender and process until smooth.
To serve, spoon kabocha squash soup into bowls and top with one tablespoon of crème fraîche and a piece of pumpkin seed brittle.
Pumpkin Seed Brittle
Combine water, sugar, and corn syrup in a heavy-bottom saucepan. Cook slowly over medium heat, stirring occasionally until a temperature of 236°F is reached with a digital thermometer. Slowly stir in pumpkin seeds, butter, and salt. Continue to cook to 295°F, stirring constantly. Add vanilla and baking soda, and stir until incorporated. Pour into greased flat pan and allow to cool. Once hardened, crumble and serve atop soup.