Shaved Kabocha Squash & Pappardelle with Kabocha Cream
Shaved Kabocha Squash & Pappardelle with Kabocha Cream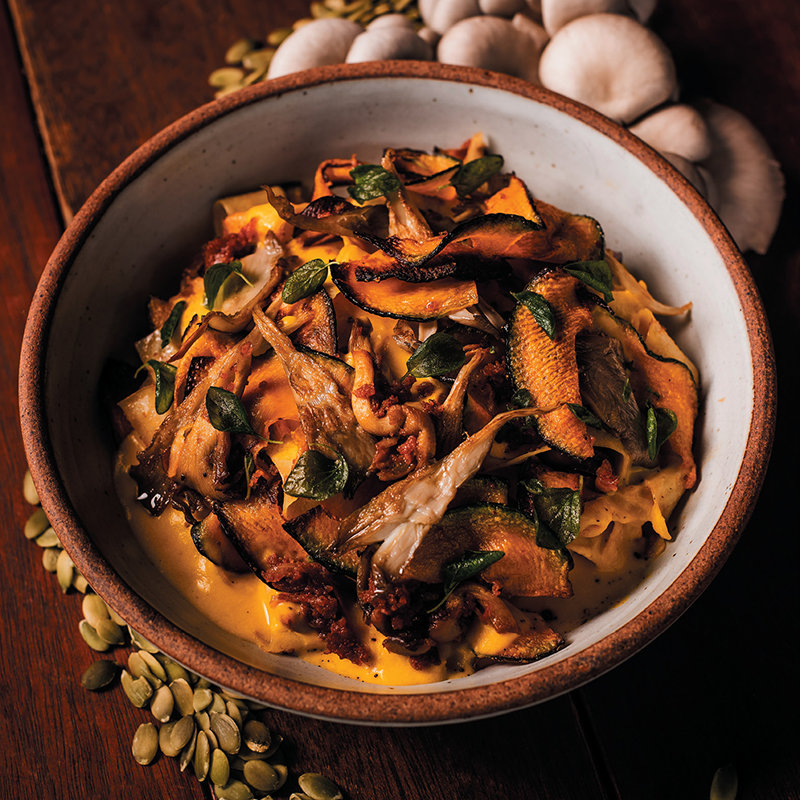 DESCRIPTION:
Recipe courtesy of Chef Philip Bollhoefer, The Montford
INGREDIENTS:
1 kabocha squash
2 Tbsp. olive oil
Salt & pepper, to taste
1 lb. pappardelle
2 Tbsp. butter
8 oz. oyster mushrooms, destemmed & sliced
1/2 cup onions, sliced thin
5 oz. nduja salami, cut into small chunks
1 Tbsp. fresh oregano, chopped
2½ cups kabocha cream
Kabocha Cream
1 Tbsp. unsalted butter
1/2 cup onion, diced
1½ cups kabocha squash, chopped small
1 clove garlic, minced
1/2 cup dry white wine
2 cups half and half
Salt & pepper, to taste
DIRECTIONS:
Preheat oven to 375°F. Cut squash in half and remove seeds. Cut the deseeded squash in half vertically. Using a mandolin or knife, slice squash very thin. Place slices in a single layer on a greased baking sheet. Brush with oil and sprinkle with salt and pepper. Roast six to 10 minutes, or until the edges are golden brown.
Cook pasta according to package instructions. Preheat a wide-base saucepan over medium-high heat. Add butter, mushrooms, and onions and cook until lightly browned. Add nduja and cook one minute. Remove from heat. Add roasted squash and oregano to pasta mixture and toss. Season with salt and pepper and top with kabocha cream.
For the Kabocha Cream: in a medium saucepan, melt butter over medium heat. Add onion and squash and cook for five minutes. Add garlic and cook until fragrant. Add the white wine and reduce until most of the liquid has evaporated. Add half and half and simmer until the squash is tender, approximately 20 minutes. Purée in a blender and reserve. Serve over shaved kabocha pappardelle with nduja salami and oyster mushrooms.