The Actual Victuals
The Actual Victuals:
Ronni Lundy's long and winding journey with Appalachian food and culture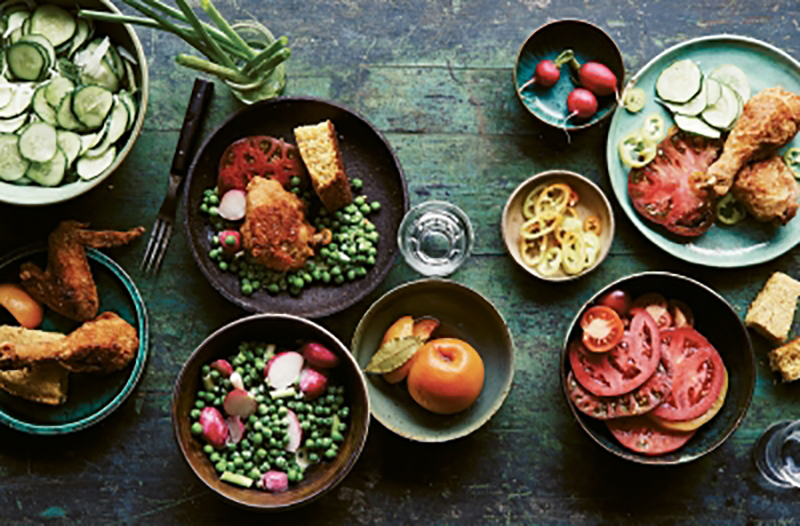 What does it take to tell the full story of Appalachian foodways? A lot of time on the road, for starters: To produce her new book, Victuals: An Appalachian Journey, with Recipes (Clarkson Potter, 2016), Ronni Lundy logged 4,000 miles in her trusty Chevrolet Astro van, covering the big and back roads of seven states, with more food-filled stops than she can count.
But Lundy wouldn't describe the ride as arduous—in fact, she's been researching and writing in far-flung places for most of her life, as she recalls in a recent chat at her downtown Burnsville apartment. Along the way, she's become a revered journalist, the author of 10 books on Southern food and culture, a founding member of the Southern Foodways Alliance, a civil rights activist, and an inspiration to generations of chefs.
Born in the small Kentucky town of Corbin in 1949, Lundy was raised a couple of hours away in Louisville. "I was in the mountains but not of the mountains," she explains, but she often found herself "going up home" to visit family, whenever her father got a stay from his backbreaking work at bourbon distilleries, which had drawn them out of Corbin in the first place.
"I had this experience of not being a full time member of the community, but of being a serial visitor," she recalls of the visits. "That position of being inside and outside at the same time is really the artist's position"—a position and a perspective that would compel her work. With roots firmly planted in the mountain soil, she was always driven by a wanderlust for the world outside.
Still Here
Lundy's latest book offers plenty for Appalachian insiders and outsiders alike, but it's hardly what you'd expect from a southern cookbook. Victuals doesn't feature pictures of perfectly garnished plates or gingham tablecloths with wildflowers stuffed into Mason jar vases. In some ways, it's a wonder the book was published at all, because it doesn't fit a mold or a convention. The recipe lists often have just five or six ingredients, the cooking instructions are often a page long, and the introductory stories about those recipes are paced like chapters from a Flannery O'Connor novel.
Most of the recipes are Lundy's, while many are gathered from artisans, growers, farmers, and chefs throughout the Blue Ridge Mountains. But there is a reason this genre-bending epoch of Appalachian eats is making the hot list for every food hound's recommended reading, and it clearly has a lot to do with its author.
"I was trying to make sense of having grown up both very tethered to Appalachia, and having lived in Louisville in the 1950s, '60s, and '70s, where there was this whole other very modern aspect to my life," Lundy says. Her baptism into modernity wound up being very self-directed: In the early 1970s, she attended the University of Kentucky for a stretch, but "retired from college," as she puts it, leaving disillusioned with the glass ceilings women contended with.
At first, she opted for a rebellious romp out west with a friend in a station wagon, carrying nothing but her suitcase and a blue Royal manual typewriter. She settled in New Mexico for several years. "I had this dream ... of living there and writing for a while just to see what it was like," she recalls. "I just wanted to know what places were."
By the time she returned to Louisville in 1978, she had 2,800 miles under her thumb from hitchhiking, a husband, and a daughter on the way. She took a job as a staff writer for sister newspapers The Louisville Times and The Courier-Journal, but it was the music she found that really brought her back to her mountain roots—specifically, a 1973 live recording of Sam Bush covering Leon Russell's "Prince of Peace" on mandolin. The performance struck a special chord for Lundy: "That was my childhood growing up, my family, and also the emerging me."
While working as a music journalist, helping to document the rise of artists like k.d. Lang, Dwight Yoakam, and Lyle Lovett—and even having Tim O'Brien pen a song about her along the way—she developed a transformative friendship with the legendary Appalachian journalist and food writer (and her eventual mentor) John Egerton, author of the groundbreaking look at segregation-era civil rights struggles, Speak Now Against the Day. "What he did with that book was to look through the lens of food to talk about the lives of blacks, the lives of women, and the lives of poor people in the South," Lundy notes.
Lundy adopted the same model, which led her to become a founding member, with Egerton, of the increasingly important Southern Foodways Alliance, a collaborative coalition of southern writers and journalists founded in 1999 that documents and celebrates the region's food histories and cultures. Along the way, she has developed one of the largest canons of Appalachian culinary literature in print today and battled and defeated cancer, twice.
"The first week of October 2001, I had a major hysterectomy because I was diagnosed with fourth-stage ovarian cancer," Lundy says, with an improbable but glowing smile on her face. "I'm not supposed to be here; that's a diagnosis that has, at the maximum, a five-year window. ... But that was 15 years ago, and I'm still here."
Keeping it Real
Lundy says that her seminal works "were about trying to, in a subtle way, make people think differently about Appalachia and the South by telling stories about food," and Victuals carries on that tradition. She doesn't gloss over matters like racism, class warfare, and culturally appropriated foods with neutralized corn bread and Pot Likker recipes. Rather, she tackles the history head on, digging into each ingredient and its use, origin, and relevance to southern culture at large.
"It was important to me that I understand the history and challenge myself," Lundy says. "Victuals doesn't just tell a happy story. I wanted you to come out at the end of it with a sense of hope and redemption ... but in telling that story you have to confront the shadows too, or it doesn't have as much force. So that became more important to me, to get closer to what is real."
"I want there to be a better understanding of the complexity of the South," Lundy says. "I want there to be recognition of the good people who live here and who open their hearts to all." But in a region so long divided, she observes, "We need to make space for the voiceless or those whose voices have been manipulated, to allow them to speak their own truth and stories. That is what I try to do in my work."
---
Lundy's Literary Collection
Shuck Beans, Stack Cakes, and Honest Fried Chicken
(Atlantic Monthly Press, 1994)
The Festive Table: Recipes and Stories for Creating Your Own Holiday Traditions
(North Point Press, 1995 & 1997)
Butter Beans to Blackberries: Recipes from the Southern Garden
(North Point Press, 1999)
Crafts for the Spirit: 30 Beautiful Projects to Enhance Your Personal Journey   
(Lark Books, 2003)
The Woodford Reserve Culinary Cocktail Tour, cowritten with Peggy Stevens
(Brown-Forman, 2005)
Cornbread Nation, 3rd edition Edited by Ronni Lundy
(UNC Press, 2005)
In Praise of Tomatoes: Tasty Recipes, Garden Secrets, Legends & Lore
(Lark Books, 2006)
Conversations with My Father
(Lark Books, 2007)
Sorghum's Savor
(University Press of Florida, 2015)
Victuals 
(Clarkson Potter, 2016)
RESOURCES:
Photographs courtesy of Ronni Lundy