What's Cookin'
What's Cookin':
Three local authors pass the taste test with new titles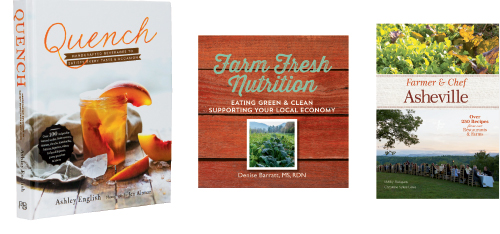 Quench
Ashley English | Roost Books (2014)
With a flood of cookbooks clogging the market, each exploring various themes and cooking styles, a book dedicated solely to handcrafted beverages fills a vital niche. As author and blogger Ashley English states in the introduction of Quench, "One thing we can't do without, that we simply cannot continue with the prolonged absence of, is water. … We thirst and must have that thirst quenched, with regularity, to go about our lives, enjoying all the other lovely aspects of being alive."
And with that, English offers a recipe guide for more than 100 homemade beverages ranging from sodas, punches, and wines, to nectars, liqueurs, and even kombucha—a fermented, nonintoxicating tea with numerous purported health benefits. The emphasis is on fresh ingredients with a lack of chemical additives and preservatives—a far healthier, tastier, more cost-effective, and personal option for enjoying a wide array of drinks, whether your preference is refreshing or comforting, soft or spirited.
Farm Fresh Nutrition
Denise Barratt | self published (2014)
Breaking away from the heavily processed, chemically saturated fare currently dominating our nation's food system is crucial for our health and longevity. For those looking to enrich their diets with fresh, locally produced vittles, Denise Barratt's Farm Fresh Nutrition is a great place to start, as well as an excellent guide to Western North Carolina's thriving organic industry.
The Asheville author first shares a story detailing her own relationship with food and evolution toward cleaner eating before revealing alarming concerns with our nation's food supply, and then stresses the importance of purchasing and consuming locally grown produce. From there, we meet a number of chefs, farmers, and other individuals who support our region's organic market and economy. Also included are a number of seasonal recipes that will allow readers to make the most of locally produced ingredients.
Farmer & Chef Asheville
Debby Maugans & Christine Sykes Lowe | Farmer & Chef (2014)
Culinary writer and self-proclaimed "Florida Cracker" Debby Maugans, along with coauthor Christine Sykes Lowe, present a series of recipes steeped in the Appalachian Mountain heritage that informs much of Asheville's cuisine, as offered by the city's numerous restaurants, B&Bs, bars, and farmers markets.
With recipes culled directly from a number of local food and beverage artisans, Farmer & Chef Asheville is a guidebook for recreating the city's branded "Foodtopia" milieu in your own kitchen. The recipes are divided into sections with titles like "Sips, Small Plates, and Snacks," "Appalachian Homegrown," and "Sweet Cravings," offering scores of bar snacks, appetizers, breakfast dishes, cocktails, jams, and desserts, as well as a wide range of vegetable, pasta, and meat dishes. There's enough material here to keep the dedicated foodie thoroughly occupied through one season to the next, even if their skill level and artistic flair falls short of Asheville's most seasoned chefs.