Tour the City of Asheville
Tour the City of Asheville:
Take in the arts and culture of Asheville without the crowds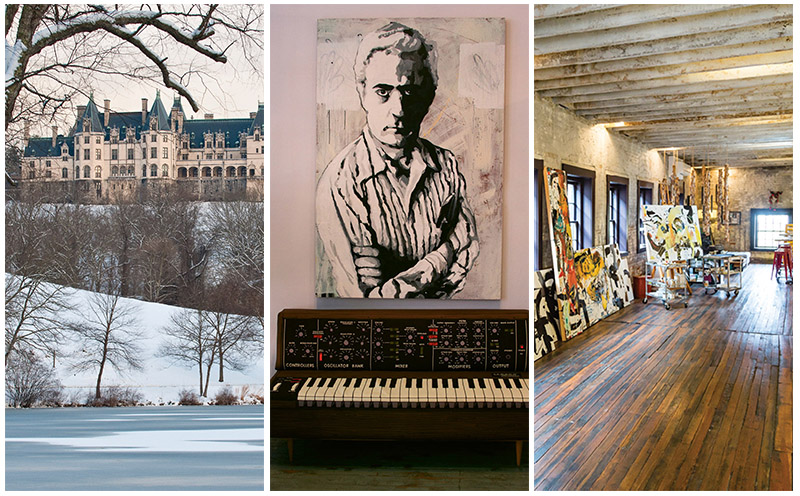 Without fail, Asheville is WNC's most populated and visited city, hosting nearly 12 million tourists in a normal year and home to one of the nation's fastest-growing airports (until March at least). The allure? Anchored by the Biltmore attraction and also its proximity to boundless outdoor excursions in the Blue Ridge, Asheville is a compact city with James Beard-caliber restaurants, a thriving music and arts scene, historic intrigue, and tremendous character. In other words, you need not walk far to find something fun and lively worth consuming.
While warmer months, and especially the fall, have their own draw, so does the cold season, namely off-peak prices after the holidays and significantly reduced crowds. Mild winter weather also makes the city easily bearable this time of year. With COVID-19 restrictions and closures in mind this winter, there are still ample opportunities to stay and play.
Visit Biltmore on a weekday in the off-season and you'll get to really take your time exploring America's largest home. The aptly named Winter Garden room and Conservatory should not be missed, as the botanical oasis is a welcome respite from the dormant landscape outside. If there's snow, circle the Lagoon for what is arguably the best vantage point of the grand château. 
While Asheville's music scene has suffered tremendously under the pandemic, with many indoor venues closed (for the most part temporarily), there are still good ways to experience the city's music scene. The late sound engineer and pioneer of electronic music Bob Moog is a legendary figure in Asheville. His story, along with experiential exhibits on how electricity converts into sound, are on display at the Moogseum. You can also schedule a free factory tour of Moog Music to learn about the production of synthesizers used by countless artists worldwide. And Asheville's newly opened Citizen Vinyl is an ode to vinyl records. The state's first vinyl press will soon be offering tours while also operating a bar/café and record shop/art gallery. (Learn more here.)
Set aside a day or more to explore the city's creativity. The beautifully renovated and expanded Asheville Art Museum hosts excellent traveling exhibits as well as a collection that focuses heavily on the artistic contributions from Western North Carolina, from Cherokee crafts to works by Black Mountain College alumni. Dozens of galleries including Momentum, Blue Spiral 1, and Southern Highland Craft Guild showcase works by hundreds of regional contemporary artists. And in the River Arts District (currently undergoing large-scale infrastructure improvements including sidewalks and a greenway) you can explore the studios of more than 200 artists. (Tip: aim to visit the second Saturday of the month, when more studios are open and free trolleys run throughout the district.)
Certainly don't forego the opportunity to imbibe. Asheville still loves its beer, touting the most breweries per capita in the country, but there are also many excellent bars and cocktail lounges. Every food and beverage establishment is operating at a reduced capacity, so the off-season presents an even better chance at landing a reservation at popular places like Chef Katie Button's much-publicized Cúrate. A few noteworthy relatively new kids on the block include Asheville Proper, serving an array of perfectly prepared steaks, strips, chops, and more; El Gallo, offering authentic elevated but affordable Mexican fare; and Forestry Camp, a collaboration between Chef Brian Canipelli of Cucina 24 and Burial Beer Co. presenting an Appalachian menu guided by Spanish and French traditions.
Plan Ahead
Explore Asheville is the go-to source for trip planning. Visit exploreasheville.com.
Check In
The accommodation choices are many, but the year-old Kimpton Hotel Arras and the Cambria are both top-notch favorites that put you in the center of the city. Each has excellent restaurant and bar options.