Tailgate Party
Tailgate Party:
Laurey Masterton creates a midweek feast with a bounty of ingredients fresh from the market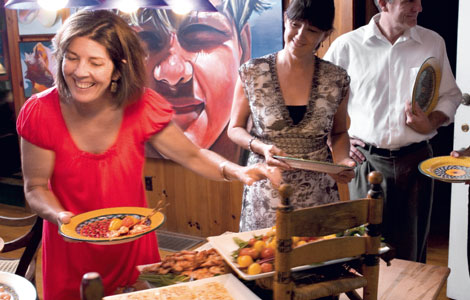 At any given time, the harvests of a dozen local farms are at Laurey Masterton's fingertips. As the owner of Laurey's Catering & Gourmet-to-Go, an Asheville institution since 1990, Masterton has access to the freshest fruits and vegetables through her popular restaurant. But she's doubly fortunate because each Wednesday and Saturday she only has to walk across the street from her Biltmore Avenue café to find a lively bazaar of culinary inspiration at the Farmers Tailgate Market.
Whether she's planning a meal at home or the ever-changing café menu, simply prepared seasonal vegetables, fruits, and other locally grown ingredients are the foundation of Masterton's comfort-food-meets-gourmet cuisine. Her relaxed style allows her to whip up a fabulous midweek dinner after work for friends. With canvas bags in hand, the chef roams from booth to booth, perusing bundles of tender beets and baby carrots, chatting with farmers, and oohing and ahhing over leafy greens and heirloom tomatoes.
Farmers from across the region have backed up their trucks and lowered their tailgates to do business with folks buying everything from okra, squash, and red peppers to bundles of magnificent sunflowers. There are also bakers selling chocolate-cherry brownies and empanadas that fill the air with sweet and savory aromas.
"With the market right there, coming home and creating a dinner is so easy," explains Masterton. "It's all about responding to what's available." She selects several handfuls of Carawan Seafood's shrimp to serve as the centerpiece of tonight's light, early autumn meal. Bunches of fragrant basil, tender cherry tomatoes, small yellow and red beets, pattypan squash, and fresh baked bread will comprise the side dishes.
Back in the restaurant, Masterton stashes her finds in a refrigerator while she finishes some paperwork. By 4 p.m., she's out the door, headed to her Weaverville home.
Home-Cooked Meal
Arriving at her 1956 log cabin, Masterton covers the table with tailgate market treasures and surveys her bounty. "I'm charged up about what's in front of me," she muses, when asked what keeps her excited about cooking after working in the café all day. "I like getting people together—and that generally goes better with food."
Despite having fed luminaries such as Garrison Keillor (who mentioned her on his nationally broadcast radio show, A Prairie Home Companion), country music stars, and governors, Masterton is a fan of hassle-free entertaining and no-fuss meals. "I don't mess with the food too much," she admits. "I like for it to look like what it was to begin with."
Cooking is second nature to Masterton, who grew up at the early 1800s Blueberry Hill Inn, which her parents ran in Goshen, Vermont. The days she spent in the inn's kitchen with her mother more than three decades ago are vividly recalled in her book Elsie's Biscuits: Simple Stories of Me, My Mother, and Food, from which she's drawn tonight's dessert recipe.
A sweetened batch of Elsie's biscuits, baked earlier in the day, sit on a sideboard. Later, the fluffy shortcakes will get dollops of whipped cream and a liberal sprinkling of blueberries.
The pimento cheese dip (made with Yellow Branch Farmstead cheese from Robbinsville) was blended the day before, allowing the flavors of feta and cheddar cheeses, peppers, and beer to mingle. The polenta, made with grits from Blue Hill Organic Farm in Marshall, has been waiting in the refrigerator since last night. All the other dishes, she begins to prepare an hour before the first friend drops in.
A Master at Work
The cooking unfolds in a seamless flow, like a well-choreographed dance. Laurey cuts the sheet of polenta into squares, grates Parmesan cheese over the top, and pops it in the oven. A bit of water in the bottom of a heavy Creuset pot and a sprinkling of smoked salt from Wales start the beets steaming. She then tosses them with chopped oregano from her herb garden, olive oil, and a quick drizzle of balsamic vinegar. The tomatoes go into a cast-iron pan with olive oil, chopped elephant garlic, and fresh basil. Salt, pepper, and a squeeze of lemon juice pull out the brightness of the fruit.
The chef's sister, Heather, is put to work as soon as she arrives, peeling, deveining, and skewering the shrimp from the North Carolina coast. As the sun drops, Masterton fires up the charcoal grill and sets up a table in the front yard for the appetizers—baby carrots with the leaves attached and roasted pattypan squash complement the spicy pimento cheese. Cold Coronas and hard cider chill in a tin tub filled with ice. An earthenware pitcher of tart lemonade is emptied into glasses holding sprigs of rosemary cut from a bush near the front stoop.
The sound of tires crunching on the gravel driveway is the hostess' cue to don a fresh shirt and head out to greet a cheerful crowd of foodies, chefs, and artists. It's only fitting that Emily and Charlie Jackson, founders of the Appalachian Sustainable Agriculture Project, are among the guests this evening when conversation centers on the area's abundance of farms and markets. "Without them we wouldn't have a lot of the great local food opportunities we do," says Masterton as she introduces the couple.
Dazzle The Crowd
Masterton invites some guests to check out her herb garden and spy two new beehives from a safe distance, while enlisting a few others to set out the buffet next to the picture window overlooking the deck. In a flash, a handsome wooden table in the cozy wood-paneled living and dining area filled with soft leather furniture, Navajo rugs, and contemporary art, is transformed into a multi-tiered presentation. Decorative accessories from Mexico, colorful cloths, and white serving platters placed on painted, child-size chairs are accented with an abundance of leaves cut from the beets and other root vegetables. The result is a festive and bountiful spread.
Guests carry their plates to the dinner table on the deck and are greeted by radiant, hand-painted Italian dishes and glorious tumblers in vivacious reds, blues, and yellows, which Masterton crafted in glassblowing classes. Cobalt blue, West Virginia-made Blenko vessels from her glass collection create a dynamic centerpiece.
Deb Caughron and Michael Follo have known the hostess for two decades. "We were friends when her business was just a cutting board and a mixer," beams Caughron. Tonight they marvel at her ingenuity. At each place setting is a guest's favor—a jar of Laurey's Blueberry Jam, wrapped with tonight's menu affixed with a slender, navy ribbon.
A tradition around Masterton's table is the clinking of forks, rather than glasses. This group obliges and they all raise forks in a toast of sorts that begins the dinner on a light note.
Before the relaxed evening comes to an end, Masterton has a surprise in wait, cleverly treating her friends to another warm memory as they depart. In the front yard, bistro lights threaded among the greenery of her garden twinkle to create an enchanting scene, not unlike a miniature fireworks display.
"I like to keep a little something in reserve for the end of the evening," Laurey says with a smile. She turned them on as guests strolled out back for dinner, creating the grand finale without notice. "Ideally, the night has touched all the senses," she reflects. "For me, that's a successful event."