Plant Power
Plant Power:
Master one of 2019's biggest food trends with a vegan cooking class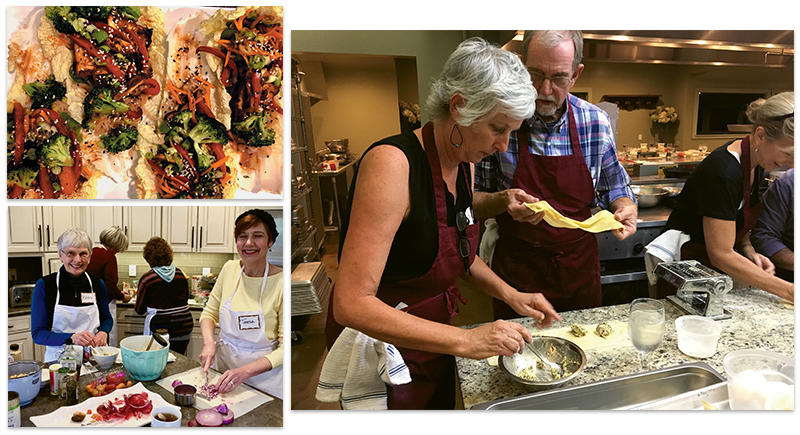 (Clockwise from top left) Asian Napa cabbage cups from Edible Musings; The Farm; Edible Musings.
No matter your dietary preferences, everyone can benefit from eating more fruits and vegetables. From increased energy to decreased likelihood of developing conditions like hypertension and diabetes, plant-based eating has bountiful health advantages, and, in WNC and across the country, vegan eating has never been more popular. Sign up for one of these cooking classes to learn how to expertly prepare veggies, fruits, and plants, like lentils. 
Edible Musings - Asheville
With dishes like barbecue cauliflower bites and potato cups, instructor and award-winning vegan blogger Lauren Vaught's Healthy Vegan Party Food class on January 19 will ensure your next gathering has festive plant-based treats aplenty. On February 23, Vaught teaches Winter Vegan Soups and Stews, including Peruvian legume and curried corn chowder. Address provided upon registration; Saturdays, 2-4 p.m.; $25; (847) 962-4077; ediblemusings.com
Kindly Kitchen - Boone
On the fourth Saturday of every month, Boone's vegan eatery Kindly Kitchen offers its interactive Cooking the Kindly Way, teaching students how to craft vibrant, flavor-rich dishes sans animal products. Meals center on a rotating selection of greens and grains, combining different textures and seasonings, as well as zesty dressings and sauces to enliven the dish. 659 W. King St., Ste. 2; Saturdays, 5:30-8:30 p.m.; $40; (828) 386-6005; eatkindlyboone.com
Plant - Asheville
Nationally recognized for his innovative yet accessible vegan dishes, Plant restaurant owner and Executive Chef Jason Sellers covers a lot of culinary ground in his classes. One Saturday a month, Sellers teaches knife skills and raw food techniques alongside soups, sauces, and desserts. Dishes are also paired with local wines and spirits. Follow Plant on social media for exact dates. 165 Merrimon Ave.; Saturdays, 11 a.m.-1 p.m.; $100; (828) 258-7500; plantisfood.com
The Farm - Candler
Global dishes are the focus at this three-hour, interactive class, happening January 22. With an emphasis on farm-to-table fare, Executive Chef Mike Ferrari will instruct students on how to make richly spiced curries, spring rolls, hearty Middle Eastern salads, and sorbets. Enjoy snacks and craft beer or wine before the learning begins. 215 Justice Ridge Rd.; Friday, 6-9 p.m.; $75; (828) 667-0666; thefarmevents.com
Lenore's Natural Cuisine - Weaverville
Soup is on the menu at this class, which takes place February 23. Cookbook author and instructor Lenore Baum has over 40 years of experience cooking natural foods, and her passion and knowledge shine through in her recipes. Curried yellow split pea, red lentil- arame sea veggie, multibean, and smoky apple-butternut squash soups will all be covered. 164 Ox Creek Rd.; Saturdays, 10 a.m.-1:30 p.m.; $45; (828) 645-1412; lenoresnatural.com
Recreate Lenore's cauliflower chickpea soup with this recipe. 
RESOURCES:
Photographs courtesy of (2) Edible Musings and The Farm