No Hill of Beans
No Hill of Beans:
Chef Adam Hayes embraces an Appalachian staple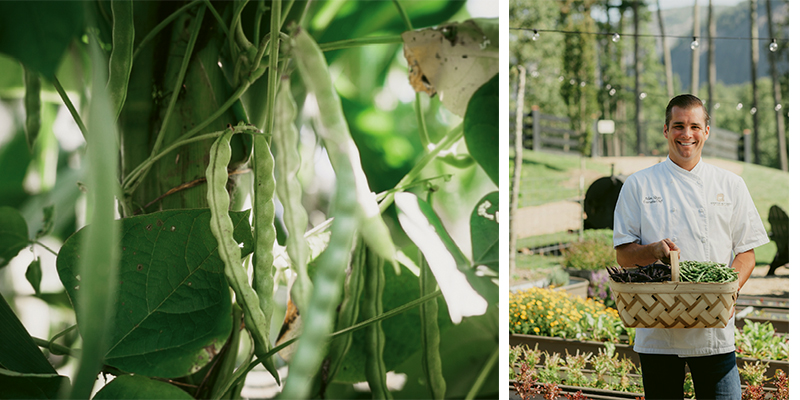 Chef Adam Hayes, Canyon Kitchen 
Kitchen Philosophy: "Conventional is not my style, but I want to keep traditions alive."
Current Culinary Experiment: "Fermentation."
Where to find the best beans: "Don't be scared. Grow your own!"
Green Bean "do": "Try different varieties from farmers markets."
Green Bean "don't": "Once you pick them, don't let them lay around. They're not as crisp."
It's a blindingly bright morning at Canyon Kitchen in Cashiers. In the garden behind the restaurant, rows of beans stretch toward the sun and curl around stalks of heirloom corn. Chef Adam Hayes reaches up to pick a pod, cradling it in his hands.
These beans were foreign to Hayes when he arrived in Western North Carolina in 2009. Born in Asheboro, Hayes worked at restaurants in Charlotte and Greensboro before becoming executive chef of Grand Bohemian Hotel's Red Stag Grill in Asheville. After a brief stint in Georgia, he moved back to WNC to take the helm at Canyon Kitchen at Lonesome Valley.
Hayes soon began exploring traditional Appalachian ingredients, including the heirloom beans growing in the garden today. "I had no idea what a greasy bean was," he says with a grin. He quickly learned to love this Appalachian favorite, which isn't actually greasy at all. This type of heirloom bean is smooth-skinned and fuzz-free, giving it a shiny appearance that inspired the name. There are more than 30 known varieties of greasy beans that grow in Southern Appalachia, and trading and sharing the seeds remain a common practice.
Although greasy beans are labor-intensive (each pod has strings that must be removed), they are a staple on Canyon Kitchen's summer menu. Hayes says nearly everyone on staff, from dishwashers to hostesses, has a sack of beans by their side in the summer, removing the strings during spare moments.
Hayes puts his family to work, too. His 12-year-old daughter helps take the strings off greasy beans alongside her mother and grandmother each summer. Then the family gathers around the canning pot to put up beans for winter meals. "Our tradition now, at this time of year, is we buy a whole bushel of greasy beans and it's a family deal; everybody's stringing."
He appreciates the versatility of beans, which can be blanched, baked, roasted, or eaten fresh. Hayes shares three recipes that highlight his favorite varieties: stringless green beans that are easy to grow, greasy beans that can be found at farmers markets in July and August, and tongue of fire beans streaked with stunning red stripes.
Whether you want to keep it simple with stringless or string each greasy by hand, these recipes are perfect for a late summer meal.
---
Canyon Kitchen
150 Lonesome Valley Rd.
Sapphire
(828) 743-7967
http://lonesomevalley.com/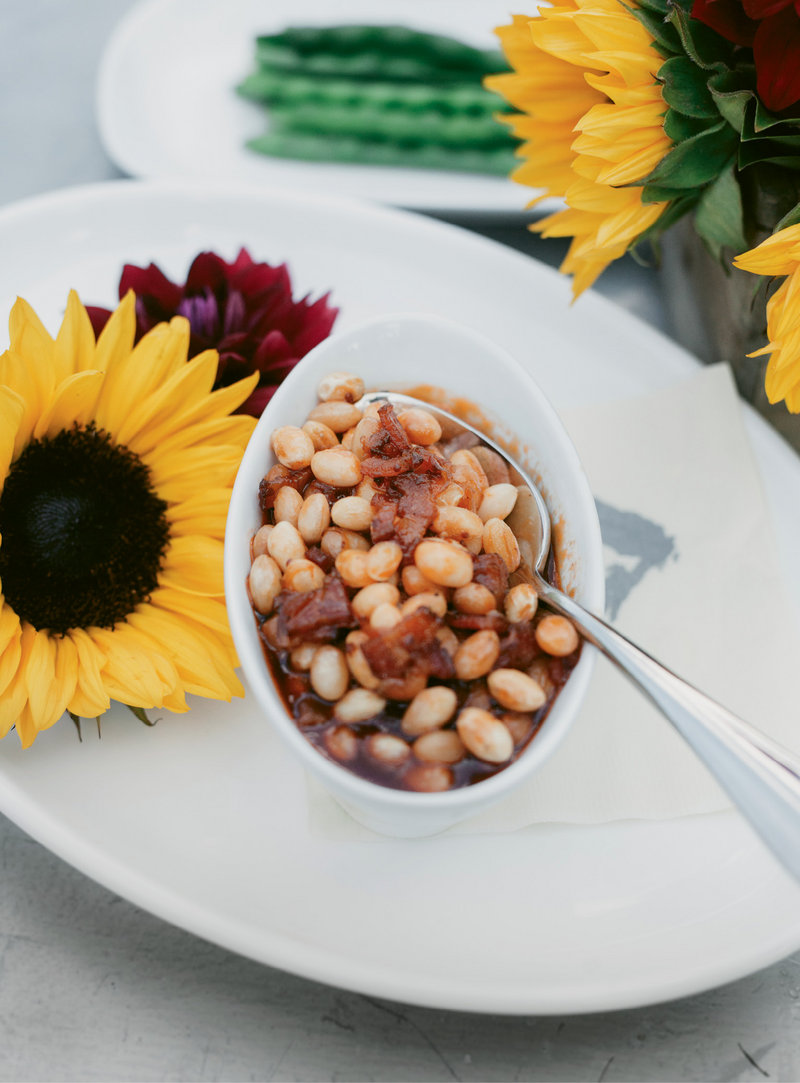 DESCRIPTION:
Picnic Favorite Baked beans always have a seat at the Southern summer table. Hayes' recipe for baked greasy beans adds additional flair by using Benton's bacon, sorghum molasses, and Lusty Monk mustard.
INGREDIENTS:
6 qts. water
1 cup salt
1 qt. greasy beans, shelled
6 oz. onion, diced
1/2 lb. bacon (Benton's recommended)
1/4 cup brown sugar
1/4 cup sorghum molasses
1/4 bourbon (Old Grandad recommended)
1/3 cup apple cider vinegar
1 Tbsp. Worcestershire
2 cups pork or chicken stock
1 cup ketchup
1 Tbsp. whole grain mustard (Lusty Monk recommended)
Salt & pepper, to taste
DIRECTIONS:
Preheat oven to 350°F. Bring a large pot of salted water to boil. Add beans and blanch until tender but not mushy, about 45 minutes. Strain and set aside. In a medium sauce pot over medium-high heat, add onions and bacon. Cook for 15 minutes, stirring occasionally until bacon fat is rendered and onions are caramelized. Strain off bacon fat. Add brown sugar and molasses, allow sugar to dissolve, and then deglaze with bourbon. Add remaining ingredients and bring to a boil. Add blanched beans to sauce. Transfer to a baking dish and bake at 350°F for 35-40 minutes. Serve immediately.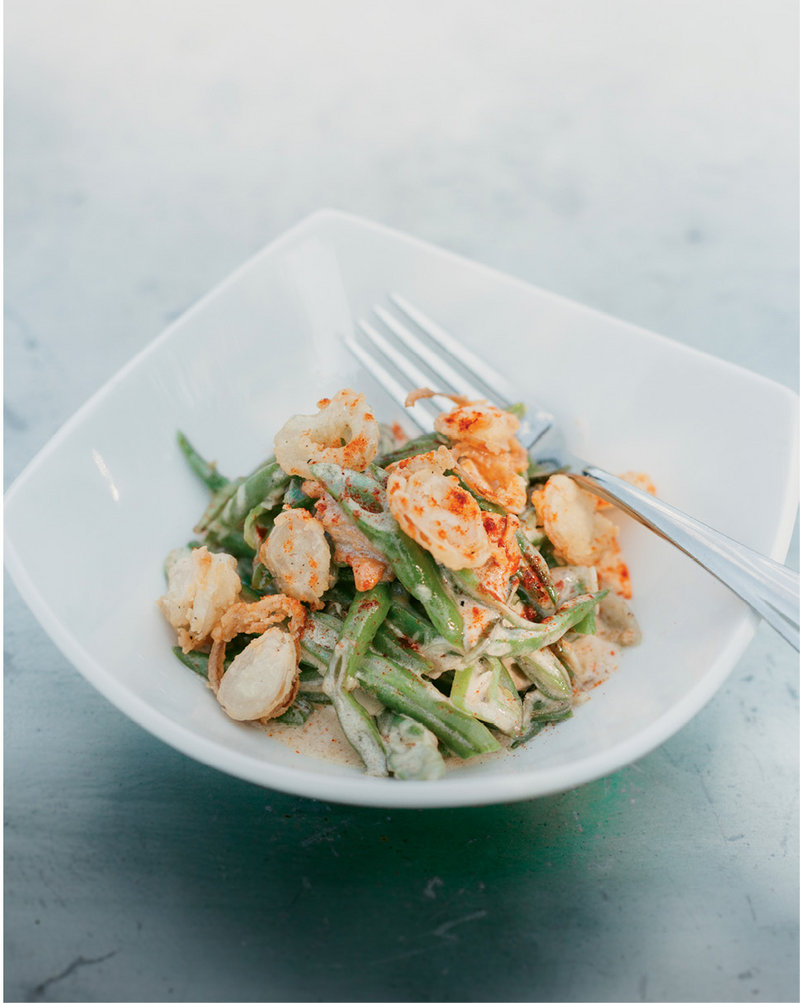 INGREDIENTS:
6 qts. water
1 cup salt
1½ lbs. stringless green beans
2 Tbs. oil of choice
1/4 cup onion, diced
2 Tbsp. garlic, chopped
1/4 cup white wine
2½ cups cream
4 oz. Cherokee Rose (or raw cow's milk) cheese
1/2 cup mascarpone cheese
1 tsp. fresh thyme, chopped
Salt & pepper, to taste
1/2 oz. butter
4 oz. chanterelle or other mushrooms
2 cups French's fried onions
DIRECTIONS:
Preheat oven to 350°F. Bring a large pot of salted water to boil. Blanch beans until tender, about 10-12 minutes. Strain and set aside. In a medium sauté pan, heat oil and sauté onion and garlic on medium-high until caramelized, about 10 minutes. Add white wine to pan and turn to high heat to deglaze. When wine has reduced, add cream. Reduce at medium heat for 30 minutes. Remove from heat and add cheese and mascarpone. Finish with fresh thyme and season with salt and pepper. In a large pan, melt butter and sauté mushrooms. Add green beans and sauté for three minutes. In a large bowl, mix green beans and mushroom mixture with sauce and stir to combine. Transfer to a casserole dish and bake at 350°F for 10 minutes. Garnish with fried onions.
Spanish-Style Tongue of Fire Beans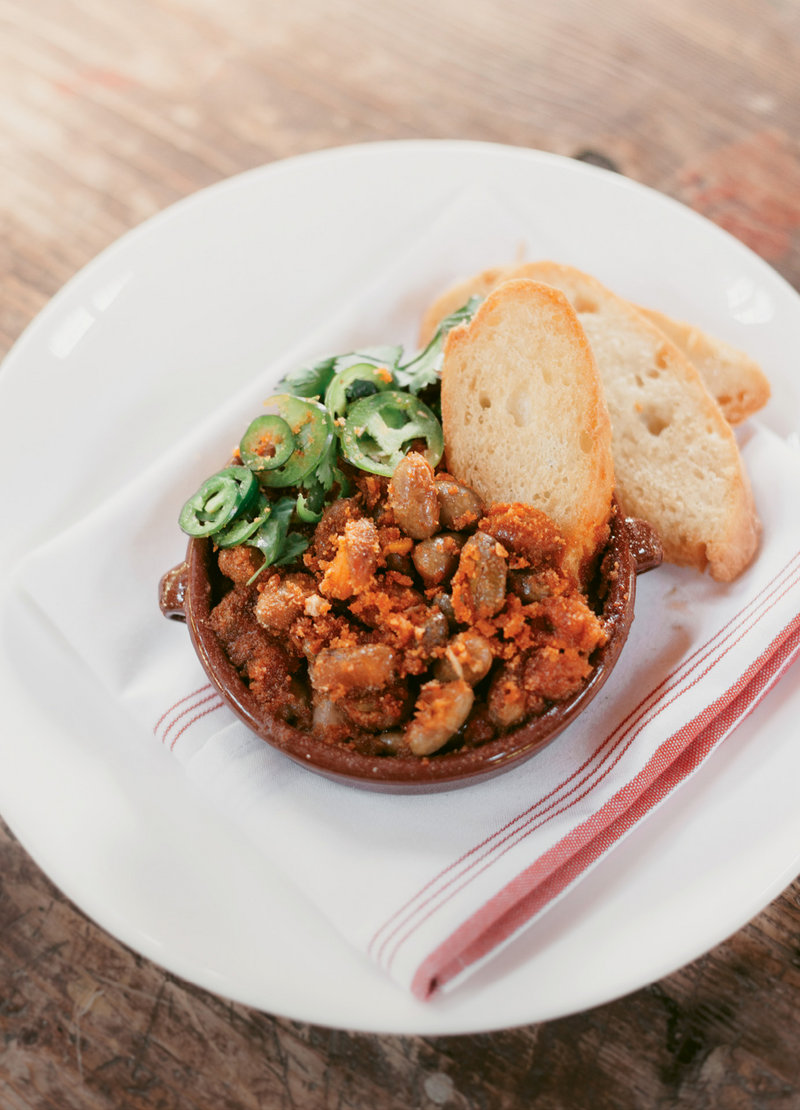 DESCRIPTION:
Appalachia Meets Spain Tongue of Fire shell beans, which are dry beans that require soaking, compliment the spicy punch of raw or dried chorizo in this zesty Spanish-style dish.
INGREDIENTS:
1 qt. tongue of fire beans
3 Tbsp. cooking oil of choice
2 lbs. raw or dried chorizo
1 yellow onion, finely chopped
10 garlic cloves, sliced
1 Tbsp. tomato paste
1 Tbsp. smoked paprika
3 cups chicken stock
1 28-ounce can whole tomatoes, drained & chopped
2 Tbsp. fresh thyme, chopped
2 bay leaves
Salt, to taste
Topping
2 Tbsp. butter, melted
2 cups fresh coarse breadcrumbs
Kosher salt & ground black pepper, to taste
1/2 cup flat-leaf parsley, chopped
1 tsp. lemon zest, grated
DIRECTIONS:
Place beans in a large pot and cover with two to three inches of water. Bring to a boil, then boil two minutes. Remove from heat, cover, and let stand for one hour. Drain beans and add two to three inches fresh water. Bring to a boil, then reduce heat to medium and simmer, uncovered, until beans are tender but not mushy, about two hours. Drain, reserving one cup of the bean broth. (Note: May substitute with Cranberry or October beans.)
Preheat oven to 450°F. In a large oven-safe pot, heat two tablespoons oil. Add chorizo and cook, stirring occasionally, until golden, about eight to 10 minutes. Strain in a colander to remove most of the fat and oil and set aside. Place one tablespoon oil in the same pot and cook onion and garlic on medium heat until vegetables are softened and lightly golden, about five minutes. Add tomato paste and paprika; stir constantly until paste is caramelized, about two minutes. Add chicken stock, tomatoes, chorizo, beans, one cup reserved bean broth, thyme, bay leaves, and salt. Stir to combine. Cover and bake in oven until beans are very tender and liquid is reduced and slightly thickened, 40–45 minutes.
Reduce oven temperature to 350°F. In a large bowl, combine butter, breadcrumbs, salt and pepper. Place on baking sheet and bake for about eight minutes. Sprinkle breadcrumbs over beans. Bake until breadcrumbs are browned and liquid is bubbling, about 15-18 minutes. Let sit for 10 minutes. Sprinkle with chopped parsley and lemon zest just before serving.