Spanish-Style Tongue of Fire Beans
Spanish-Style Tongue of Fire Beans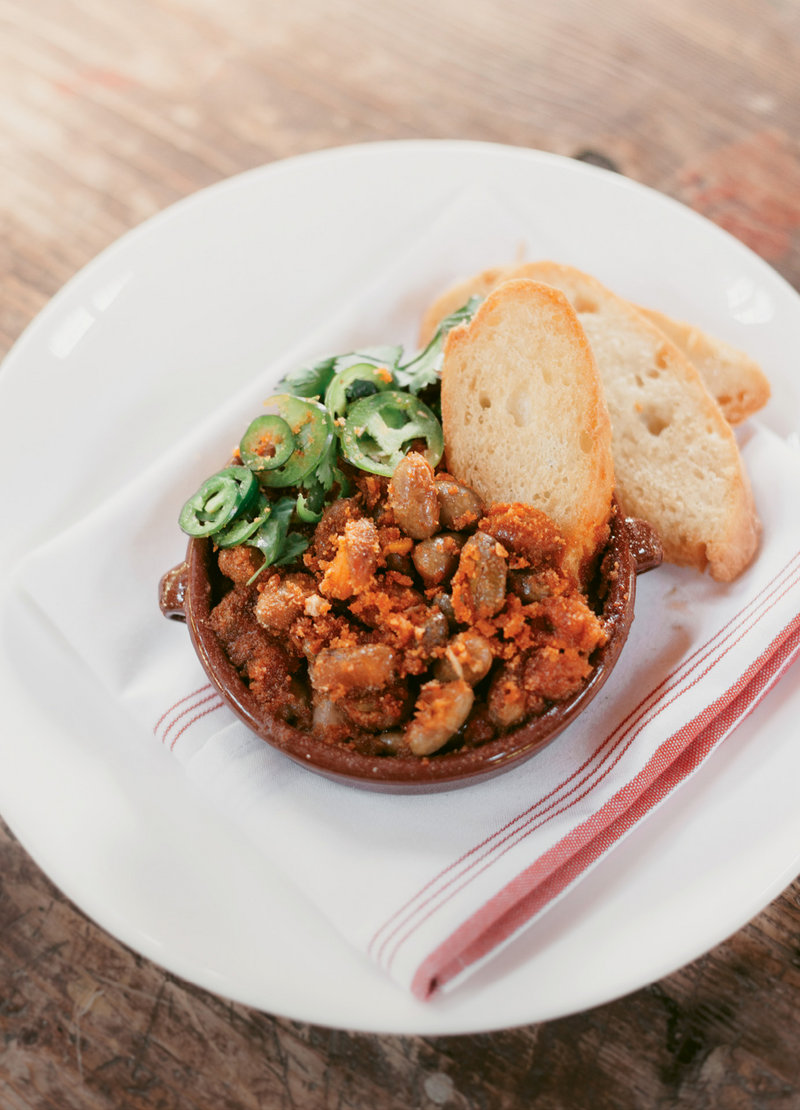 DESCRIPTION:
Appalachia Meets Spain Tongue of Fire shell beans, which are dry beans that require soaking, compliment the spicy punch of raw or dried chorizo in this zesty Spanish-style dish.
INGREDIENTS:
1 qt. tongue of fire beans
3 Tbsp. cooking oil of choice
2 lbs. raw or dried chorizo
1 yellow onion, finely chopped
10 garlic cloves, sliced
1 Tbsp. tomato paste
1 Tbsp. smoked paprika
3 cups chicken stock
1 28-ounce can whole tomatoes, drained & chopped
2 Tbsp. fresh thyme, chopped
2 bay leaves
Salt, to taste
Topping
2 Tbsp. butter, melted
2 cups fresh coarse breadcrumbs
Kosher salt & ground black pepper, to taste
1/2 cup flat-leaf parsley, chopped
1 tsp. lemon zest, grated
DIRECTIONS:
Place beans in a large pot and cover with two to three inches of water. Bring to a boil, then boil two minutes. Remove from heat, cover, and let stand for one hour. Drain beans and add two to three inches fresh water. Bring to a boil, then reduce heat to medium and simmer, uncovered, until beans are tender but not mushy, about two hours. Drain, reserving one cup of the bean broth. (Note: May substitute with Cranberry or October beans.)
Preheat oven to 450°F. In a large oven-safe pot, heat two tablespoons oil. Add chorizo and cook, stirring occasionally, until golden, about eight to 10 minutes. Strain in a colander to remove most of the fat and oil and set aside. Place one tablespoon oil in the same pot and cook onion and garlic on medium heat until vegetables are softened and lightly golden, about five minutes. Add tomato paste and paprika; stir constantly until paste is caramelized, about two minutes. Add chicken stock, tomatoes, chorizo, beans, one cup reserved bean broth, thyme, bay leaves, and salt. Stir to combine. Cover and bake in oven until beans are very tender and liquid is reduced and slightly thickened, 40–45 minutes.
Reduce oven temperature to 350°F. In a large bowl, combine butter, breadcrumbs, salt and pepper. Place on baking sheet and bake for about eight minutes. Sprinkle breadcrumbs over beans. Bake until breadcrumbs are browned and liquid is bubbling, about 15-18 minutes. Let sit for 10 minutes. Sprinkle with chopped parsley and lemon zest just before serving.