Meat Master
Meat Master:
The American Pig's Charles Lee raises the bar on artisan charcuterie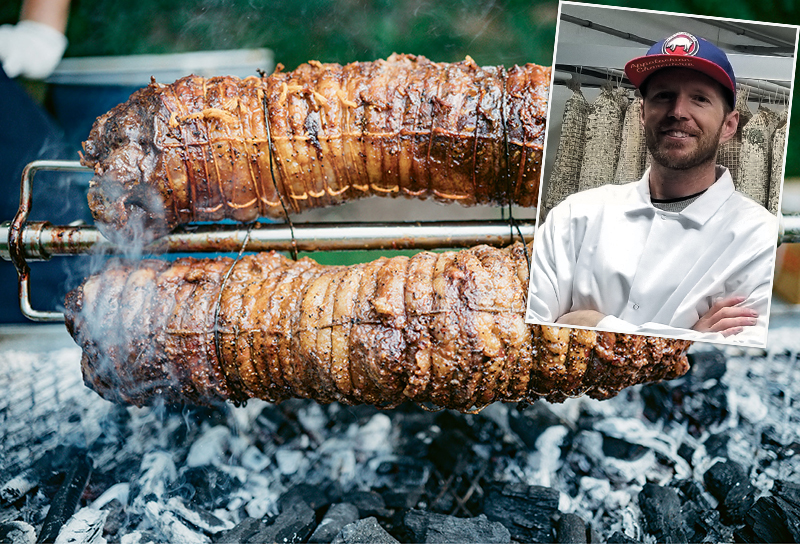 For most of us, the contents of a sausage are stupefying, but Charles Lee knows everything about those mystery meats. Since opening his Asheville-based artisan charcuterie business, The American Pig, in 2015, Lee has made cured meats and fresh sausages that are available at more than 30 area establishments, including Chop Shop Butchery, Sovereign Remedies, District Wine Bar, and Sierra Nevada Taproom. All broken down by hand from whole pigs sourced from local farmers, Lee ages chorizo and soppressata, cures pancetta and coppa, and stuffs everything from andouille to kielbasa with a focus on sustainable ingredients.
After a short stint studying business, Lee turned to making meat. "At some point I became disenchanted with the finance world," he says, but the family-owned brewpub where he moonlighted as a manager kept his attention. While working there, he networked with other industry professionals, including a butcher who was in the process of opening a shop. "I got to break down a pig with him," says Lee. "The experience of that and working in the restaurant industry was the spark for me to open my own shop. I thought, this could be something that helps improve our food chain and that really gives back to the farmer where the meat comes from."
After working with Craig Deihl at Charleston's erstwhile and lauded Cypress in early 2015, Lee journeyed to France, where he studied under author and Chef Kate Hill at the 300-year-old kitchen at Camont, learning about the close-knit foodways of France.
The care and respect for the animals and the land, coupled with the attention to minimizing waste, influenced Lee. "I learned skills and techniques and French charcuterie methodology and recipes that you can't just learn from reading a book," he says.
With his company, Lee has strict criteria for how his meats are sourced, and the end result shows in the quality of the final product. He works solely with American heritage breeds like Red Wattle and Tamworth, and makes the conscious choice to only use pigs that are pasture-raised and free of antibiotics and hormones.
Lee works closely with the North Carolina Natural Hog Growers Association, a cooperative of more than 30 small hog farmers in North Carolina. "They grow all of their own grains and use a lot of the same breeding stock," he says. That isn't just apparent in the beautifully marbleized meats, it's a difference you can taste.
The American Pig
Find Lee's meats at outlets including the Chop Shop in Asheville and Hickory Nut Gap Farm in Fairview. Learn more at theamericanpig.com.
RESOURCES:
Photographs (meat board & portrait) courtesy of the American Pig; (dinner party and rotisserie) by Nathan Rivers Chesky