Growing Farmers
Growing Farmers:
Here's a look at the modern ways farming traditions are being passed down and the wealth of programs that are cultivating an exchange of knowledge, all of which is helping our farmers—especially those new to the game—grow and succeed.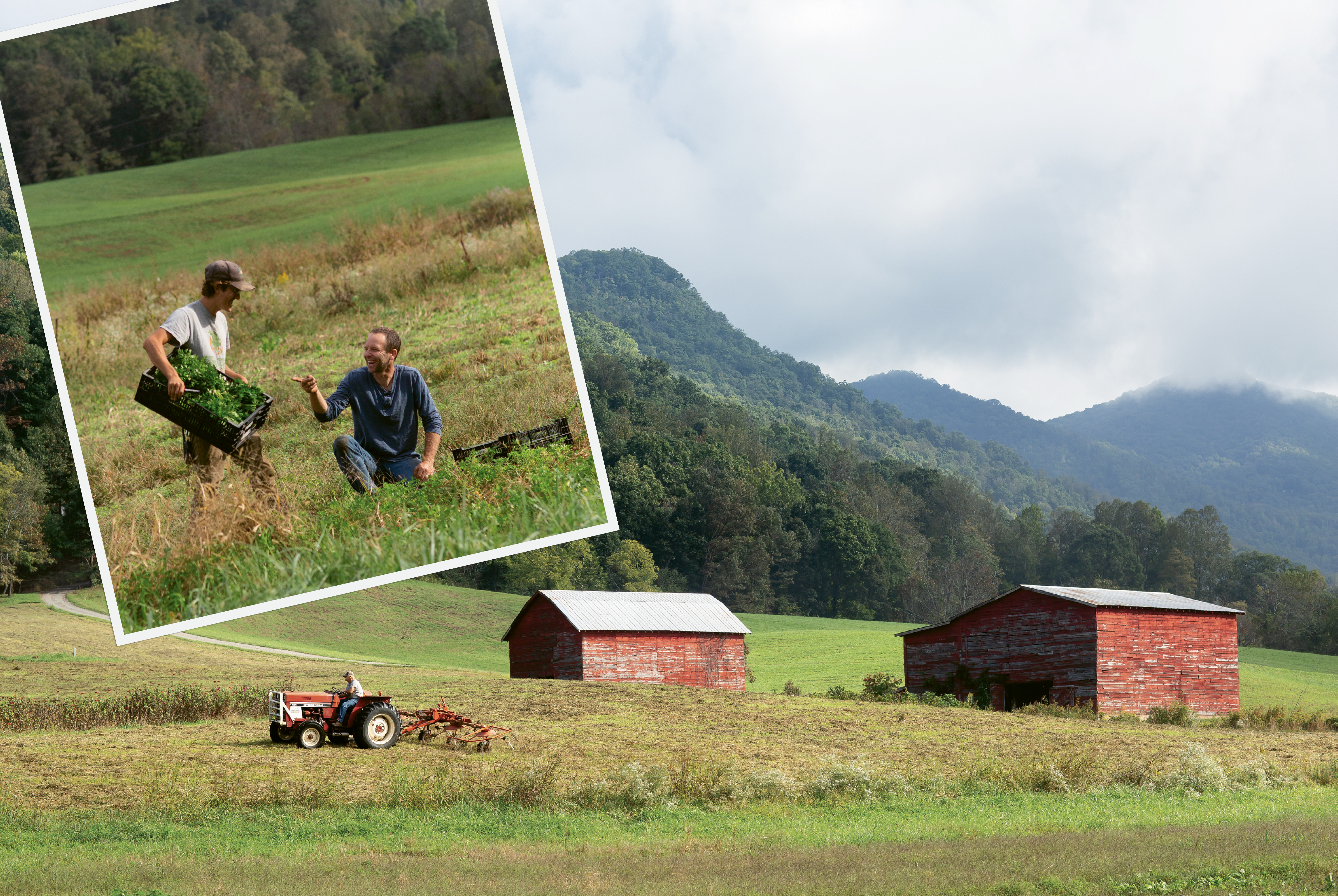 In the mountains, usually a small percentage of a farm's acreage is flat and farmable. So like many others, Ivy Creek Family Farm leases additional acreage to be able to grow all of its crops. As Anna Littman puts it, "It takes a village. We couldn't do it without the generosity of neighbors." (Inset) Jacob Gigler-Caro (left) is an advanced apprentice learning the trade of farming under Paul (pictured) and Anna Littman at Ivy Creek Family Farm in Barnardsville. Such opportunities provide a win-win for growers needing assistance and those new to farming who want to learn.
If the sheer number of farmers markets and CSAs, the medley of produce, and restaurants touting locally sourced food are any indicator, suffice it to say that Western North Carolina's farming community is thriving. 
To experience a feast for the senses in Western North Carolina, one needs only to stroll through a farmers market. Heirloom tomatoes glow on checkered tablecloths, their burgundy and gold flesh reflecting the morning sun. People crowd around a local chef as he sautés fragrant samples of grass-fed beef, and a child dances to an old-time band while noshing on a chartreuse cucumber.
It's a glorious summer day that feels effortless, as if the glossy eggplants and sweet corn simply appeared on the tables that morning. In reality, farmers have spent months or even years producing this food. They woke up at dawn to feed the animals, planted hundreds of seeds in the spring, and tended to vegetables for months to make this market possible.
In many ways, Western North Carolina is a haven for farmers. The area's farmland is fertile—the rural landscape is the foundation for fruits and vegetables of all kinds, and the rolling hills are ideal for grass-fed and pastured livestock operations. This agricultural abundance is fortified by city centers like Asheville and Boone, where local food is valued by restaurants and home cooks. Chefs clamor for niche items like edible flowers and specialty herbs that can be grown nearly year-round, and farmers markets are packed with adventurous gourmands who seek out ingredients from nearby. The region's deep agricultural roots, combined with the public's sustained support of local food, has also made the area a destination for those who want to farm.
"The vibrant food and farm scene in the region has been very effective in attracting farmers, including folks new to farming and the next generation coming back to the farm," says Molly Nicholie, program director of Appalachian Sustainable Agriculture Project's Local Food Campaign.
The nonprofit that links farmers to markets was born in 2000 in an effort to reverse the loss of farms in WNC and assist growers in the transition from tobacco—and its efforts have been effective. In a 2018 producer survey conducted by ASAP's Local Food Research Center, 31 percent of farmers in the Southern Appalachian region are new and beginning farmers, defined as farming for 10 years or less. The data is used to inform ASAP's educational programs for growers, which include formal business training, connecting farmers with local chefs, and the "Appalachian Grown" label that certifies products grown or raised in the Southern Appalachians.
ASAP is but one of the incredible area resources committed to educating those new to farming while helping others grow and learn. Aside from the challenges of unexpected pests and diseases and burnout from the physically demanding work, now more than ever, rising land prices and extreme weather are factors that can make starting a farm a significant undertaking. Many farmers are also tasked with the business dealings of bookkeeping and social media marketing, even when crops need harvesting or animals need care. From formal business training to hands-on apprenticeships, the ways in which our region bolsters our farmers has a direct impact on the strength of our food system.
Farmer to Farmer Training
Appalachian traditions have guided agriculture in Western North Carolina for generations, harkening back to when farmers in Madison County helped each other harvest tobacco. Groups of neighbors worked each field on the road until every farm had harvested its cash crop. Women often worked alongside the men and then went inside to cook a big meal for the neighborhood.
Farmers passed on knowledge by showing each other how to harvest and prepare tobacco for sale, and this hands-on learning strengthened and sustained the farming community. While there has been a steep decline in tobacco in WNC over the past 15 years, farmers still share knowledge through personal relationships.
Tom Elmore of Thatchmore Farm grows produce like cucumbers, peppers, eggplants, and shiitake mushrooms in Leicester—just a few miles from Madison County. He's farmed in Western North Carolina for more than 30 years and mentors new farmers in his neighborhood, including Gwen Casebeer and Jay Englebach from Black Trumpet Farm, which was founded in 2016 and grows medicinal herbs and specializes in a cornucopia of mushrooms, including lion's mane, oysters, and shiitake.
Casebeer and Englebach met Elmore through the Organic Growers School CRAFT mentorship program and found that having a mentor a quarter-mile away was very helpful. When they have a question about mushroom production, Elmore ambles down the road to take a look and offer advice. Casebeer describes Elmore as "a huge wealth of knowledge in the community." He lends them tools, shows them how to fix equipment, and shares hands-on wisdom that can't be learned from books.
Elmore says he's learned new things from Casebeer and Englebach, too. They've introduced him to different varieties of mushrooms, and their mutual exchange of ideas reflects the spirit of collaboration that Elmore sees in the WNC farming community. "People seem eager to share information," he says. "Nearly always when I share information, I have questions that that person can help me out with either a week later or several years later," he says.
Learning on the Farm
Knowledge grows alongside the vegetables, mushrooms, fruits, and flowers at Ivy Creek Family Farm in Barnardsville, where Anna and Paul Littman have trained countless aspiring farmers through their advanced apprentice program.
Apprentices work side by side with the Littmans, learning to seed new plants, harvesting more than 40 different crops, and gaining an understanding of how CSA members and chefs like their produce cleaned and packaged. These aspiring farmers also practice the hands-on skills of growing food in WNC, like troubleshooting the weather and pests that are particular to this region.
Several of Ivy Creek's apprentices have gone on to start their own farms, including former crew leader Henry Payne, who now owns Five Pine Farm in Yancey County.
Payne initially became interested in farming as an inexpensive way to travel. He participated in WWOOF, an international program where volunteers live and work on organic farms around the world. "I just happened to love it and I've been farming ever since," he says. He decided to start his own farm in WNC because he had family nearby and was seeking abundant rainfall to avoid irrigating his crops.
Like most Ivy Creek apprentices and crew leaders, Payne had some farming experience and a genuine passion for small-scale agriculture. He remembers many warm May days spent on his knees picking strawberries. "It was hard work," he recalls. "It was intense and I learned a lot, for sure."
Payne started his farm in 2018 and relied on the Littmans as he worked through initial obstacles. "Anna and Paul have always been really good to me," he says. "They've helped me out with any questions I've had and been really supportive of me starting my own farm."
Like a lot of new farmers, Payne has other jobs in addition to farming. He does landscaping, works on other farms, and assists a local vinegar company. He also sells mixed and specialty greens like sorrel and malabar spinach at the Yancey County Farmers Market in Burnsville and Asheville City Market South in Biltmore Park.
In addition to the financial benefits of selling direct to consumers, the tailgate market is a place where farmers exchange information. They can see how others display their food, learn how to interact with customers, and pick up growing tips.
The camaraderie between farmers is another draw to the market. Farming life can be isolating and trying when the mid-summer days are long and hot and the work feels like it might never end. The markets are a way for all farmers to network and socialize during the growing season.
Honing Skills and Building Community
A cluster of new farmers crowds around Gaelan Corozine at Green Toe Ground Farm in Burnsville. He waves his arms as he described the winds that tore through his hoop house. The farmers watch with sympathy and rapt attention, as Corozine's tips might save their future hoop houses from a similar fate.
The farmers are part of Organic Growers School's CRAFT farmer network. CRAFT (Collaborative Regional Alliance for Farmer Training) is a national program that originated in the northeastern United States, but the knowledge is specific to this region.
In 2008, several WNC farmers came together to brainstorm how to train future growers. They started a CRAFT chapter that offers a couple of farm tours each month, April through October. The tours are based on a theme, like transitioning from apprentice to farmer. Such was the case when new farmers got an overview of the operation at New Roots Market Garden in Marshall and connected with other farmers embarking on similar journeys.
"CRAFT creates community for the apprentices who are often coming from outside of the area," says Farmer Programs Director Cameron Farlow. She explains that living in rural areas can make it hard to connect with other people. "So in a lot of ways, CRAFT is able to help meet the social needs of folks in addition to education and learning needs." The tours end with a potluck where farmers are encouraged to relax and build community in an informal setting.
A more formal Organic Growers School program geared toward aspiring farmers is Farm Beginnings. The one-year, farmer-led training program combines classroom sessions with networking and on-farm tours. Krista Wesch and Stephen Rosenthal from New Roots Market Garden are graduates of Farm Beginnings, where they learned from the mistakes and successes of more established farmers. Now, they're passing on the knowledge to current CRAFT participants.
These more structured programs, and many others like them, help new farmers prepare for the challenges ahead. Farmers are always at the mercy of the weather, but knowing how to handle flooding and extreme wind can mitigate the risk. Land prices are rising, especially near city centers where restaurants source local food, so farmers often have to decide whether to purchase or lease land near the city or drive from rural areas where land prices are lower. Many aspiring farmers need guidance while navigating real estate, insurance, and the many business aspects of a successful farm operation.
ASAP's annual Business of Farming Conference, which is designed with beginning and established farmers in mind, offers sessions on marketing, business planning, branding, and management from regional experts and farmers. Sessions on taxes, financial record keeping, and developing a brand are combined with informal networking
The conference's grower-buyer meetings (sometimes called speed dating for farmers and chefs) allow farmers to meet chefs and grocers face-to-face and form new relationships. These connections with chefs can make or break a farm. "One chef makes the difference," says Anna Littman. Her farm provides produce to Asheville restaurants including Cúrate, Plant, and The Omni Grove Park Inn, and Anna credits those chefs as an important factor in the farm's ongoing success.
Farmers of the Future
The strength of the local food system in Western North Carolina depends on longtime farmers passing on their knowledge to new people, whether that's through formal programs or farmers swapping tips at the tailgate market.
"While we need established farmers with an understanding of the systems, new and beginning farmers bring an influx of fresh energy and ideas," says ASAP's Molly Nicholie. "One of the reasons the local food movement in our region has been so successful is because of that balance."
In many ways, consumers are the linchpin in the success of local farms. When people shop at farmers markets or sign up for a CSA, they're voting with their dollars to preserve farmland and provide a living wage for farmers. Beyond shopping local, Nicholie suggests an experiential approach to supporting farms and encourages people to chat with farmers at the market, go on a farm tour, or sign up for a class hosted by a local farm.
As new farms take root in Western North Carolina this summer, they are growing more than tomatoes and peppers; they're building community out of seeds and soil, and creating a local economy that supports the health of the land and its people.
Photograph courtesy of Asheville Farm to Table Tours
Meet Our Farmers - Resources and opportunities for consumers to connect with growers
Agritourism helps you learn while supporting local farmers
Asheville Farm to Table Tours connects the field to your fork with explorations of area farms specializing in everything from produce or flowers to cheese or meats, followed by a chef-prepared lunch. ashevillefarmtotabletours.com
Plan ahead to take in two annual self-drive farm tours that take place each June. NC Foothills Farm Tour makes more than a dozen stops throughout Polk and Rutherford counties. ASAP's Farm Tour takes in about 20 farms around Asheville. Facebook: NC Foothills Farm Tour, asapconnections.org
Developed by the NC Department of Agriculture and Consumer Services and still in its infancy, the Visit NC Farms App is a handy statewide resource for finding farms, markets, farm stays and lodging, U-pick options, and more. So far Ashe, Avery, Watauga, and Wilkes counties in WNC are represented. visitncfarmstoday.com
Local tailgates markets are open nearly every day across the region. Photograph by Sydney Conrad
Tailgate markets are opportunities to interact with and buy from many farmers all in one place, and they happen almost daily all across the region. To find a market near you, here are some best-bet resources to guide the way:
ASAP's Local Food Guide: Among the myriad resources this print and online guide offers is a list of farmers markets broken down by Central Mountains, Foothills, Southern Mountains, Smoky Mountains, and the High Country. Visit asapconnections.org/find-local-food.
Organic Growers School: Find farmers markets in Buncombe, Haywood, Henderson, Madison, Mitchell, Transylvania, and Yancey counties at organicgrowersschool.org/resources.
U-pick farms are a great way for the whole family to get ahold of fresh wares. Photograph courtesy of ASAP
From fruits to berries to flowers, some 35 U-pick farms exist across WNC. It's a fun activity even the smallest hands can partake in, and you pay by weight for only what you pick. Standout operations that offer a bit more for families and kids include Skytop Orchard in Henderson County, Hickory Nut Gap Farm and Long Branch Environmental Education Center in Buncombe County, and the Orchard at Altapass in Mitchell County. For a complete list, check out ASAP's Local Food Guide at asapconnections.org/find-local-food.
John Mitchell of J.W. Mitchell Farms in Franklin. Photograph by Sarah Jones Decker, courtesy of ASAP
How Far Can You Grow - From home growers to those ready to dive into full-fledged farming, here are regional resources to get you growing
A vital resource for the WNC farming community since 2000, Appalachian Sustainable Agriculture Project serves to link farmers with consumers, including chefs and restaurants. The annually produced Local Food Guide is a print and online resource for consumers seeking to know our local growers. For those wanting to farm, ASAP is a great resource for business planning, branding, marketing, and raising capital. Its annual Business of Farming Conference takes place in February in Asheville. asapconnections.org
The NC Farm School offers business training classes across the state. Photograph courtesy of NC State University
Part of a national network of agricultural resource centers that work with the USDA and state and local governments, the NC State Extension provides education to home growers and farmers. One such training program that is often more cost effective than others is the NC Farm School, which offers an eight-session business training program at centers throughout the state. The nearest 2019 school is tentatively set to be held in Alexander County. ncfarmschool.ces.ncsu.edu
Blue Ridge Women in Agriculture works to educate farmers and connect them with local consumers. Photograph by Lynn Hall
Based in Boone, Blue Ridge Women in Agriculture aims to cultivate a thriving sustainable food system by supporting farmers through education and offering opportunities that connect them with consumers. Its CRAFT program enables mentorship opportunities. In addition to numerous workshops and classes, BRWIA also offers funding for sustainable and innovative agriculture endeavors. brwia.org
From home gardeners to full-time farmers, the Organic Growers School educates folks about growing organically. Photograph courtesy of Organic Growers School 
Since 1993, the Asheville-based Organic Growers School has offered hands-on workshops, training, partnerships, and conferences to educate, support, and inspire people to garden, live, and farm organically. Some programs are geared toward home gardeners, such as the Living on the Land Learning Circles, which are monthly workshop site visits to learn about topics like hardscaping, water management systems, and renewable energy. Other programs are for the more serious farmer. The CRAFT Farmer Network and Apprentice Link connect those who want to learn with farmers willing to impart knowledge. Farm Dreams is an entry-level workshop to help people determine if farming is the right path for them. And Farm Beginnings is a yearlong, 200-plus hours, farmer-led training program for those really ready to dig in the dirt. organicgrowersschool.org
In addition to educating farmers, the Carolina Farm Stewardship Association works to secure better policies and food systems. Photograph courtesy of Carolina Farm Stewardship Association
A farmer-driven, membership-based nonprofit in Pittsboro that serves the Carolinas, the Carolina Farm Stewardship Association works on advocacy initiatives for better food systems and policies and also offers educational opportunities and consulting for farmers. Workshops and trainings happen throughout the year. The big annual event, the Sustainable Agriculture Conference, takes place in November in Durham, and new and beginning farmers are eligible to apply (beginning in August) for the William W. Dow Scholarship to offset registration costs. carolinafarmstewards.org
RESOURCES:
Photographs by Sarah Jones Decker, courtesy of ASAP; Organic Growers School; Carolina Farm Stewardship Association; By Lynn Hall; NC State University; Sarah Jones Decker, courtesy of ASAP; (group on farm) courtesy of Organic Growers Schoo; Farm to Table Tours, By Sydney Conrad, courtesy of ASAP; (Dry Ridge Farm and Farmers Market) by Sarah Jones Decker, Courtesy of ASAP