Go Wild
Go Wild:
Chef Gavin Baker creates hearty dishes with an autumnal 'shroom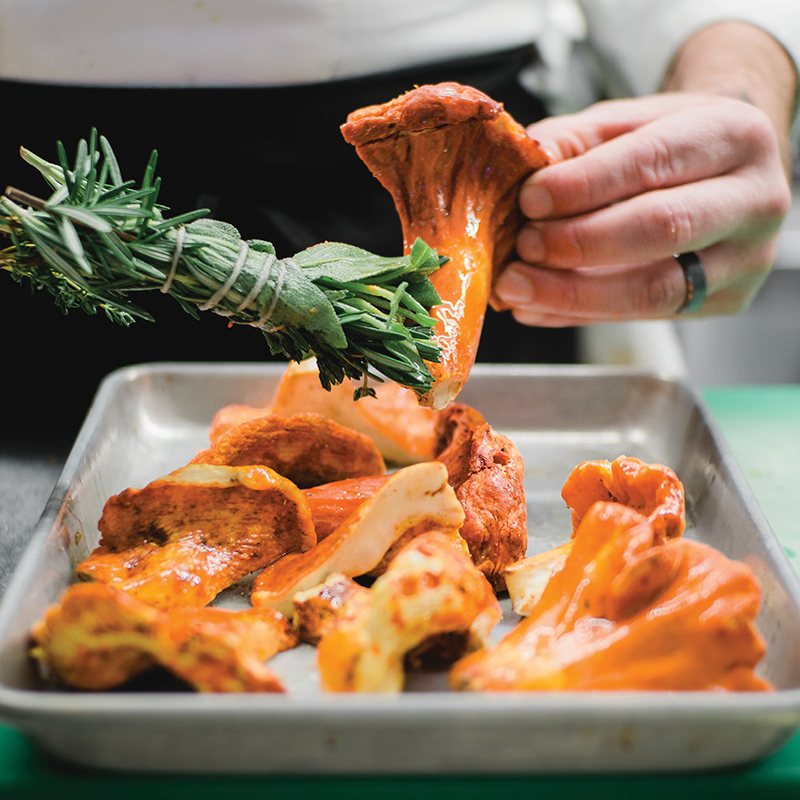 Gavin Baker, former chef at The Greenhouse in downtown Asheville, remembers forager Craig Hastings appearing in the restaurant's doorway just before its opening in 2019. He especially remembers the bright orange lobster mushrooms Hastings was carrying. Taste buds piqued, Baker poked his head out of the kitchen to ask about the special finds, and a collaboration was born. Hastings delivered boxes of the lobsters to the restaurant each week while they were in season that fall.
These beguiling mushrooms get their name from their fiery hue and the subtle aroma of shellfish they release when cooked. Baker admires their versatility and enjoys them seared on the grill, roasted in the oven, and steamed or poached just like seafood.
"The color is obviously gorgeous," he says, noting that the contrast of the orange exterior and stark white interior is beautiful on the plate. Baker says the flavor of lobster mushrooms is just as appealing as their appearance. "They're very hearty mushrooms. You can treat them like meat."
Lobster mushrooms have been on Baker's radar throughout his career in the kitchen. He discovered his passion for cooking as a student in A-B Tech's Culinary Arts program in the mid-1990s. Then he left Asheville for the next 20 years, cooking in restaurants as far away as Australia and Dubai. Most notably, he worked with Jean-Jacques Rachou in New York City and served as sous chef at Michelin-starred The Fat Duck in England during its peak years.
Recently, Baker returned to his native North Carolina to become the chef at The Greenhouse, Noble Cider's bar and bistro, where he worked with his brother, Trevor Baker, who founded the cider company. His menu featured showstoppers like whole grilled bass and smoke-roasted brisket, as well as a range of vegan, vegetarian, and gluten-free small plates. The restaurant is closed until further notice due to COVID-19.
During the pandemic, Baker has been working out of his home kitchen in Swannanoa where he is compiling notes, developing recipes, and planning his next move. Although his food isn't available to the public as of press time, the lobster mushroom recipes he shares below are perfect for savoring at home.
(Left) Chef Gavin Baker; (Right) FLAVORFUL FINDS - Baker assesses Hasting's fresh-from-the-forest haul, a weekly occurrence at the restaurant this time last year.
The Scoop - Chef Gavin Baker
Beloved Local Ingredient: Sturgeon from Marshallberg Farm in Lenoir
Wildest Experience Sourcing Meat: Hunting wild boar in Bali
Brush with Fame: Managing Justin Timberlake's restaurant on the Sunset Strip in Los Angeles
Academic Achievement: Master's degree in Anthropology of Food from the SOAS University of London
Far-flung Educational Experience: Teaching cooking in the rural Himalayas

Check out Chef Baker's recipes:
Lobster Mushroom Tom Kha
Pickled Lobster Mushrooms
Grilled Lobster Mushrooms with Chimichurri