Grilled Lobster Mushrooms with Chimichurri
Grilled Lobster Mushrooms with Chimichurri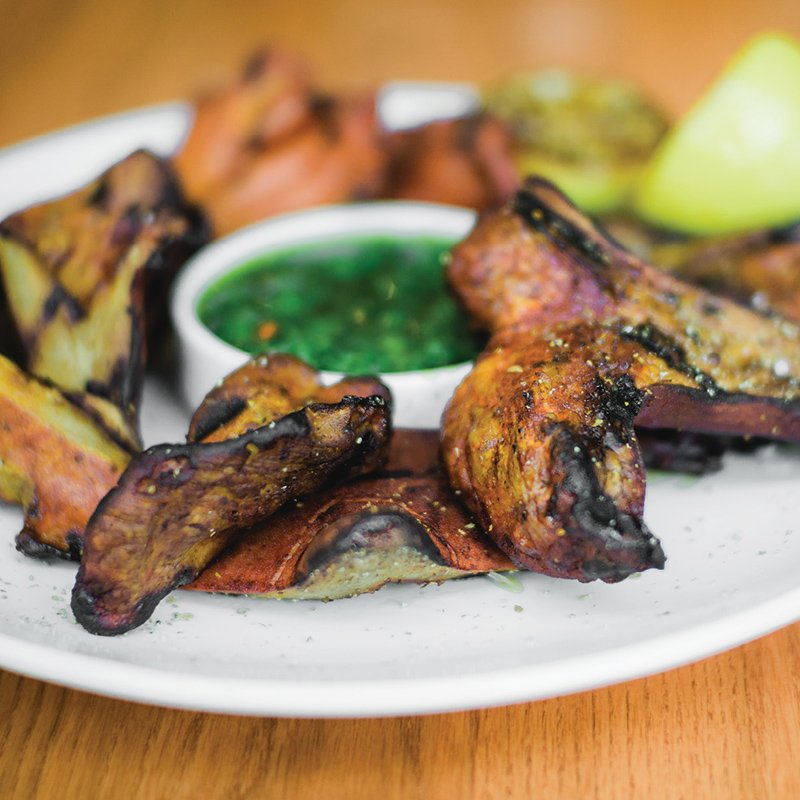 DESCRIPTION:
Courtesy of Chef Gavin Baker
INGREDIENTS:
Fresh ground white peppercorns, to taste, at least 1 Tbsp.
Coriander seeds, to taste, at least 1 Tbsp.
3-6 sprigs fresh thyme, to taste
3-6 sprigs fresh rosemary, to taste
3-6 sprigs fresh sage, to taste
2-3 lbs. lobster mushrooms, cleaned, sliced/ split, and dried
2 cloves garlic, minced
1 cup rendered beef fat
Kosher salt, to taste
Pyramid salt, to taste
Chimichurri (Makes about 2.5 cups)
1 cup flat leaf parsley, firmly packed with no stems
2 Tbsp. fresh oregano
3-4 garlic cloves
1/2 cup olive oil
2 Tbsp. wine vinegar, red or white
1 tsp. sea salt
1/4 tsp. fresh ground black pepper
1/4 tsp. red pepper flakes
DIRECTIONS:
For the Chimichurri:
Using a knife or food processor, finely chop the parsley, oregano, and garlic. Place in a small bowl. Stir in the olive oil, vinegar, salt, pepper, and red pepper flakes. Taste and adjust seasonings if desired. The recipe will make more than needed for mushrooms. Store remainder in airtight container in the refrigerator and eat within a week, although it's best day-of; it will lose color, but not flavor, after 24 to 48 hours.
For the Grilled Lobster Mushrooms:
Toast white peppercorns and coriander seeds in a pan. Add to a pepper grinder or crush with mortar and pestle. Reserve.
Bundle all the herbs together and tie with butcher's twine to create a brush. Add garlic to the rendered beef fat. Gently heat together and reserve warm for several minutes or until fragrant. Using the herb bundle, brush the lobster mushrooms with rendered fat, then season with pepper–coriander mix and kosher salt to taste.
Grill over a bed of coals or over wood for about two to three minutes per side, until soft but not dried out, brushing liberally with the chimichurri (recipe follows). Chop the herb brush and dress the mushrooms as desired. Finish with pyramid salt.