Lobster Mushroom Tom Kha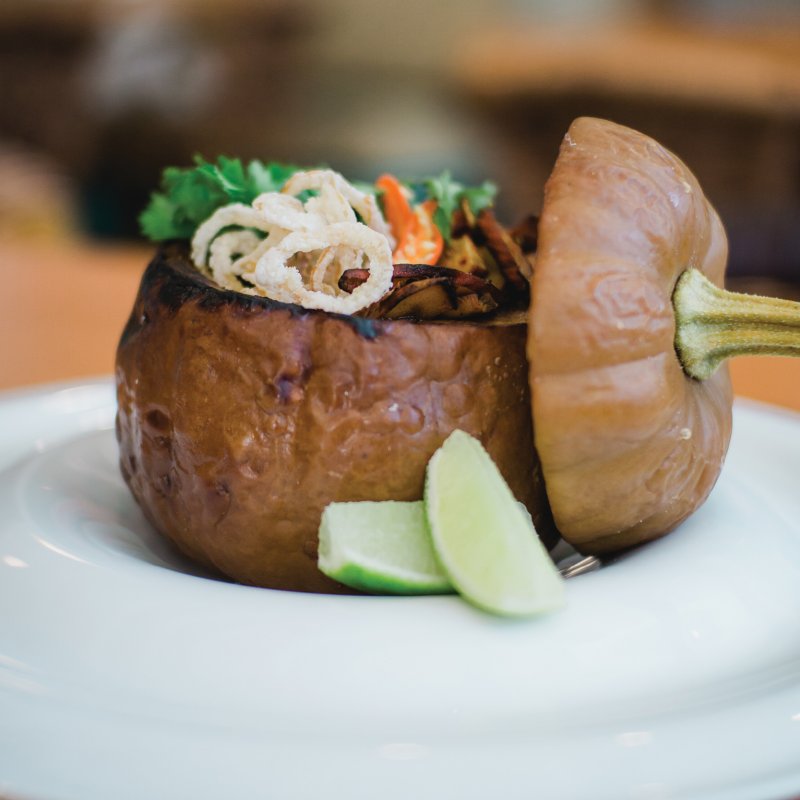 DESCRIPTION:
Courtesy of Chef Gavin Baker
INGREDIENTS:
2 stalks lemongrass, crushed & tied
1 cup lobster mushrooms, sliced
4 shallots, diced
2 garlic cloves, crushed & minced
3-inch piece ginger, minced
2-inch piece galangal, minced
4 kaffir lime leaves
1/2 cup vegetable stock or water
3 bird's eye chilies, sliced
2 tomatoes, chopped
8 oz. tofu, chopped
14 oz. coconut milk
4 Tbsp. soy sauce (Usukuchi recommended)
Salt, to taste
2 limes, juiced
Scallion and fresh herbs for garnish (cilantro, mint, basil)
Red chili threads for garnish
DIRECTIONS:
In a large pot, combine the lemongrass, mushrooms, shallots, garlic, ginger, galangal (found in Asian markets), kaffir lime leaves, and stock or water. Bring to a boil. Add the chilies, tomatoes, tofu, and coconut milk. Season with soy sauce. Add salt and stir together, cooking for about five minutes. Remove from heat and then stir in the lime juice. Allow to sit overnight before serving.
To serve, remove lemongrass and heat soup. Adjust seasoning if necessary. Garnish with cilantro, mint, basil, scallion, and red chili threads.
To serve as pictured, select two small or four mini pumpkins. Preheat oven to 350°F. Cut off pumpkin tops, remove seeds and reserve for another purpose or roast as a garnish, and rub inside of each pumpkin with one to two tablespoons extra-virgin olive oil. Replace tops and roast on a sheet pan until tender, about 30 minutes. Serve immediately as a vessel for the soup; or, cool completely until needed then reheat pumpkins in oven until hot and fill with Tom Kha.