Fruits of the Vine
Fruits of the Vine:
Embark on a tour of six distinct wine-producing regions in WNC, and find out why each of our vineyards and wineries can boast of unique and notable fruits of the vine.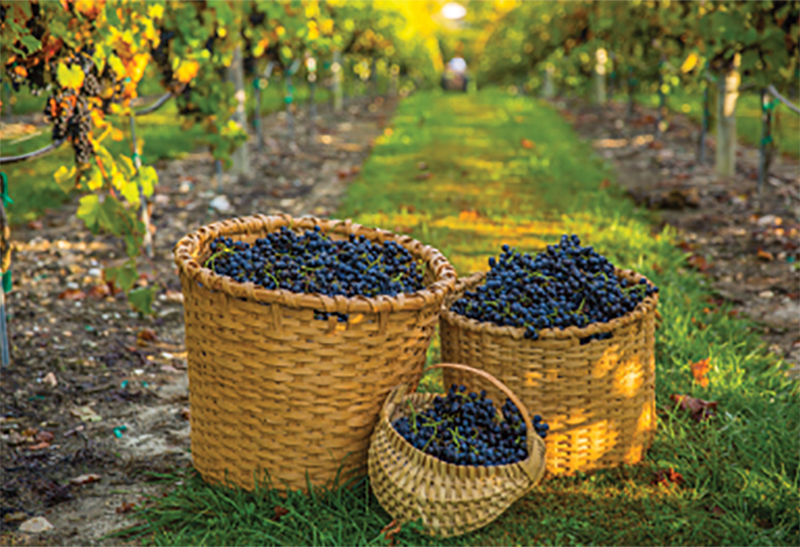 -------
SPEAKING OF VINO: Indulge in some key wine terms
American Viticultural Area: AVA's are wine-producing regions that are distinguished by their unique geography and officially recognized by the federal government's Alcohol and Tobacco Tax and Trade Bureau.
Minerality: Used to describe aroma or taste notes of wine that don't stem from fruit, herb, or spice elements.
Négociant: A wine merchant who collects grapes, juices, and/or wines from growers and markets the results under their own label.
Terroir: The combination of climate, soil, sunlight, topography, and other factors that give grapes (and wine) characteristics unique to their location.
Varietal: A wine predominantly made from and named after a particular variety of grape.
Vigneron: A French word for someone who grows grapes for wine.
Vinifera: A common European winemaking grape.
Viticulture: The cultivation of wine grapes.
--------
High Country
1) Banner Elk Winery
60 Deer Run Ln., (828) 898-9090
www.bannerelkwinery.com
With most of the grapes coming from a second farm in Virginia, Banner Elk Winery is less about the scenic vineyard and more about the serene acreage that surrounds the small tasting room, winery, and Tuscan-inspired villa accommodation. A still pond and lush gardens, outdoor fire pit built from large stacked boulders, and couches and a fireplace inside all lend a relaxed, rustic feel. Their California-style spin on many of the wines will satisfy anyone looking for a hearty red.
2) Linville Falls Winery
9557 Linville Falls Hwy., (828) 765-1400
www.linvillefallswinery.com
What began as a tree farm on the winding two-lane road through Linville has become a getaway for many a weary traveler in need of a crisp, cool wine. Priding themselves on their mostly dry Rieslings, Linville Falls Winery also produces an array of French-American hybrids including complex grapes like Seyval and Marquette, both of which are blended to create a truly memorable dry rosé. If you're a fan of sweeter wines, Linville Falls has a decent selection, including a blueberry wine. The 40-acre farm also grows raspberries and blueberries among its stunning spread of beautifully maintained vines.
3) Grandfather Vineyard & Winery
25 Vineyard Ln., (828) 963-2400
www.grandfathervineyard.com
Set along the face of a steep, rocky mountain, rows of grapevines pop up between the boulders that brace the hill. It's an easy place to pass an afternoon well into the evening, either lounging by the wide and bubbling creek or playing croquet on the challenging course that stretches through the vines. Grandfather Vineyard, like many other area vineyards, often supplements négociant grapes from California to blend with its own to make distinct wines with a somewhat familiar terroir.
Buncombe County
1) Biltmore Winery
1 Winery Rd., (828) 225-6280
www.biltmore.com/wine
One of the most visited wineries in the country, Biltmore Winery is located on the grand 8,000-acre estate of late 1800s tycoon George W. Vanderbilt. It's easy to get lost in the dozens of house-made wines available for sampling, but be sure to check out the winery's méthode champenoise sparkling wines. Their Blanc de Blanc has been famously served as the bubbly at several White House dinners. Sign up for the Vine to Wine specialty tour that offers a glimpse of the vineyard, which isn't open to the public.
2) Addison Farms Vineyard
4005 New Leicester Hwy., (828) 581-9463
www.addisonfarms.net
In an effort to preserve their fourth-generation farm, the Frisbee family decided to grow grapes and make wine in lieu of maintaining the increasingly costly cattle farm. On weekends, the Frisbees welcome guests to the mountaintop tasting room to sample their hand-harvested and homespun Cabernet Sauvignon and Cabernet Franc, among many others. Just a short drive from downtown Asheville, it's an easy way to escape the hustle and bustle of the city for a quick afternoon break in the vineyards.
3) Fontaine Vineyards
36 Hallaran Dr., (828) 683-2316
www.fontainevineyards.com
Founded by a couple of former restaurateurs in 2006, this tranquil north Buncombe County getaway boasts both a vineyard with nine varieties of grapes and several event spaces that court wedding clients. Of note is the French-style wine cellar and gourmet wine tours that Fontaine hosts by reservation.
Henderson and Polk Counties
1) Burntshirt Vineyards
2695 Sugarloaf Rd., (828) 685-2402
www.burntshirtvineyards.com
Once an apple orchard, this 27-acre vineyard produces 13 varieties of European and French-American hybrids, including an award-winning Grüner Veltliner. As one of the few wineries in the area with accommodations on-site, you can rent the Vintner's Cottage and spend the night on the vineyard.
2) Parker-Binns Vineyard
7382 E. NC 108, (828) 894-0154 
www.parker-binnsvineyard.com
This small, family-run vineyard stretches just off the deck of the homey tasting room and sprawling, trellised stone patio surrounded by Yoshino cherry trees, and makes a perfect spot to enjoy the crafted rosé, a crisp, dry wine made of Cabernet. Be sure and make it for their Sunday pizza day, with scratch pies baked by the owners in their brick oven.
3) Russian Chapel Hills Winery
2662 Green Creek Dr., (828) 817-7260 
www.russianchapelhill.com
From a seat on the hammock swings in the yard, just over the crest of the vine-covered hills, you can spot the namesake chapel of this entrancingly beautiful winery. Transplanted from owner Andrey Medvedev's home in Russia, the small place of worship makes for a great spot to soak up a sunset and enjoy the array of Bordeaux-inspired wines. The standout Sauvignon Blanc is a sure sip not to miss.
4) Overmountain Vineyards
2014 Sandy Plains Rd., (828) 863-0523
www.overmountainvineyards.com
Overmountain is named for the nearby pass through the mountains that Revolutionary soldiers trekked to join the 1780 Battle of Kings Mountain. With regular weekend events and local food, it's a great place to have a glass after heading out on the Overmountain hiking trail in the hills surrounding the winery. The wines revolve around French styles with an emphasis on whites, with Petit Manseng being the main focus.
5) Saint Paul Mountain Vineyards
588 Chestnut Gap Rd., (828) 685-4002
www.saintpaulmountainvineyards.com
This vineyard is as welcoming as its wine bar: The laid-back tasting room is a perfect place to open a bottle from the varied spread of seasonal options (be sure to try the Vidal Blanc), meet local regulars, and enjoy the Great Food for Any Mood food truck, which dishes out gourmet burgers, shrimp tacos, veggie wraps, and more on weekends. Saint Paul truly feels more like a neighborhood bar than a winery.
6) Mountain Brook Vineyards
731 Phillips Dairy Rd., (828) 817-4376 
www.mountainbrookvineyards.com
Originally founded in 2002 as a négociant to sell grapes to other winemakers, Mountain Brook recently started producing its own wines. After launching with a citrusy oaked Chardonnay, the vineyard has expanded to include Pinot Grigio, Merlot, Cabernet, and a Bordeaux-style blend. The winery has great views of mountain peaks, as well as hiking trails throughout the surrounding hills.
7) Green Creek Winery
413 Gilbert Rd., (828) 863-2182
www.greencreekwinery.us
This picturesque vineyard produces European and French-American hybrid wines. Unique to the winery is its Chardonnay Rosso, a red wine made with Chardonnay juices fermented on the skins of Chambourcin grapes. It's off-kilter and outside of the box.
Upper Hiwassee Highlands
1) Valley River Vineyards
4689 Martins Creek Rd., (828) 837-0691
Though this small family-owned vineyard offers pick-your-own grapes and specializes in selling home winemaking equipment and supplies, Valley River also pours its own wines. Varieties come from European vinifera grapes, French-American hybrids, and American grapes like Muscadine and Scuppernong.
2) Calaboose Cellars
565 Aquone Rd., (828) 321-2006 
www.calaboosecellars.com
While it's the smallest winery in the state, there's a lot packed into this building that once served as the town's jail. The 300-square-foot space houses the winery and tasting room for French-American hybrid wines as well as beers from the owners' brewery, Andrews Brewing Company.
3) Cherokee Cellars Winery
23 Hickory St., (828) 835-9565 
www.cherokeecellarswinery.com
Occupying a former bus station in downtown Murphy, Cherokee Cellars bottles wines with grapes from North Carolina and Georgia, with an emphasis on native and hybrid cultivars, along with a hearty selection of French grapes. While it's open only from April to December, it's well worth a visit during those months to take in the wine selection, tasting room, and wine-themed gift shop.
4) Eagle Fork Vineyards
8 Cedar Cliff Rd., (828) 389-8466
www.eagleforkvineyards.com
If you listen carefully at this vineyard, you can hear the lilting tones of the classical music that's played to "wake" the vines every morning, a technique the winemaker picked up while studying in Italy. With a range of sweet and dry wines from which to choose, and even a wine slushy churning in the blender, there are plenty of options for you to sip while you listen to the grapes' serenade.
5) FernCrest Winery
1060 Main St., 828) 321-1600 
www.ferncrestwinery.com
With grapes from its vineyard in the nearby Snowbird Mountains, along with other area growers, FernCrest evolved from Kurt and Jan Olson's experience as small-batch home winemakers. Now, its award-winning wines, which are all named for ferns, include the Southern Lady (a dry white made with Chardonel grapes), the Mountain Wood (a dry red made from Cynthiana grapes), and the Fiddlehead (a sweet red blend), among others. A nice selection of local cheeses, jams, and condiments makes for a splendid accompaniment.
6) Nottely River Valley Vineyards
1150 Old Culberson Rd., (828) 837-7822 
www.nottelywine.com
The breezy mountainside of the Thompsons' family estate and winery makes a perfect spot to fly a kite—they offer an array of them to choose from in the tasting room—or to just sit with a glass of crisp, clean Riesling and watch the wind play in the leaves of the vines. This is one of the Upper Hiwassee's only vineyards to specialize in European vinifera grapes, and their War-Woman Red, a blend of Cabernet Sauvignon and Cabernet Franc that's named for the owners' family ties to Cherokee leader Nancy Ward—speak to old-world, classic European-style wines.
The Foothills
1) South Creek Vineyards & Winery
2240 S. Creek Rd., (828) 652-5729
www.southcreekwinery.com
Winding up the narrow gravel driveway, you hardly expect to find this rustic, century-old farmhouse and vineyard growing Bordeaux grape varieties. South Creek also hosts a regular Vineyard Deck Music Series, with eats from local food trucks and featuring regional pickers and players of everything from folk to blues to swing.
2) Belle Nicho Winery
525 Patton Valley Dr., (828) 659-3168
www.bellenichowinery.com
Specializing in French-American hybrid varietals like Chambourcin and Traminette, Belle Nicho was actually inspired by the owners' visit to neighboring South Creek Vineyards & Winery. With a strong effort to strip away pretension, the tasting room is decidedly relaxed, with a healthy dash of southern charm.
3) Silver Fork Vineyard & Winery
5000 Patton Rd., (828) 391-8783
www.silverforkwinery.com
What began as a purely commercial vineyard was turned into a winery nearly eight years ago, and Silver Fork has been producing everything from Chambourcin to Cabernet Franc ever since. With a view of mountain peaks and rolling pastures from the patio, you can sink into a bottle and enjoy tunes from local bands on the weekends or a Sunday brunch from the Farm to Fork food stand.
4) Twisted Vine Winery
Legion Rd., (828) 726-3185 
www.twistedvinewinerync.com
In the middle of this vineyard sits a big red barn where Twisted Vine doles out everything from Malbec and Shiraz to its selection of sweet fruit blends. There's also a jalapeño wine that isn't for the faint of heart. The vineyard regularly presents picking on the porch, featuring local musicians.
5) Six Waterpots Vineyard & Winery
4040 James Dr., (828) 728-5099 
www.sixwaterpots.com
With an array of styles of wine both Vitis vinifera and Vitis rotundifolia, this family-run vineyard produces sweet muscadine wines and classic varietals like Cabernet Sauvignon and Sauvignon Blanc. It also utilizes local fruits to create blueberry, blackberry, raspberry, apple, and peach wines.
6) Shadow Line Vineyard
2550 Shadow Line Ln., (828) 234-5773 
www.shadowlinevineyard.com
In the works since 2013 and opened in early 2016, this family-owned vineyard produces nine of its own wines, all of which can be sampled in the tasting room or on the patio overlooking a farm pond. Shadow Line is focused on its wines but doubles as an event space for picnics, weddings, receptions, club outings, and assorted other get-togethers.
7) Lake James Cellars
204 E. Main St., (828) 584-4551 
www.lakejamescellars.com
One of the more unusual wineries in the region, Lake James Cellars adjoins the owners' expansive antique store. And as you're swirling your glass and perusing the vintage flatware, just beneath your feet, the winemakers are hard at work making your wine in the cellar below. With everything from a dry Traminette and Barbera to a sweet Riesling and fruit blends, it's worth testing the range of options.
8) Waldensian Heritage Winery
4940 Villar Ln. NE, (828) 879-3202 
www.waldensianwinery.com
If you're looking for Carolina heirloom wines made from cultivars including the region's so-called Mother Vine, look no further than Waldensian Heritage Winery. Specializing in Scuppernongs and Muscadines, their wines tend to lean toward the sweet side. Waldensian claims to be the oldest winery in the region, having been crushing grapes since 1930.
Yadkin Valley and Swan Creek
1) McRitchie Winery & Ciderworks
315 Thurmond Post Office Rd., (336) 874-3003 
www.mcritchiewine.com
As soon as you pull up the driveway, the owners' darling dogs come running to greet you on this 30-acre hillside vineyard and apple orchard. Offering more than just some of the area's most consistent wines—the dry Muscat and Ring of Fire Merlot blend of Sangiovese and Petit Verdot are not to be missed—McRitchie also serves some of the region's best hard cider. There's a casual, front-porch vibe to the winery, with a homey, relaxed tasting room inside an old house.
2) MenaRick Vineyard & Winery
328 Luffman Rd., (336) 328-7038 
www.menarick.com
This is one of the only wineries in the state to focus on Spanish and Portuguese varietals like Albariño, Vinho Branco, and Tempranillo. The picturesque vistas of the 48-acre vineyard make this a great place to picnic, and in certain months they even do a bottle discount for those looking to dine al fresco.
3) Jones von Drehle Vineyards & Winery
964 Old Railroad Grade Rd., (336) 874-2800 
www.jonesvondrehle.com
Within its first year on the scene, the Jones von Drehle winery swept the Asheville Wine & Food Festival with a slew of gold, silver, and bronze medals, and it has continued to dominate the region in terms of consistency and quality. The tasting room adjoins the winery, and tours are offered regularly by winemaker Dan Tallman, a 30-year veteran of the trade.
4) Raffaldini Vineyards & Winery
450 Groce Rd., (336) 835-9463 
www.raffaldini.com
It's hard to find words to describe this sprawling, 120-acre vineyard and gardens, or even the massive Italian villa of Raffaldini's estate, with anything other than clichéd terms like "breathtaking" and "sweepingly romantic." But those words are undeniably apt for this gorgeous winery that has become a fixture of the state's wine scene. Specializing in Italian red varietal blends, this is one of the only wineries in the region to utilize the appassimento method of incorporating dehydrated grapes to create a deeper flavor in their reserve wines.
5) Thistle Meadow Winery
102 Thistle Meadow, (800) 233-1505 
www.thistlemeadowwinery.com
Sourcing most of its grapes from California, and thus not included in the AVA, Thistle Meadow is able to make nearly 60 varietals of wine every year for blending and bottling. Its lengthy tours go through the entire process of winemaking, and tastings cover a wide range of dry European-style wines as well as blush fruit blends.
6) Piccione Vineyards
2364 Cedar Forest Rd., (336) 775-8330 
www.piccionevineyards.com
Just down the hill from Raffaldini sits one of the valley's newest vineyards. Piccione (meaning pigeon) specializes in classic Italian varietals, like a citrusy Pinot Grigio or Vermentino. The winemakers also claim to be the only producers of Negroamaro on the East Coast. Don't let the temporary tasting room deter you, Piccione—much like the humility in its name—is serving some of the most unique and deeply soulful wines in the state out of a double-wide trailer.
7) Roaring River Vineyards
493 Brewer Mill Rd., (336) 957-2332 
www.roaringrivervineyards.com
Perched high above the Roaring River, this vineyard's isolated covered patio lends views of the ruins of an old water-powered mill. There's a little bit of everything for the palate, with a mix of traditional wines and French-American hybrids, as well as beer and cider. There is also a small kitchen serving paninis, cheese, and charcuterie plates.
-------
Take a Tour
Drink and let one of these tour operators do the driving
Want to explore the Yadkin Valley? Servicing pick up locations in Surry, Wilkes, and Yadkin counties, Frog Holler Wine Tours accommodates groups of two to 12. Tours last five hours and are more customizable the smaller the group. "We're basically your driver for five hours," says co-owner Teresa Litschke. $60 per person (excludes meals & wine tastings); 564 E. Walker Rd., Elkin; (336) 526-2661; www.froghollerwinetours.com
Similarly, Yadkin Valley Vineyard Tours caters to smaller groups, though they can accommodate up to 16 and the tours are handicap accessible. Choose from seven tours that take in three to four wineries, or customize your own adventure. Tours start at $59 per person (excluding meals and wine tastings); (336) 645-8787; www.yadkinvalleyvineyardtours.com
To sample the wineries around Asheville and Hendersonville, The Trolley Company and French Broad Vignerons combined efforts, offering Western North Carolina Wine Tours. There are several excursions from which to choose. Tours run regularly from Memorial Day through October, but chartered trips start at $89 per person and can be arranged any time of year by calling. (828) 606-8606; www.frenchbroadvignerons.org
------
Tip: Most local wineries sell only on-site. North Carolina wine expert Peter Fland recommends vinoshipper.com, a website where you can buy direct from many smaller wineries nationwide.
------
Taste Tests
Wine shops and tastings abound across Western North Carolina. Here are eight opportunities to help you get started.
Erick's Cheese & Wine Banner Elk
Every Saturday afternoon, Erick's welcomes visitors for wine tastings. Four samples are complimentary, and try an additional special selection for a $5 donation to the Avery County Humane Society. 4004 NC 105 S., (828) 898-9424, www.erickscheeseandwine.com
Peabody's Wine & Beer Boone
On Saturdays from 1 to 5 p.m., Peabody's offers free tastings with a rotating cast of winemakers and distributors, usually featuring at least five wines. 1104 NC 105 S., (828) 264-9476, www.peabodyswineandbeer.com
Appalachian Vintner Asheville
Touting one of the largest selections of wines in North Carolina, this shop hosts monthly free tastings (with a purchase of $10 or more) and Wine Wednesdays, featuring $1-discounted wines by the glass and no corkage fees for bottles opened on-site. 745 Biltmore Ave., Ste. 121, (828) 505-7500, www.appalachianvintner.com
Asheville Wine Market Asheville
This downtown shop offers a monthly dinner featuring local chefs and international wines for $80 per person. The dinners might focus on a chef's pairing selections, pours from a famous winery, or wines from a particular part of the world. 65 Biltmore Ave., (828) 253-0060, www.ashevillewine.com
Table Wine Asheville
This specialty shop focusing on natural and biodynamic wines offers frequent tasting events of the free and low-cost variety. Recent events have highlighted "extreme value wines," sage advice from local wine importers, and benefit tastings for local nonprofits. 1550 Hendersonville Rd., Ste. 102, (828) 505-8588, www.tablewineasheville.com
Maggie B's Wine & Specialty Store Weaverville
A one-stop shop for wines, beers, cheeses, meats, and assorted other edibles, Maggie B's quaint space hosts free wine tastings every Friday from 5:30 to 8 p.m. The events are "informative, fun, and non-intimidating," the store promises. 10C S. Main St., (828) 645-1111, www.maggiebswine.com
The Twisted Pear Forest City
Part art and gift shop and part wine vendor, The Twisted Pear hosts a popular Monday night series, Twisted Palette, that invites guests to sip on wine or beer, nosh on snacks, and follow an instructor's guidance to paint an original work of art. Each week brings a different art theme. See the website for upcoming themes and prices, which range from $30-$45 for the night of creative imbibing. 184 E. Main St., (828) 447-9599, www.thetwistedpear.net
Bosu's Wine Shop Waynesville
Selling wine, beer, and gourmet eats for more than two decades, Bosu's recently opened a neighboring space dubbed The Secret Wine Company, where specialty wine events abound. Check the website for upcoming tastings, dinners, tutorials, and more. 138 Miller St., (828) 452-0120, www.waynesvillewine.com
-------
Get to Know North Carolina's Grapes
The state's diverse ecosystems and microclimates allow for a wide range of grapes to flourish. In the mountains, with the heavy humidity and frequent rain, farmers stick to hybrid vines that crave moisture, but as you get closer to the Piedmont, the native rotundifolia varieties thrive in the red clay, while in the highlands and foothills, European grapes reign supreme.
Native Grapes
Both the southeastern native rotundifolia species like Muscadine and Scuppernong and the northeastern labrusca varieties like Catawba, Concord, and Niagara have deep roots in American viticultural history and produce rich and unique flavors in Western North Carolina wines. Muscadines and Scuppernongs typically originate from eastern North Carolina's "Mother Vine," an ancient monster vine on Bodie Island first documented in 1584.
European Grapes
With over 10,000 varieties in existence, the Vitis vinifera species of grape is by far the most familiar for most wine drinkers. It's the species of Cabernet Sauvignon, Malbec, Chardonnay, and Sauvignon Blanc. And just as this diversity brings myriad flavors, vinifera grapes thrive in equally varied growing conditions. WNC presents different climates, some of which are prime for growing European-style grapes, while others are more inclined for Italian styles.
French-American Hybrids
Developed in central Europe as a way to combat the phylloxera infestation that destroyed most of the European varieties in the late 19th century, these cross-species breeds have found a home in the rain-laden mountains of WNC. These hybrid grapes, like Chambourcin, Seyval Blanc, and Vidal Blanc, produce flavorful wines that exhibit all the qualities of a European variety but yield to the Carolinas' unique terroir.
--------
Join the Club
Maybe you've seen their name mentioned around local wine events. The French Broad Vignerons is a group of vineyard and orchard owners and developers, beverage producers, and others with a shared love for North Carolina wines and ciders. "'Drink Local Wine' is really getting to be a strong phrase for us," says the group's president, Peter Fland. The organization holds tasting events to help members develop their palates and evaluation skills and also operates and judges local wine and cider competitions, all serving to bring greater attention to North Carolina wines. To learn how to become a member, visit www.frenchbroadvignerons.org.
RESOURCES:
photographs (2) courtesy of banner elk winery; maps by curt clinefelter photographs (2, linville falls) by tim robison; (1) COURTESY OF GRANDFATHER vineyard & winery Photographs courtesy of the biltmore company photographs (3, Addison farms vineyard) by Jeff frisbee PHOTOGRAPHS (VINEYARD & HARVEST) by ASHLEY BOWEN; (patio) by TIM ROBISON PHOTOGRAPHS (2, OVERMOUNTAIN VINEYARDS) by TIM ROBISON; (russian chapel hills winery) by andrey Medvedev Photographs & label courtesy of valley river vineyards Photographs (calaboose Cellars) by eric carison; courtesy of eagle fork vineyards & nottely river valley vineyards Photographs (belle nicho vineyard) BY bridget dunford; (toasting) BY janet bertinuson; (south creek) BY paul braynard Photographs (3) courtesy of six waterpots vineyard & winery Photographs (2, jones von drehle) by ben hermann; (label) courtesy of menarick vineyard & winery photographs (3, raffaldini) by monty & brenda combs