The Culinary Diplomat
The Culinary Diplomat:
With a local farm-to-table ethic, Chef William Dissen serves up sustainable food initiatives to global leaders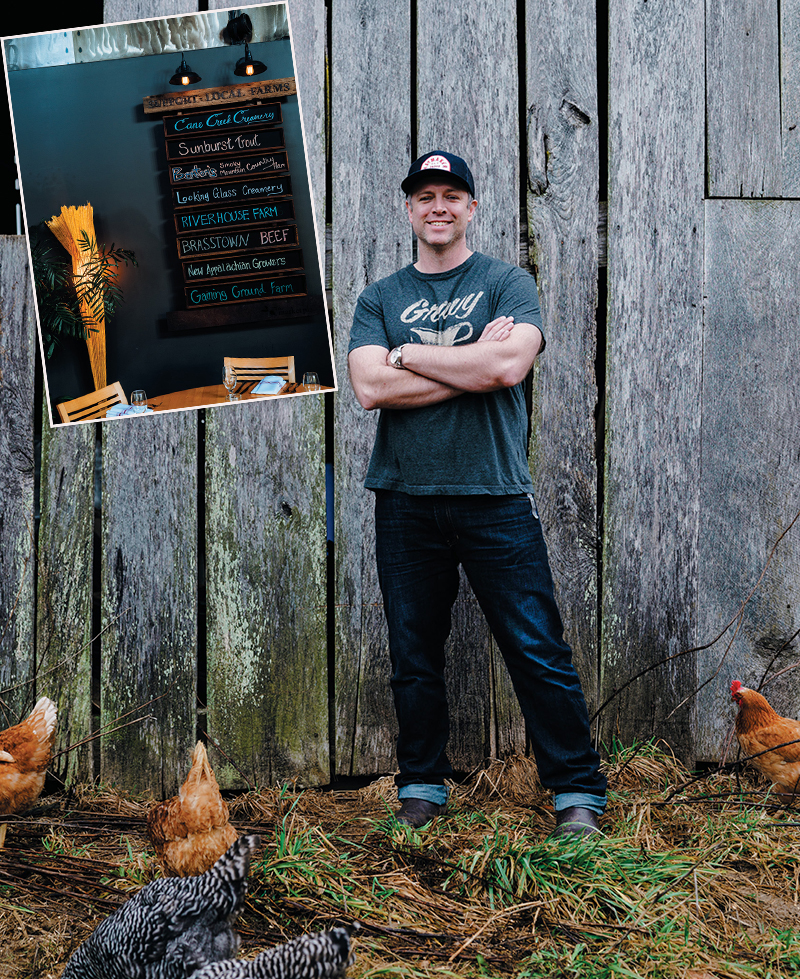 Chef William Dissen; (inset) Sourced Locally At Dissen's restaurant, The Market Place, signage displays some of the regional farms, creameries, and other food producers where he gets his ingredients.
When he was young, William Dissen thought of a lot of things he would do with his life. He studied biology with the idea of becoming a radiologist, then turned to English and French with hopes of going into law, earning degrees in both before enrolling in the Culinary Institute of America in New York. While his culinary training eventually led him to take the helm at The Market Place in Asheville (and, as of this past spring, open restaurants in Charlotte and Asheboro), it is safe to say that one thing the farm-to-table chef didn't anticipate doing at any point in his career was to find himself addressing diplomats and global policy makers as a representative to the United Nations.
But that is exactly what happened this summer, when the James Beard Foundation tapped Dissen to represent the United States at the World Food Summit in Copenhagen, where he discussed sustainable food solutions for the world's growing population with policy leaders from around the globe. "You had directors of the Ministry of Agriculture from Slovakia, and Department of Agriculture directors from South Africa, NGO leaders using public and private dollars to change food policy," he says. "So to get up in a room full of them and talk about what we are doing here in Asheville was something else."
Amazing as it sounds, this is one of many instances when Dissen has used his voice and prominence as a chef to impact policy around sustainable food systems, which involve everything from food production to distribution to waste management that's carried out in a way that is good for a community's environmental, economic, and social health.
Finding His Voice
In 2010, due to his commitment to sourcing sustainably caught seafood, Dissen captured the attention of Seafood Watch, an initiative of the Monterey Bay Aquarium that works with fishermen, farmers, organizations, and governments worldwide to advance policies and management measures that improve the global seafood supply chain. Dissen was eventually asked to join the organization's Blue Ribbon Task Force, a group that now numbers nearly 50 chefs nationwide, who advocate for the initiative and lobby for change on Capitol Hill.
"I don't consider myself a very political person," he says, "but policy is different than politics, especially food policy. It's something that impacts everyone; everyone's connected through food. And if we take care of our food systems, it's going to create better communities."
Fine Dining - Dissen serves Appalachian and Southern fare sourced from regional farmers at his flagship restaurant, The Market Place, in Asheville (left and above) and Haymaker (top) in Charlotte.
Dissen's work through Seafood Watch sparked other opportunities, including an invite from the James Beard Foundation in 2013 to take part in one of its first Chefs Boot Camp for Policy and Change, which empowers and educates chefs on advocating for sustainable food systems. The experience helped him hone his voice, and led to much more: Dissen's been to Washington more than a dozen times, lobbying for everything from farm bills to childhood nutrition to federal fisheries management, and was among a dozen chefs honored in 2016 as Champions of Change for Sustainable Seafood under the Obama Administration. He's traveled to New Zealand as a culinary representative of the US State Department, to Alaska in 2015 to learn firsthand about sustainable salmon fisheries, and to London last year to consult on the United Nations' Global Food Policy report.
It makes sense to involve chefs in global food policy conversations. But Dissen is particularly well-versed for the role, because his career path has taken him deep into every avenue of American foodways, like canning and preserving, as well as learning about farming and distribution. It's from practice that he's able to preach, and his understanding of food and the importance of fresh ingredients was developed from a young age.
Fresh Start
"My father's father worked for a steel company in Pittsburgh, and my mother was the daughter of a coal miner and farmer in West Virginia," he says. "I spent my weekends either going to the big city of Pittsburgh, or going out to the family farm in the country, which is really where I got my whole farm-to-table background. They kept a goat, had cows and horses, chickens and pigs. They raised a garden, and they canned and pickled and preserved."
An entrepreneur from a young age, Dissen took a job at 10 as a paperboy. Realizing he could make even more money by mowing lawns, he slipped fliers for his lawn service into every paper he delivered, and soon, he was in business. "A hundred dollar bill goes a long way when you're 12," he laughs. By 15, he took a job washing dishes at the local country club to have an excuse to hang out by the pool with his friends. When a sandwich chef called in sick, Dissen stepped up to the line.
A husband and father of two, Dissen is a calm man: silver-haired, soft-spoken, and seemingly always composed—qualities that can be unusual to find in an industry known for workers that thrive in chaos. Where some chefs are drawn to the debaucherous nature of the restaurant industry, Dissen likes the structure. "I want the dishwasher to know what is expected so that he can work harder, and maybe come back and say, 'Hey, I'd like to learn how to cook.' And then a few years down the road, he's a sous chef," he says. "To me, that's the white picket fence of it all; that's the American dream, is working your way up, and making something that some people don't feel is a serious career into a real career."
After culinary school, in 2003, Dissen entered the renowned apprenticeship program at Greenbrier Resort in West Virginia. "It was like boot camp," he recalls. The experience lead to connections that lured him to Charleston, South Carolina, where he took a position working alongside James Beard-nominated Chef Craig Deihl at the erstwhile Cypress, and then on to the University of South Carolina in Columbia to earn a masters in hospitality, restaurant, and tourism management. "I started down a different path and then realized that restaurants are where I belong," he says. "But if I was going to stay in the restaurant business, then I wanted to have my own thing." During a fortuitous visit to Asheville in 2008, the stars aligned.
Dissen attended LEAF Festival in Black Mountain and "drank the Kool-Aid, so to speak," he says, laughing. And when he discovered the Appalachian Sustainable Agriculture Project, which connects farms with consumers, he knew this was a special place. "As a chef focused on local food, having this resource was great. No other community I'd been to had anything like this at the time," he says. One thing led to another, and Dissen bought Asheville staple The Market Place from its founder, Mark Rosenstein, in 2009, in the midst of the recession. It was a challenging time that required creativity and flexibility with the business, but he has no regrets. "I really came into myself in Asheville in that I had the opportunity to use great ingredients and meet so many local farmers," he says.
Dissen applies his food philosophy to all of his restaurants, including his newest ones: Haymaker in Charlotte and Billy D's Fried Chicken in Asheboro at the North Carolina Zoo. "I'm not a tree-hugging hippie, nor do I have a major agenda," he says, "but [food] policy helps shape the core of our community, and creates a better economy from the ground up. It touches everyone from the farmer to the chef or restaurant, all the way to the diner at the table. And good food helps to make change, one plate at a time."
RESOURCES:
Photographs Courtesy of William Dissen; (opposite page) by Johnny Autry