Comfort Food
Comfort Food:
Bringing the taste of autumn to life with rutabaga dishes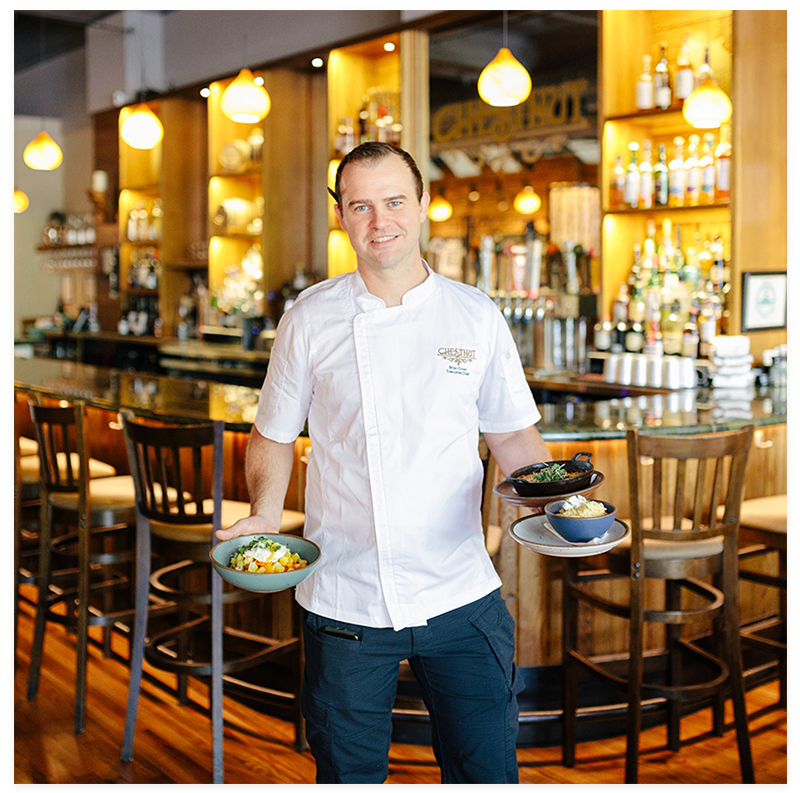 Rich in vitamin C, iron, and antioxidants, rutabagas are an often-overlooked but delicious and healthy cool-weather ingredient. This root vegetable (meaning it's an edible plant root like carrots or beets) is often mistaken for a turnip (since it's actually a hybrid of cabbage and turnips), however, it's sweeter in flavor and much heartier in size. They're an extremely versatile cooking ingredient, and with added health benefits, rutabagas are a fantastic vegetable to incorporate into autumn recipes.
Although rutabagas have never risen to the top of the production list in the region, they still have a flavorful history rooted in our land and culture. In Western North Carolina, rutabagas were commonly found growing on Hemphill Bald and Gooseberry Knob in the late nineteenth and early twentieth centuries. Verlin Campbell was the original Haywood County rutabaga farmer, at one point claiming that he grew nearly 1,000 bushels of potatoes and rutabagas on one acre of his property lining the Cataloochee Divide. Forester Tom Alexander purchased Campbell's land and went on to become the, "Potato and Rutabaga King of Haywood County," and founder of Cataloochee Ranch, now a commercial resort and ski area. 
WNC sat down with Chef Brian Crow of Corner Kitchen—a staple of Biltmore Village that incorporates fresh, local ingredients in every dish—to gather recipes to share with our readers that include rutabagas. Crow studied the culinary arts at Asheville-Buncombe Technical Community College, which has one of the most prestigious culinary programs on the East Coast. He worked at several local restaurants after graduation, and eventually moved to Denver, CO, with his wife to open his own restaurant. Eventually, they missed the area and returned to Asheville, where Crow now works as the culinary director for both Corner Kitchen and its sister restaurant, Chestnut.
Brian Crow (above, middle) combines a vegetable medley together to create delicious recipes featuring rutabaga.
Corner Kitchen first opened in February of 2004, where, unfortunately, it only survived a little over six months before its destruction by the flood of 2004. It reopened after three months of renovations to its location in an 1895 Victorian-style home. "We also truly handcraft our food from the desserts, sorbets, ice-creams, demi-glaze (amazing sauce), cutting our own french fries, pickling our veggies and smoking fish and meats to name a few," says Vanessa Salomo, chief operating officer of Corner Kitchen and Chestnut's parent company. "We purchase products from a host of local growers, rancher cheesemakers and dairies. We compost with a local company and were at the forefront of composting nineteen years ago."
"All three [rutabaga] recipes showcase the ingredient in a different way," he explains. "The starchy content works great for this application, and would be great served with a roast chicken, grilled steak or a great side dish . . . they also carry earthy tones to them and are very nutritious for you, compared to a potato especially, so it's a great way to introduce a healthier root veggie to your meal plan." When it comes to cooking, Crow urges others to, "cook with love. Put good energy into everything you touch, and be intentional about the process. Enjoy the ups and the downs." He also recommends seasoning dishes aggressively, and in small amounts throughout the cooking process.
Check out these recipes:
Rutabaga Hash
Rutabaga Au Gratin
Rutabaga Mash
Corner Kitchen
3 Boston Way, Asheville
(828) 274-2439 
thecornerkitchen.com
Chestnut
48 Biltmore Ave., Asheville
(828) 575-2667 
chestnutasheville.com