Chefs' Food & Bev Faves
Chefs' Food & Bev Faves:
We asked chefs to spill the beans on their favorite local restaurants, bars, and purveyors, and the results offer a delicious insider's guide to Asheville's best eats and drinks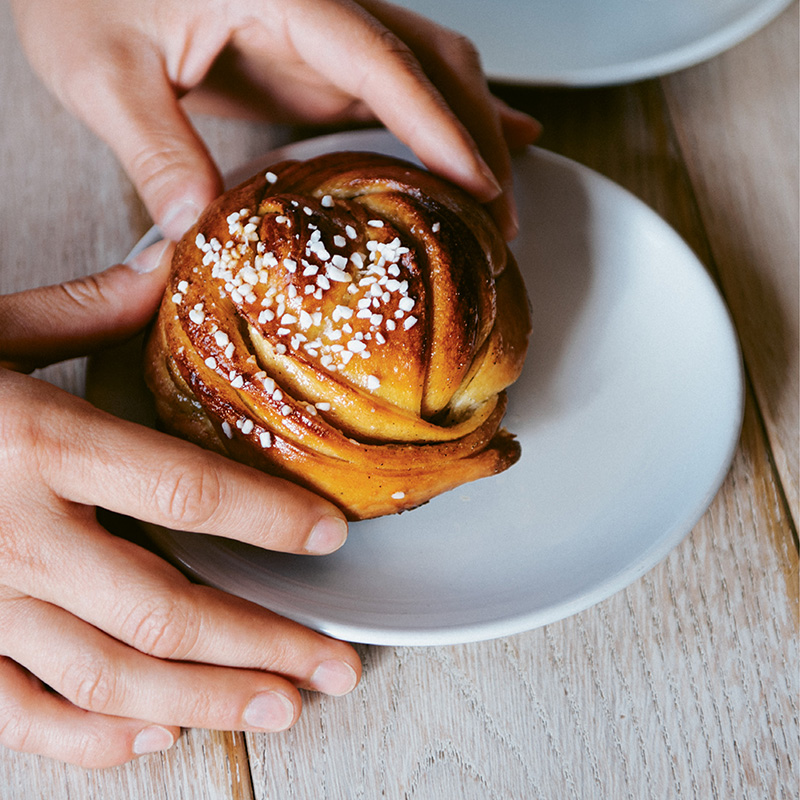 Bakery: OWL Bakery
Asheville has award-winning bakers and pastry chefs and wonderful bakeshops (Karen Donatelli, The Rhu, and Buxton Hall all received high marks), but OWL Bakery takes the cake (pun intended). "Best bread and laminated
pastries in the area," says William Dissen, owner and executive chef of The Market Place.
An acronym for Old World Levain (a French term for a sourdough starter), OWL is owned and operated by founder Susannah Gebhart and Maia Surdam, both studied bakers. With the help of their small team, they produce beautiful artisan breads made with organic flours and an array of mouthwatering European pastries, including inventive sweet and savory Danishes (think maple cream cheese with crystallized herbs), cardamom buns, seasonal tartlets, cookies, cakes, and more. "Their pastries are perfection and their raisin flax bread is my go-to breakfast," says Katie Button of Cúrate and Button & Co. Bagels. While you can experience OWL's baked goods at area restaurants like Vivian, which receives the bakery's "incredible baguette" daily, according to chef/owner Josiah McGaughey, the experience of savoring a pastry with a warming cup of coffee in the small, elegant West Asheville pâtisserie is, indeed, a treat in itself. 295 Haywood Rd.; (828) 785-1770; owlbakery.com
(Left) Vandele Farms; (Right) Gaining Ground Farm's Aaron and Anne Grier and children
Local Farms
While your chances of finding gold in these hills are uncertain, you're guaranteed to find a fresh bounty of diverse organic produce and sustainably raised meats. Luckily, local chefs have a plethora of options to choose from, including these popular picks:
Photograph by Rich Orris
Dive Bar: Double Crown
"I say it all the time: this is my favorite place in Asheville, period," proclaims Buxton Hall's Elliott Moss of West Asheville dive The Double Crown. Though Chris Bower and Steve Mann opened their New Orleans-inspired watering hole in 2012, it carries the patina and character of 60-some years of nearly continuous bar service. It's got all the hallmarks of the classic dive—floor-to-ceiling music memorabilia ranging from honky-tonk to gospel, graffitied bathroom walls, drink-and-shot specials, cracked vinyl booths—and damn good cocktails, to boot. 375 Haywood Rd., Facebook: The Double Crown
Photograph by Emily-Ann Trautman
Best-Kept Secret: Taqueria Muñoz
Conveniently adjacent to a Latin market along a strip mall-filled stretch of Patton Avenue in West Asheville, Taqueria Muñoz's unassuming exterior belies the real-deal flavors inside. "This place has our whole hearts," says Haywood Common's co-owner Hannah Starr. "Hailing from California, we've found authentic Mexican to be a little harder to find, but Muñoz has it." A small but mighty menu and homemade salsa bar, coupled with what Vivian's Josiah McGaughey calls "big pans of stewy proteins packed onto homemade corn tortillas and all the fixins'," make it easy to see why many chefs and in-the-know locals head here when they want generous servings of traditional Mexican eats, like tacos al pastor with horchata and handmade tamales and sopes. 1438 Patton Ave.; (828) 412-3331; Facebook: Taqueria Muñoz
(Bottom left) Burial's co-owners Doug and Jess Reiser and Tim Gormley; Photographs by Luke Van Hine, (can) courtesy of Burial Beer Co.
Brewery: Burial Beer Co.
In a town renowned for its robust brewery scene (30 and counting), how do you stand out in a sea of barrels and brews? "Great vibe, design, food, they got it all," says Buxton Hall's Elliott Moss of his South Slope neighbor Burial Beer Co.
Since the hip and rustic brewery opened six years ago, it's achieved darling status in the eyes of locals. Chefs laud Burial classics like the Surf Wax IPA and Innertube Lager as their personal favorites, but it's the brewery's dynamic small-batch brews that catch the attention of tastemakers like Gypsy Queen's Suzy Salwa Phillips: "I love their ever-changing small-batch brews … and the art on their cans is always impressive and innovative, [telling] a story about that particular beer." Burial's unique sips have garnered accolades from industry leaders, too, including being named one of Craft Beer & Brewing Magazine's top five small breweries in the country.
As of this fall, co-owners Doug and Jess Reiser and Tim Gormley (who's also the head brewer) unveiled a new collaborative concept with Cucina24's Brian Canipelli: Forestry Camp bar and restaurant, which features an Appalachian/Basque-inspired while highlighting regional and national makers. The property, also home to Burial's production facility and sour barrel house, includes lots of acreage for the brewery's growing lineup of events. 40 Collier Ave.; (828) 475-2739; burialbeer.com
Co-owners P.J. and Sharon Jackson and Matt Helms (center); Photograph by Emily-Ann Trautman
p>Butcher: The Chop Shop Butchery
Once a staple, neighborhood butcher shops like the Chop Shop in North Asheville's Charlotte Street area have seen a resurgence in recent years, and Asheville chefs are fans of the all-natural, sustainably raised meats on offer here. "I love what they do at the Chop Shop," says Katie Button of Cúrate and Button & Co. Bagels. "They introduced me to Apple Brandy beef, the farm we now use in our restaurants." The high-quality cuts of regionally sourced beef, pork, poultry, lamb, house-made sausages, charcuterie, and even seafood are the handywork of a team of three well-trained butchers led by co-owner and head butcher Matt Helms. While it is the "quality products" that restaurateurs like Traci Taylor of FIG Bistro appreciate most about the Chop Shop, home cooks have even more reasons to love this place: their regular educational classes, such as Smoking Turkey (November 21) and Beef Holiday Roast (December 12), impart culinary wisdom that is truly a gift that keeps on giving. 100 Charlotte St.; (828) 505-3777; chopshopbutchery.com
New Restaurant: Vivian
OK, so Vivian technically opened in December 2018, but relatively speaking, it's still considered the favorite new restaurant by many Asheville chefs, and for good reason. Owner and Executive Chef Josiah McGaughey's American-influenced haute French cuisine has been drawing attention for several years now. He and his wife, Shannon, opened Salt & Smoke, a pop-up-turned-permanent food truck at Burial Beer Co., in 2015, extraordinarily serving high-caliber European dishes on paper plates. So when the opportunity to open a brick-and-mortar restaurant became available, they jumped, and opened Vivian, named after Josiah's grandmother, whose Southern cooking and grand dinner parties shaped his interest in the field.
The menu at Vivian changes frequently and with the seasons, featuring small plates and entrées that are "elegant and edgy," says chef April Moon of Sunny Point Café, which means that dishes like cured and shaved pork loin with poached seckel pears stuffed with muscadine jam, foie gras pâté with grilled fresh figs, or seared quail breast with wilted radicchio and smoked chestnut mushrooms won't last long. But whatever comes next, you can rest assured, it will be equally inventive and exciting. 348 Depot St., Ste. 190; (828) 225-3497; vivianavl.com
Splurge: The Bull and Beggar
"Sitting down to oysters and a giant côte de beouf" is Vivian's Josiah McGaughey's definition of a splurge at The Bull & Beggar. That's because the 34-ounce (and easily shareable), dry-aged, bone-in rib eye is $90. As for the oysters, while you can get just one, the raw bar platter—piled with an array of oceanic delights—could run you up to $150 if you opt for the "à la Royale," which comes with fine ossetra caviar. But rest assured, that's one for the table. Forget pretense though; many chefs and locals agree these and other tantalizing dishes from Executive Chef Matt Dawes, like suckling pig, filet mignon with bone marrow, or duck liver parfait, are worth the investment. The quality and dining experience are top-notch. And The Bull and Beggar's menu isn't entirely inaccessible for lighter pockets; Mondays through Saturdays from 5 to 6 p.m. is "Seafood Happy Hour," offering half off the raw bar items, and Monday nights serve up a $10 double cheeseburger and beer special. 37 Paynes Way; (828) 575-9443; thebullandbeggar.com
Photographs by (cheese) Emily-Ann Trautman, (Victor Chiarizia) Jack Sorokin
Cheesemaker: Blue Ridge Mountain Creamery
"Cave-aged!" exclaims Michelle Bailey, executive chef at Smoky Park Supper Club. It's a sentiment echoed by others and one of the primary reasons cheesemaker Victor Chiarizia of Blue Mountain Creamery in Fairview stands out. A first-generation Italian-American, Chiarizia had made cheese with his father, an Italian native from the Molise province long known for its cheese. But it wasn't until the Great Recession that he was prompted to transition from studio glass to the rarefied culinary art. Chiarizia sources his cow's milk from a local dairy farmer, processes it, and transports it to the cave he built to let it ripen. Throughout the year, he makes about 30 different cheeses, including a rustic Asiago, a pungent blue, and a creamy Camembert, which can be found at various grocers, local farmers markets, and on chefs' menus around town. 327 Flat Creek Rd., Fairview; (828) 551-5739; caveagedcheeses.com
Furthermore, Blue Ridge Mountain Creamery is among eight cheesemakers that comprise the WNC Cheese Trail, which, in addition to being a fun expedition for any fromage enthusiast, has worked to raise awareness about the fine quality of cheese being produced here in the mountains. wnccheesetrail.org
Spirits: Eda Rhyne
While Southern Appalachia has a long history of distilling, and there are certainly some talented spirit-makers in Western North Carolina, Eda Rhyne's bitter, aromatic liquors are a standout and an homage to local terroir. "You can taste the history of the mountains in one small sip," declares Sunny Point Cafe's April Moon. Inspired by Italian fernet, an herbal digestif, co-owners Chris Bower and Rett Murphy crafted the fragrant Appalachian Fernet with spices and herbs sourced from the nearby mountains. Similarly, the Amora Flora is made with bark and wildflowers, while the Rustic Nocino features black walnuts from Murphy's Yancey County farm. 101 Fairview Rd., Ste. A; (828) 412-5441; edarhyne.com
Barbecue: Buxton Hall BBQ
"Elliott [Moss] is the king of whole hog North Carolina barbecue in Asheville," proclaims William Dissen of The Market Place, and it seems his peers agree. Buxton Hall BBQ, the shared vision of James Beard-nominated chefs Moss and Meherwan Irani, has been slinging Southern staples since 2015. Its locally sourced hogs are smoked Eastern Carolina-style, slow and low for 18 hours over hardwood coals, and infused with Moss' family recipe for vinegar mop.
But a good barbecue joint is not made solely by its meats. Modernized country classics like baked beans sweetened with RC Cola and chicken bog, a savory medley of rice, chicken, sausage, and peas, stand out on Buxton's menu, as do seasonal desserts like local pear-caramel-almond pie from the in-house bakery led by pastry chef Ashley Capps, herself a recent James Beard semifinalist.
Also appealing is the setting. Buxton's creaky floors and high ceilings tell a storied history that's presented in the old roller rink murals along the walls, an ambience best enjoyed while sipping one of its cocktails, as Cúrate's Chef Katie Button likes to do: "It's not often you can get a great cocktail alongside a large pile of barbecue." 32 Banks Ave.; (828) 232-7216; buxtonhall.com
Locally Produced F&B Product: Lusty Monk Mustard
Asheville chefs do indeed have an enthusiastic yearning for Lusty Monk mustards, created over a decade ago by founder Kelly Davis. Made from fresh-ground mustard seeds and a blend of spices, these small-batch condiments—including the Original Sin, Burn in Hell chipotle mustard, and the Alter Boy honey version—enliven local dishes from Button & Co. Bagels' pastrami on rye to Buxton Hall BBQ's pimento cheese. And chefs aren't the only ones who love Lusty Monk; it's now sold in groceries in 19 states, reaching an ever-expanding congregation of converts. lustymonk.com
Craft Cocktails
Beer may get all the attention, but for those thirsty for something stronger, Asheville's craft cocktail scene provides. At the top of many chefs' lists is Charlie Hodge and Sunil Patel's Sovereign Remedies. In the sunshine that spills through 14-foot windows or the sputtering glow of candles, guests can sip seasonally inspired cocktails or modern interpretations of the classics, like the Root Daiquiri, a collaboration with Maia Toll of The Herbiary shop next door, with sarsaparilla, burdock, and dandelion, chosen for their detoxifying properties. Paired with Chef Graham House's sophisticated Appalachian bar food, it's a win-win. 29 N. Market St.; (828) 919-9518; sovereignremedies.com
Still thirsty?
It's never fun to have just one. Chefs also report they like to frequent The Imperial Life, the sister bar to Jacob Sessoms' Table, where inventive cocktails like Alone in Kyoto (pink peppercorn-infused gin with Japanese whiskey, vermouth, chartreuse, and plum vinegar) are attributed to its creative bartenders; Little Jumbo, where there's free live jazz every Monday and, according to The Lobster Trap's Mike McCarty, "The Manhattan Service for two is on point;" and newcomer The Golden Pineapple, where longtime local bartenders Donnie Pratt and Katey Ryder mix up tiki cocktails including its namesake, which features bonded rye whiskey, overproof rum, lime, amaro, tepache, and almond served in—you guessed it—a golden pineapple. imperialbarasheville.com; littlejumbobar.com; goldenpineapplebar.com
(Left) Penny Cup Coffee Co.; (Right top, bottom) High Five Coffee.
Coffee Shop: High Five Coffee
The Lobster Trap's Mike McCarty describes High Five Coffee as "just a really inviting and warm place to be." That was founder Jay Weatherly's exact intention when he took over operations of The Dripolator Coffeehouse in 2007, the springboard for creating a no-frills, community-oriented java shop. Since then, the brand has evolved into High Five Coffee, a favorite among chefs, locals, and tourists alike, with three Asheville-area locations (downtown, Five Points, and Woodfin).
High Five's partnership with specialty roasters Counter Culture Coffee guarantees high standards in sustainability, fair trade, and the complex flavor profiles of its brews, which Cúrate's Katie Button calls "coffee perfection." Fanciful barista specials, lots of local collaborations with businesses like Meherwan Irani's Spicewalla, and baked treats from All Day Darling, a venture from Weatherly and Table's Jacob Sessoms, inspire high fives all around. highfivecoffee.com
Neighborhood chefs also turn to Asheville roasters PennyCup Coffee Co. for their caffeine fix. You can find the single-origin roasts online and in their four locations across Asheville, as well as unique custom blends at restaurants around town. Vivian's Josiah McGaughey notes that their own custom blend is "delicious." pennycupcoffeeco.com
Photograph by Luke Van Hine
Local Chef Who's Earned Your Respect: Brian Canipelli
Since the consensus among chefs on Asheville's most innovative menu went to Brian Canipelli's inventive cuisine at Cucina24 (see p. 53), it's no surprise he took the honor of being named a top chef among his peers. "Brian travels to Italy ... and he uses the produce grown in these mountains like no one else in town," says Elliott Moss of Buxton Hall BBQ. "He's cooking Italian food that you can only get in Asheville."
A James Beard semifinalist for the 2016 Best Chef Southeast award, Canipelli goes to Italy twice a year, traveling to small towns to dine and discover. The fact that he's letting what's fresh from area farms guide his evolving menu at Cucina, which focuses on a different region of Italy each time, results in a unique mash-up of ingredients and foodways. But the soft-spoken Canipelli's curiosity and creative genius don't stop there. Just this past fall, he opened two new ventures: Contrada is an Italian stand-up snack bar next to Cucina, where diners can nosh on antipasti and other small bites while sipping wine and Italian-style beer on tap. And Canipelli teamed up with Burial Beer Co., creating a Basque-inspired menu using Appalachian ingredients, for the brewery's new Forestry Camp, which also houses the Burial's production facility on the grounds of a historic Depression-era Public Works campus.
Clockwise from bottom: Porchetta with radicchio and fennel pollen; grilled cabbage with onion and garlic chive; and buffalo mozzarella with figs from Cucina24; Photograph by Luke Van Hine
Innovative Menu: Cucina24
Although formally trained in French culinary practices, Brian Canipelli looked to his grandparents' native Italy when he opened Cucina24 in 2008, eschewing Italian-American food and opting instead to focus on the country's classic fare. "Because each of the 20 regions have their own unique cuisine, I realized that if I were to base things on more traditional Italian foods, it would be an endless source of inspiration to pull from," says Canipelli, who lets WNC's fresh seasonal produce dictate which area of Italy he builds his ever-evolving regionally focused menu around. For example, Sicily is big into eggplants and peppers, so when those vegetables were in season here, the menu featured Sicilian cookery, offering expertly prepared dishes like fairy tale eggplant caponata and lamb meatballs in agrodolce with roasted peppers. Or when root veggies and cold-weather greens are in, Canipelli turns to Northern Italy and the Piedmont to build his menu. What's more, he works with wine distributors to match wines from the region he's featuring.
It's truly a chance to eat and drink your way around Italy while indulging in the freshest seasonal produce around. It's fun to pick and choose from the à la carte menu, but if you really want the ultimate dining experience here, bring a few friends and go for the tasting menu, which serves up Chef Brian's choice dishes of the day. 24 Wall St.; (828) 254-6170; cucina24restaurant.com
Hot dog from Burger Gang and eats from Tastee Diner
Dining on a Dime
Sure, Asheville is increasingly known for its culinary nobility, but that doesn't mean it's lacking of good, affordable eats. In fact, many of the eateries already on our list—including Gypsy Queen Cuisine, Rocky's Hot Chicken Shack, and Taqueria Muñoz—were cited by chefs as great places to eat on the cheap. And the list goes on:
Vegetarian: Plant
Asheville has long been a haven for those who eschew meat in their diets, but when Chef Jason Sellers (formerly with Laughing Seed Café) opened vegan eatery Plant in 2011, this reputation drew national attention thanks to kudos from the likes of Zagat and Food & Wine magazine. With a seasonally driven, ever-changing menu, Plant blends fresh ingredients with bold flavors to create dishes like Indian uttapam with oyster mushrooms, chile con queso with locally made seitan, and a fromage plate with a variety of nut-based cheeses. It's a far cry from the limp salads and hummus wraps of yore that were once the typical options for meatless diners; the meals at Plant are so imaginative they appeal to everyone, vegan or not. "If you ate blindfolded, you would have no idea it was vegan," says John Fleer of Rhubarb, the Rhu, and Benne on Eagle. "Flavor forward, delicious, beautifully composed—[it's] what a restaurant should be." 165 Merrimon Ave.; (828) 258-7500; plantisfood.com
Suzy Salwa Phillip's Gypsy Queen Cuisine; Photograph by Luke Van Hine
Food Trucks
Since Asheville's food truck scene gained speed around 2011, the offerings have grown exponentially. Here are a handful of chefs' favorites, and you can visit ashevillefoodtrucks.com for a more complete list and links to track their movements around town.
Brunch: Sunny Point Café
In Asheville, brunch options abound, capturing the palates of local chefs who favor both breakfast mainstays like Over Easy Café, as well as those that serve morning meals only on the weekends, like Limones and Vivian. But most agree that no one does it quite like chef/owner April Moon and her team from Sunny Point Café. "The staff is always friendly and the food never disappoints," says accomplished pastry chef Kaley Laird of Rhubarb, The Rhu, and Benne on Eagle.
Like brunch itself, Sunny Point straddles a fine line between comfort food and wholesome fare. Its dishes are decadent, like carrot hotcakes with cardamom cream cheese and fried chicken and waffles slathered with jalapeño jam and pimiento cheese, but made with ingredients that are often organic and regionally sourced, sometimes from Sunny Point's own backyard garden. And granted, it usually takes patience to nab a table here, but even the wait is worth it on Sunny Point's sun-dappled patio, where the coffee is bottomless, mega-mosas and Bloody Marys are delivered lightning-fast, and local musicians often set the tone with plucked and crooned tunes. 626 Haywood Rd.; (828) 252-0055; sunnypointcafe.com
Farm-to-Table: Rhubarb
Farm-to-table, meet fancy. "I feel that John Fleer came on the scene and elevated the awareness that local could be upscale," says Sunny Point Café's April Moon of Fleer's downtown restaurant Rhubarb. The James Beard favorite (Fleer was named one of the Rising Stars of the 21st Century by the organization and is a five-time finalist for its Best Chef in the Southeast award) opened his downtown venture in 2016 after whetting his appetite for locally sourced and refined rustic fare at Tennessee's Blackberry Farm and Cashiers's Canyon Kitchen.
Rhubarb's menu uses produce so fresh it's almost a surprise to not find it still dirt-speckled. Aromatic ramps and delicate lettuces in early spring, succulent tomatoes in summer, even blue-veined cheese and crisp-edged pork loin—Rhubarb's menu is chock full of regionally sourced produce, products, and meats. These ingredients mingle in dishes that combine regionality with the exotic, like collard greens kimchi served over Mongolian barbecued lamb ribs.
Fleer's spark for farm-to-table shines brightest in the restaurant's Sunday Supper, a three-course meal served family-style at communal tables and sourced almost entirely from area farms. The menu changes with the seasons, reflecting the bounty of WNC's fields and markets. 7 SW Pack Sq.; (828) 785-1503; rhubarbasheville.com
Comfort Food: Rocky's Hot Chicken Shack
When it comes to comfort food, Asheville chefs report to love everything from the long-lived Greek diner The Med to the fried chicken sandwich served at Sand Hill Kitchen, a relative newcomer to the local food scene. But Rocky's Hot Chicken Shack is the favored champion here—ding, ding. Known for its Nashville-style hot chicken and Southern soul food, Rocky's raises the bar by sourcing local ingredients, making its food from scratch daily, and using naturally raised chicken, the clear heavyweight here, which comes fried, grilled, or rotisseried. But spice lovers beware: even the medium is hot enough to bring tears to your eyes. Take into account the comforting, stick-to-your-ribs sides—including Mac Poppers, corn pudding, slaw, potato salad, pimento cheese grits, and collards—and you're headed straight for a food coma, or a good night's sleep, depending on your outlook. 1455 Patton Ave., (828) 575-2260; 3749 Sweeten Creek Rd., (828) 676-3222; rockyshotchickenshack.com
Rooftop Bar: The Montford
Asheville's Blue Ridge views are best enjoyed glass-in-hand, and lucky for us, there's an ever-expanding selection of rooftop bars at which you can do just that. The Rhu's Kaley Laird favors Antidote's fireplace and intimacy. David Van Tassel of Corner Kitchen prefers Social Lounge's cocktails and late-night menu. But it's The Montford Rooftop Bar that steals the most hearts (and taste buds).
Folks like Fig Bistro's Traci Taylor are prone to rhapsodic gushing about The Montford's "gorgeous views," which frame recognizable peaks like Cold Mountain and Mount Pisgah to the west, as well as the stately Omni Grove Park Inn to the north. While the unobstructed views are a hard act to follow, especially at sunset, The Montford's local drafts, refined wine selection, handcrafted seasonal cocktails, and Chef Philip Bollhoefer's locally sourced Southern bites satiate more than just the eyes. 199 Haywood St.; (828) 505-8750; themontford.com
Food Event: Chow Chow
Asheville chefs were understandably most excited about Chow Chow, the city's newest food festival. Held September 12-15, the inaugural event featured informative panel discussions, hands-on demos, and workshops in everything from bread-baking to home-brewing. It also brought together some of the country's top food and beverage professionals, including more than two dozen James Beard nominees, finalists, semifinalists, and winners like Craig Deihl, Sean Brock, Ronni Lundy, Vivian Howard, and José Andrés, one of Time magazine's 100 Most Influential People in 2012. The opportunity to mix and mingle not only enabled chefs to revel in the camaraderie, it elevated the local food scene as a whole. "Our goal was to create a festival that celebrated the area and that was also fun and educational," says Cúrate's Katie Button, who was a driving force behind the event's creation. "We hoped connections would be made between those of us in town as well as those visiting. The interconnectedness of our community is what is most exciting for us as we continue." The fest also served up everyone's favorite thing: food, and plenty of it, from more than 50 local and participating restaurants via specialty dinners and a three-day grand tasting. John Fleer predicts Chow Chow is "soon to be the best food festival in the South." With hundreds of makers, chefs, and mixologists participating, it's easy to see these chefs' words as prophetic. exploreasheville.com/chow-chow-culinary-festival
RESOURCES:
Photographs (2) by Luke Van Hine; Photographs by (pigs) Sir Prize Photography; (family) Jack Sorokin; (tacos) Emily-Ann Trautman; (bar) Rich Orris; Photographs (3) by Luke Van Hine; (can) courtesy of Burial Beer Co.; Photographs by (2, Chop Shop) Emily-Ann Trautman; (Vivian dish) Sharon McGaughey; (restaurant) Matt Burkhartt; Photographs by (2, Bull and Beggar) Sarah Frostick; (cheese) Emily-Ann Trautman; (Chiarizia) Jack Sorokin; (Eda Rhyne) Steve Mann; Photographs (2, Buxton Hall) by Andrew Thomas Lee; (mustard) courtesy of Lusty Monk; Photographs by (Irani) Erin Adams; (McGaughey) Jack Sorokin; (Bailey) Jennifer Cole; (Dawes) Sarah Frostick; (Fleer) Johnny Autry; (Crowder) Carolyn Marie Photography; (Laird) Eric Wolffinger; (Bannasch) Courtesy of Copper Crown; Photographs by (2, Sovereign Remedies) Luke Van Hine; (Golden Pineapple and Manhattan Service) Emily-ann Trautman; Photographs by (Pennycup) Cami Calnan; (2, High Five) Emily Peele; (Canipelli) Luke Van Hine; Photographs by (opposite) Luke Van Hine; (hot dog) Chris Cox; (sandwich & fries) Jonathan Robinson; (seitan dish) courtesy of Plant; Photographs by (2, Gypsy Queen) Luke Van Hine; (2, Sunny Point Café) Alice io Ogelsby; Photographs courtesy of (dish) Rhubarb; (vegetables) Gaining Ground Farm; Photographs by (2, Rocky's) Mike Belleme; (2, The Montford) Chelsea Lane Photography; Photographs (5) by Reese Moore