From Bavaria with Love
From Bavaria with Love:
A German expat elevates the local ideal of great pretzels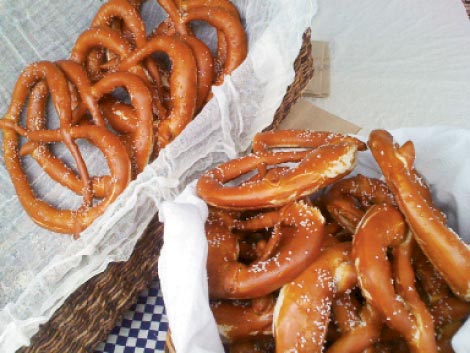 All pretzels are not created equal. They may seem a simple recipe of flour, water, and yeast, but anyone who's traveled to southern Germany knows a true, handmade pretzel is more akin to a flavorful artisan bread than a cardboard-like vehicle for melted cheese.
The authentic pretzels of his home country are what Erhard Schoeffmann was going for when he launched Beulah's Bavarian Pretzels with Laura Jensen last year at the Blue Ridge Food Ventures Holiday Market. "I basically did some reverse engineering to get back to the taste I remember from my childhood," he says. "There are only four or five variables, but they change the product dramatically."
These days, Schoeffmann begins the labor-intensive baking process at 2 a.m. at the BRFV kitchen, mixing and hand-rolling the organic dough made with flour from Lindley Mills in Graham. Then he dips the pretzels in a lye bath before they go into the oven.
It's smart to hit the North Asheville and City tailgate markets early on Saturday to score his rolls or braided loafs, which are in demand by German transplants, local chefs, and market strollers. He recommends taking the pretzels home and eating them the way Germans would, sliced and buttered or as bread on a sandwich. Or pick up the more American-recognized knotted pretzels, which are easy to snack on on the go (and delicious with a dab of Lusty Monk Mustard). As Schoeffmann points out, "Those pretzels don't make it to the parking lot."                  
Find them in Asheville:
5 Walnut Wine Bar, The Admiral, French Broad Brewing Company, West Village Market & Deli, North Asheville Tailgate Market (Saturday), Asheville City Market (Saturday)  www.beulahsbavarian.com