Veggie Mates
Veggie Mates:
No Evil Foods is saving the world, one plant-based "sausage" at a time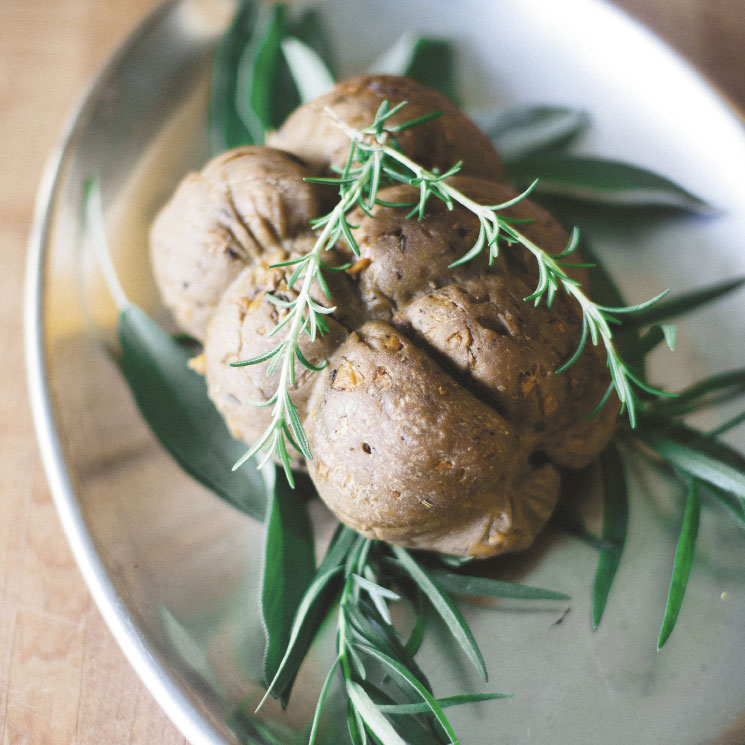 When Sadrah Schadel and Mike Woliansky left Philadelphia for Asheville in 2011, the couple came in search of a foodie culture they could play a part in. "A friend warned us before we moved that if we came here, we'd have to contribute something," Schadel says. "You can't just expect Asheville to carry you, you have to be a part of it. I think he was absolutely right about that."
Once in Asheville, a vision of how the two vegans could contribute came via an odd sign: a vegetarian wrap. "I would go to a restaurant and see people doing these really cool farm-to-table things" with meat, Schadel says, "and I'd end up with just a hummus wrap." Dissatisfied with the limitation, in 2014, she and Woliansky launched No Evil Foods, a line of plant-based meats composed of wheat gluten seitan, vegetables, herbs, and spices.
The company's slogan—"It's not fake meat, it's real food!"—conveys the owners' conviction that plant-based proteins can be both healthy and hearty. "We really aim to make them taste like meat, but without the health and environmental drawbacks" of animal products, Schadel says. No Evil Foods currently offers three styles: the Prepper (a chicken-like protein that even pulls apart like chicken), the Stallion (their take on Italian sausage), and the Zapatista (a spicy chorizo). Each offers nearly 20 grams of protein per serving, an amount comparable to the real thing.
Schadel and Woliansky prepare their meats at Blue Ridge Food Ventures kitchen in Candler, where they perfected the recipes. The appearance of the products proved key for folks not accustomed to veggie meats, Schadel says. "It normalizes it for people, when you can look at it and say, 'Oh, it's Italian sausage—I'm going to use it to make pasta tonight or stuffed peppers.'"
Aside from the drive to spice up meatless meals, No Evil Foods is also committed to an environmental agenda, arguing that plant-based proteins are easier on the earth than animal-based ones. "In terms of their resource use, in terms of time, in terms of the land, it's just more efficient," Woliansky says, noting that the production of animal proteins takes 11 times as much fossil fuel as that used to produce equivalent amounts of plant proteins.
"Everybody is making food choices," says Schadel. "We try to make good, conscious decisions about what we eat every day. And the more that you do that, the more it becomes a habit. Any small change is better than no change at all, because this is all part of a bigger picture." 
Eat No Evil
No Evil Foods is sold at dozens of groceries and restaurants. Visit www.noevilfoods.com to find vendors, make online orders, and find meatless recipes.