True Blue
True Blue:
Tupelo Honey Café's chef prepares a sweet spread with a bounty of blueberries picked in his backyard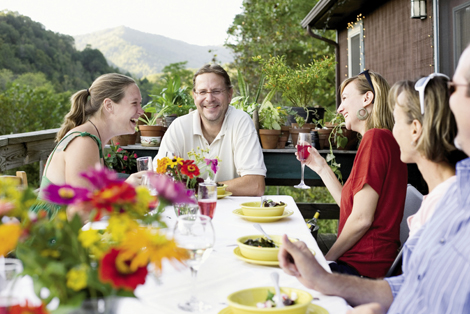 A bottle of the restaurant's namesake sweetener graces each table at Tupelo Honey Café, one of Asheville's mainstays. It's a delicious accompaniment to the buttermilk biscuits and indicative of the restaurant's Southern hospitality and cuisine. Eclectic twists on classic dishes, such as sweet potato pancakes, goat cheese grits, and wild mushroom meatloaf are the creations of Executive Chef Brian Sonoskus, who's been behind Tupelo's menu since the eatery opened in 2000.
Like many restaurants attuned to the farm-to-fork movement, the café has established its own local source for fresh produce—Sonoskus's backyard.
Actually, his yard is a 12-acre farm tucked in a valley near Burnsville. Sunshot Organics is where Sonoskus lives with his fiancée, Kate McDonagh, and their one-year-old son, Jack. The couple grows vegetables and edible flowers, which turn up on plates at the restaurant, and they maintain about a thousand blueberry bushes.
On this summer day, the two are hosting a dinner party for Tupelo Honey staff. It's a celebration of the cafe's recent opening of a second location in South Asheville. And making good use of the farm's blueberry harvest, the fruit will infuse the evening's menu with juicy sweetness and vibrant color.
Green Acres
Aseasoned host, Sonoskus is calm and collected in the hours before guests arrive. The menu has been thoughtfully chosen, and many dishes, like the sweet and spicy blueberry gazpacho, were prepared in advance.
Working quickly, he chops onions, celery, and herbs that will go into the candied-ginger corn bread dressing and then sautés them all, filling the kitchen with a savory aroma. A stash of dried blueberries from last year's harvest sits on a nearby counter. These will brighten the flavor of the corn bread, as well as several other dishes. Sonoskus likes the convenience that dehydrated fruit offers. "Dried blueberries are still very sweet, but won't leave a messy stain in the food," he explains.
With the corn bread ready to go into the oven, Sonoskus is able to step away from the kitchen. Buckets in hand, the family heads down the hill to pick fresh berries. "The deep royal blue berries are usually the ripest, but the easiest way to tell is simply to taste," McDonagh says, popping a berry into her mouth before placing one in Jack's outstretched hands.
In the field opposite the blueberry patch are rows of cucumbers, kale, heirloom tomatoes, peppers, squash, and blackberries. "Everything I grow goes to the restaurant," Sonoskus says as he stoops to pick Swiss chard for a salad. The berries are the exception, with only a small percentage of his crop going to the café. The majority are plucked by visitors to the farm during U-pick season, mid-July through October.
Managing a small farm and heading up a bustling restaurant are ambitious endeavors, but Sonoskus knows his limits. "I buy from other local farmers to supplement what I can't provide." His produce winds up on the menu, mainly in specials. "Green zebra tomatoes added a tart punch to a caprice salad special we ran recently," he says. And he's looking forward to making good use of the candy roaster squash come fall. "It's hard work," he says about growing his own food, "but the reward is great. The compliments keep me going."
Fruits of Labor
Back at the house, McDonagh is on the deck adding the finishing touches to the table. Drawing on her background as a server at Tupelo Honey, which is where she and Sonoskus met, she creates an elegant spread. Vases brimming with colorful wildflowers reflect the scenic country setting.
Inside, a mouth-watering aroma lingers in the air. Sonoskus has returned from the fields, and is simmering blueberry sausage balls made with Hickory Nut Gap pork in maple syrup. These appetizers will disappear quickly once guests arrive.
And one by one, guests trickle in, making their ways up the dirt road to the farmhouse, with beer and wine in hand. Hugs and congratulations go around, as many are co-workers who have recently received promotions due to the new location. And none are shy to pitch in and help the chef.
Kelly Hanlon is on beverage duty, making blueberry champagne cocktails. The effervescent Korbel Brut blended with blueberry sauce is a sweet complement to the salad of chopped greens, dried blueberries, roasted beets, carrots, goat cheese, sunflower seeds, and sherry vinaigrette.
Between sips of champagne, Sonoskus readies the blueberry-port reduction that will go over the flank steak. The steak has been marinating overnight in a sauce of smoked chipotle peppers, spices, orange marmalade, Tupelo honey, orange juice, and V8. "The key to cooking with a sweet ingredient, like blueberries, is to pair it with something savory," Sonoskus explains. "And I recommend using a combination of fresh and dried berries. Fresh berries are more tart, so use those when you don't want the sweetness to come through as much."
Cooking dinner for family and friends is an opportunity for Sonoskus to experiment with new flavor combinations and recipes. And his staff is always happy to be his taste-testers. "He plays around with recipes and brings them into the restaurant for us to try," says Chef de Cuisine Jamie White. "He's taught me a lot."
Outside, Tupelo Honey Café owner Steve Frabitore lights the grill. "Brian knows how to treat food right," he says. "The flavors of his dishes combine nicely, but can still be deciphered individually."
With the steaks on the grill, Sonoskus hands over the cooking to White and joins the dinner party. A toast to success and good food commences the meal, which is opened with the gazpacho and salad, followed by the steak. The candied-ginger corn bread dressing, side of sautéed asparagus, and PETS Petite Sirah are excellent accompaniments to a main course that presents a harmonious balance of sweet and savory.
Capping the dinner, Sonoskus has prepared a delicious blueberry granola crisp served à la mode. It's a refreshing take on traditional cobbler, and the perfect ending to a sweet day down on the farm.