Tasty Titles
Tasty Titles:
Whet your appetite with a fresh selection of books for Southern foodies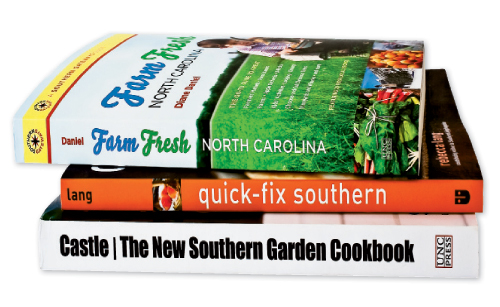 Tupelo Honey Café: Spirited Recipes from Asheville's New South Kitchen
Elizabeth Sims & Chef Brian Sonoskus, 2011
For more than a decade, Tupelo Honey Café has symbolized the culinary creativity and eclecticism that defines Asheville. Much like the city itself, the restaurant's Southern menu is certainly inspired and innovative. And this new collection of recipes taken directly from Tupelo's kitchen by Elizabeth Sims and Chef Brian Sonoskus is a testament to the joys and rewards of putting fresh spins on classic Southern dishes. The recipes are complemented by Brie Williams' beautiful photographs of the dishes, as well as images illustrating Asheville's history and culture. This is cookbook favors those with palates that crave comfort and adventure: meatloaf with tarragon-tomato gravy and pork and blueberry sausage simmered in maple syrup are among the many imaginative highlights. The suggested wine and beer pairings with each recipe are bonuses.  
The New Southern Garden Cookbook
Sheri Castle, 2011
The crowded field of Southern-themed cookbooks gets a worthy new contender with Sheri Castle's New Southern Garden Cookbook. Rather than warming over Southern classics like fried chicken and mashed potatoes, Castle narrows her focus to recipes inspired by seasonal fruits and vegetables. The results are inventive, with tastes that merge traditional and modern culinary sensibilities, and also serve those looking to incorporate more organic produce into their diets. However, it should be noted, the book isn't just for vegetarians. Many of Castle's best recipes involve a delicious blend of meats and vegetables, such as stirred corn with seared sea scallops and lime sauce, or pasta with escarole and sausage.
Quick-Fix Southern
Rebecca Lang, 2011
For recipes that can be prepared fast with few ingredients, look no further than Rebecca Lang's Quick-Fix Southern. With more than 100 recipes that are ready in 30 minutes or less, Lang, a contributing editor for Southern Living, provides short, sharp bursts of culinary wizardry. Themes range from Tailgates and Gatherings (rib eye with bourbon-pecan butter) to Busy Weeknight Suppers (oats and bacon meatloaf). Perhaps even more appealing than the food is Lang's collection of Sipping on the Screened Porch drink recipes: Key lime martinis and watermelon margaritas are perfect antidotes for Carolina summer heat.
Farm Fresh North Carolina
Diane Daniel, 2011
Featuring 425 of North Carolina's premiere farmers markets, roadside stands, vineyards, wineries, apple orchards, and choose-and-cut Christmas tree farms, Diane Daniel's Farm Fresh North Carolina is the essential agriculture field guide.
Organized by region and activity, Daniel's book capitalizes on the "go green" meme by spotlighting North Carolina's rich agricultural history and diversity. It's a quick and simple road map for fresh-food enthusiasts looking for quality produce and other organic goodies.
In addition to thoroughly researched information on top farm destinations, Daniel provides fascinating sidebars on weighty topics related to our state's farming history, including pesticides, migrant workers, and discrimination against African-American farmhands.
This writer's top pick for a Farm Fresh North Carolina tour stop? Big Horse Creek Farm, a mountain orchard retreat in Lansing boasting more than 300 varieties of apples.