Storm Rhum Bar & Bistro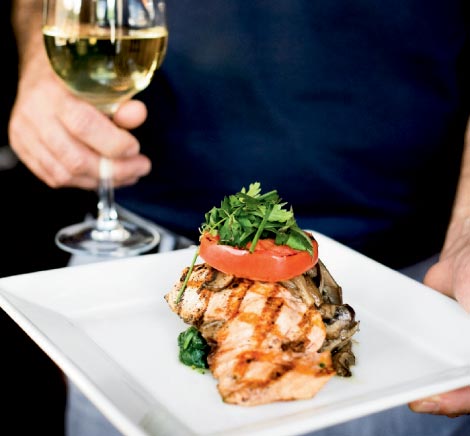 When Charleston restaurateur David Leboutillier and Asheville native Tom Israel teamed up to open Storm Rhum Bar & Bistro this summer, their vision was clear: Create an atmosphere reminiscent of a world traveler's den with ample provisions.
Get the tropical, cheeseburger-in-paradise notion out of your head. This rhum bar (that's the French spelling) is fine dining without being too refined; and every detail, from the mismatched vintage chairs to the menus bound with antique book covers, is as intriguing as a well-worn leather suitcase.
Details weren't overlooked in the cuisine either, which is a balance of familiar and exotic flavors. Bright and light ceviches and tiraditos (a Peruvian version of the dish more akin to sashimi), house-made charcuterie, and novel appetizers, such as bread-and-butter pickled shrimp served in a mini canning jar, aren't masked by an excess of ingredients. Other items, including the crispy chicken confit entrée I enjoyed, present a panoply of tastes and textures. As one might expect, a top-notch selection of rums stock the bar, and the liquor is infused into several dishes, including rum-cured pork ribs, fish tacos, and the Cuban sandwich.
"There's really nothing too crazy on the menu," says Johnson & Wales-trained Executive Chef Owen McGlynn, another Charleston transplant. "I like to focus on simple flavors and throw in different textures. I aim to keep the menu at a familiar level for customers."
During my visit, I ordered one of the tiraditos. The citrusy seared scallop appetizer, accented with a colorful medley of cucumbers, red and yellow peppers, onions, tart tangerines, and a hint of mint, was expertly prepared. The pork liver mousse was smooth and creamy, and complemented with crostini, gherkin pickles, and Lusty Monk brown mustard. And the chicken confit entrée presented a harmonious marriage of sweet and savory. The ground chicken formed into a patty and fried was served with red peas, onion marmalade, and a sunny side up egg, with the yolk acting as the perfect foil for a sweet jam.
My dining companion and I splurged on Storm's bar offerings. Of the nearly 20 rums, ranging from $4.50 to $12 for a glass served neat, the 23-year-old Ron Zacapa Guatemalan is one of the best I've tried. Among the cocktails, which are all original recipes created from fresh-squeezed juices and mixes made in-house, the Devil's Oasis is my favorite. This sublime creation of passion fruit puree, lime juice, cayenne-infused honey, and light and dark rums is, according to the cocktail list, "one part remorse and two parts refuge and relief." Above is the recipe, so you can try it at home, but not before taking shelter at Storm for a taste of the real thing. 
Storm Rhum Bar & Bistro
Asheville
125 S. Lexington Ave.
(828) 505-8560
www.stormrhumbar.com
$$$