Stock Up
Stock Up :
Culinary experts fill you in on what's missing from your pantry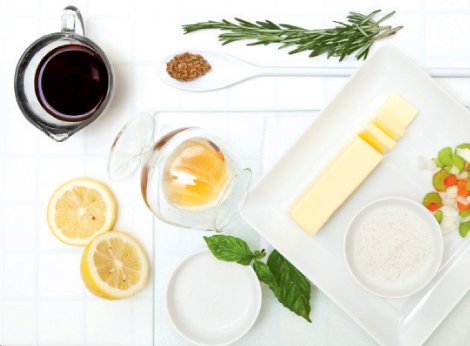 There are some ingredients that belong in every pantry and fridge. We asked top local chefs what they think no aspiring home cook should live without. Check your cupboards: It may be time to head to the grocery store.
1. Chef Adam Brannausch, owner of Zambra, Asheville: The ingredients to mirepoix—onion, celery, and carrot. Mirepoix is classically used to form the base flavor of pilafs, soups, and many other savory dishes. Brannausch also recommends sherry vinegar, which he uses extensively to flavor marinades and dressings, even to finish various starches. "It's not as sweet as balsamic—it's got a perfect balance."
2. Chef Tres Hundertmark, formerly of The Lobster Trap, Asheville: Butter. Hundertmark says it acts as a "liaison between the flavors in a dish," particularly in pasta dishes and sauces.
3. Chef Matthew Dawes of Table, Asheville: Fleur de sel. This hand-harvested sea salt comes from the mineral-rich top layer of salt beds. "Seasoning twice makes a difference—once with sea salt and finishing with fleur de sel. It not only elevates the flavor, it adds a textural component."
4. Chef Brian Canipelli, owner of Cucina 24, Asheville: Wine has an ability to build, compound, and deepen flavors. "Every cook should have it at his disposal in the glass, mixing bowl, or sauté pan." Wine is a great addition to pasta and butter-based sauces.
5. Chef Zeb McDermott of Sazerac, Asheville: Lemons. The juice adds a refreshing kick to dressings, sauces, soups, and salads, he says. "The flavor and acidity from lemons are more refreshing than vinegar."
6. Chef Jesse Roque of Never Blue, Hendersonville: Olive oil, red wine vinegar, dijon mustard, fresh herbs, and cheese. "You can make a dijon vinaigrette for vegetables, a sauce for meat, or any number of things if you've got an acid, cheese, oil, and some green stuff."
7. Chef Josh Monroe of Chef's Table, Waynesville: Unsweetened
coconut milk. "Coconut milk is great because it's almost like the cream of mushroom soup that people used to put in everything."