Spring Zing
Spring Zing:
Pep up your seasonal salad with Sheri Castle's strawberry dressing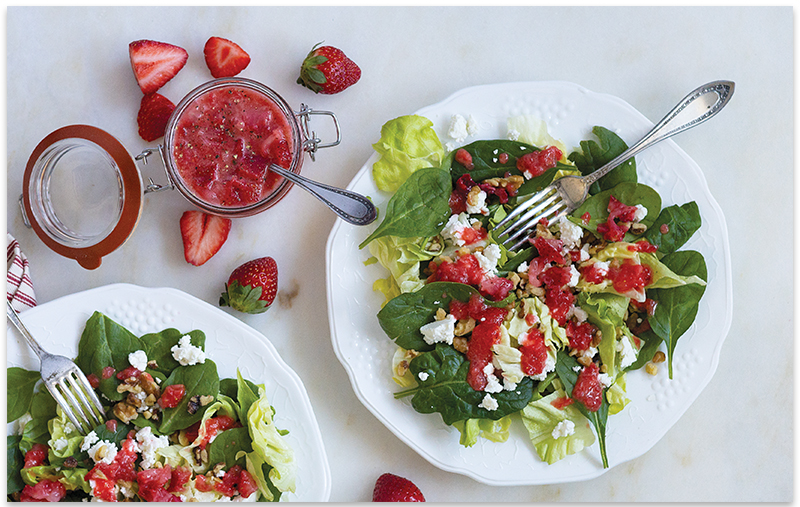 Sheri Castle is always on the hunt for vibrant flavors, whether in one of the pages of her myriad cookbooks or on her PBS television series The Key Ingredient. But when looking for that ingredient to make a dish pop, she often recommends keeping it simple.
"Everybody knows what a strawberry is," she laughs. "You don't have to convince anybody to eat a strawberry! But I think we also think that it just has to be dessert. I like taking very familiar things and doing something slightly unexpected with them." In this case, why not take that luscious strawberry and use it to whip up a quick vinaigrette for a salad?
Castle recommends avoiding those bright red strawberries at the grocery store, as they are often picked early for the sake of shelf life and lack a supple, sweet flavor. "They may be brightly colored, but they are often hard and tasteless pebbles," she says. Instead, try strawberries from your local farmers market or roadside stand. She also suggests using strawberries that are a little over-ripe and squishy: "It's a great way to use up strawberries that are right on the verge of going bad." Castle also notes that a good strawberry isn't necessarily identifiable from its color, but from its smell. If it doesn't have that pungent strawberry aroma, it likely isn't very ripe, so use your nose.
Castle, a Watauga County native who lives in the Triangle area, is perhaps best known for her publication, The Southern Living Community Cookbook: Celebrating Food and Fellowship in the American South. The former WNC magazine contributor uses her home region as an inspiration for classic flavors and all-new recipes.
Seasonal Salad with Strawberry Dressing (courtesy of Sheri Castle)
(Makes 6 servings)
4 cups butter lettuce, torn into bite-sized pieces
4 cups baby spinach or arugula
Strawberry vinaigrette (recipe follows)
3/4 cup walnuts, pecans, or almonds
4 oz. soft goat cheese (optional)
Freshly cracked black pepper, to taste
Arrange the greens on a platter or serving plates. Drizzle with some of the dressing. Scatter the nuts and bits of cheese, if using, over the salad. Season with pepper. Serve immediately with the remaining dressing on the side.
Strawberry Dressing
1 pint fresh strawberries, washed and trimmed
1/2 cup raspberry or white wine vinegar
2 Tbsp. honey
Pinch of salt
Big pinch of black pepper
1/4 cup vegetable oil
Place the berries in a large bowl and crush with a fork. Whisk in the remaining ingredients. Serve soon, or cover and refrigerate up to two days.
Cook with Castle - For more recipes and to stream episodes of The Key Ingredient with Sheri Castle on PBS, visit pbsnc.org.