Soup for the Soul
Soup for the Soul:
Warm up this winter with five seasonal offerings from local chefs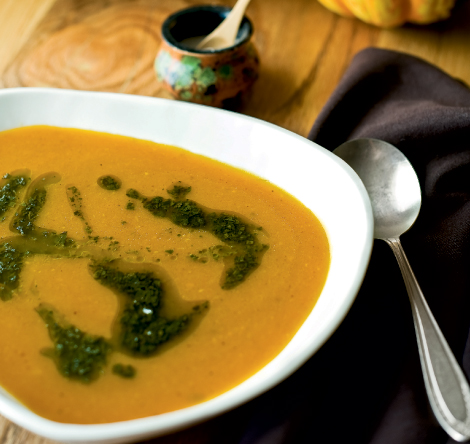 Three-Squash Soup
Knife & Fork
Chef Nate Allen forgoes the pumpkin pie spices that flavor many squash soups and opts, instead, for a rendition with hints of ginger and basil. "This is a fun soup that's vegan and gluten-free, yet hearty, sultry, and satiny," says Allen. He credits a musque de Provence squash for the basis of the soup. Acorn and candy roaster squash, onions, garlic, sage, ginger, and a delicate swirl of basil oil round out this elegant dish. 61 Locust St., Spruce Pine; (828) 765-1511; www.knifeandforknc.com
Three-Squash Soup
Courtesy of Knife & Fork
Serves 16
1 lb. candy roaster squash
1 lb. acorn squash
1 lb. musque de Provence squash
2 cups white wine
2 large yellow onions, sliced
4 cloves garlic, sliced
10 cups vegetable stock
1 tsp. fresh sage leaves
1-inch ginger, sliced
Salt & pepper, to taste
Basil olive oil
Cut unpeeled squash into wedges and place in a baking dish with white wine. Roast at 400°F for one hour. When wedges have cooled, scoop out flesh with a spoon. In a large pot, add the squash, onions, garlic, vegetable stock, sage, ginger, salt and pepper, and let simmer for 45 minutes. Use a blender or food processor to puree ingredients into a thick soup. Garnish with a drizzle of basil olive oil. (To make the basil olive oil, puree one bunch of basil with one cup olive oil and a pinch of salt.)
 
---
French Onion Soup
Bouchon
Sometimes nothing fills the belly on a cold day like a steaming crock of French onion soup, with bubbling hot cheese atop its savory, dark onion broth. "It's a classic that will warm your soul when the weather doesn't," says Michel Baudouin, chef and owner of Bouchon in Asheville. "The rustic appearance gives it the perfect description of comfort food," he explains, "the multi-texture of melted cheese on the bread followed by a savory but light broth." 62 N. Lexington Ave., Asheville; (828) 350-1140; www.ashevillebouchon.com
French Onion Soup
Courtesy of Bouchon
Serves 4
3 medium Vidalia onions, chopped
1 cup red wine
4 cups beef consommé
1 bunch fresh thyme & bay leaf
Salt & pepper, to taste
4 slices crusty bread, toasted
4 slices Emmentaler or Gruyere cheese
 
In a sauté pan, cook onions in olive oil over low to medium heat until brown. Remove onions, deglaze the pan with red wine, and cook for three minutes to burn off the alcohol. Place onions back in the pan. Add consommé and herbs, and simmer for 30 minutes.
Add salt and pepper as needed. Turn oven on broil. Fill individual oven-safe bowls with hot soup. Top with bread (day-old ciabatta recommended) and cheese. Place under the broiler until cheese is melted and golden. Serve immediately. (Note: If using onions other than Vidalia, sweeten with one teaspoon of sugar.)
 
---
Sweet Potato & Apple Bisque
Season's
North Carolina sweet potatoes and Henderson County Mutsu apples are key in Chef Michelle Bailey's bisque. Local cider and sorghum molasses also make their way into this velvety soup that blends sweet, sour, and savory. Bailey suggests serving it with kale salad and toasted pumpernickel bread. 87 Lily Pad Ln., Flat Rock; (828) 696-9094; www.hlinn.com/dining
Sweet Potato & Apple Bisque
Courtesy of Season's at Highland Lake Inn
Serves 8
 
2 lb. sweet potatoes
3 Tbs. grape-seed oil
4 garlic cloves, sliced
1/2 Vidalia onion, julienned
1 Mutsu apple, cored
4 cups vegetable stock     
1 cup heavy cream
1 cup apple cider
1/4 tsp. smoked paprika
1/2 tsp. ground coriander
Pinch grated nutmeg
1 Tbs. fresh ginger, minced
Salt & pepper, to taste
2 Tbs. apple cider vinegar
1 cup country ham & apple relish
1/4 cup sorghum molasses
1/2 cup walnut powder
Preheat oven to 350°F. Wash and dry sweet potatoes, toss with two tablespoons of grape-seed oil, and spread on a baking sheet. Cook for 30 to 40 minutes until tender. When the potatoes are almost finished, heat one tablespoon of grape-seed oil over medium heat and add garlic until it begins to brown. Add onions, reduce heat, and sauté for three to five minutes, then add apple. (Note: Leave the skin on for best flavor.) Sauté for another three minutes, and add three cups vegetable stock, heavy cream, and apple cider. Add ground spices, ginger, and season lightly with salt and black pepper. Once sweet potatoes are tender, remove from the oven and let cool. Peel the skin away from the potatoes and add the roasted flesh to the soup. Simmer on low heat for one hour, stirring occasionally. Add the last cup of vegetable stock, transfer to a blender, and purée on high for two minutes. This will have to be done in two to three batches as not to overfill the blender. Add apple cider vinegar and adjust the salt and pepper to taste. Garnish with country ham and apple relish, sorghum, and walnut powder.
Country Ham & Apple Relish
Serves 8
1 slice country ham (Benton's recommended)
1/2 Mutsu apple, cored & diced
1/2 lemon, juice & zest
1/2 tsp. parsley, minced
 
Dice the country ham and cook in a small sauté pan until crisp, then drain the excess fat. Combine all ingredients in a small bowl and serve at room temperature.
 
Walnut Powder
Serves 8
 
1 cup walnuts
 
Preheat oven to 375°F. Lay walnuts on a sheet pan and roast until they begin to brown and smell toasted, five to 10 minutes. Remove and let cool. Place in a food processor and puree into a fine consistency. Place on a paper towel to absorb some of the oil. If a finer powder is desired, pulse in food processor a second time.
 
---

Winter Vegetable Stew
Sourwood Inn
Chef Kacia Stuart suggests a winter vegetable stew as a great way to clean out the fridge and stretch your creativity. Stuart's version is served with pistou, a French version of pesto. It's a great foil for the root vegetable-based stew, imbuing it with garlic, basil, and olive oil essences. "I especially enjoy the little bites of smoked ham and bacon," she notes. 810 Elk Mountain Scenic Hwy., Asheville; (828) 255-0690; www.sourwoodinn.com
Winter Vegetable Stew with Pistou
Courtesy of Sourwood Inn
Serves 4
2 strips thick-cut bacon
1 medium leek, cleaned & large diced
1 tsp. dried thyme
1 medium turnip, peeled & large diced
2 medium parsnips, peeled & large diced
1 large carrot, peeled & large diced
1 medium golden beet, peeled & large diced
1 medium celery root, trimmed & large diced
1 Tbs. tomato paste
3 cloves garlic, minced
1 whole bay leaf
6 cups chicken stock
Kosher salt & ground black pepper, to taste
1 medium to large smoked ham hock
16 Brussels sprouts, halved
2 cups Savoy cabbage, thinly sliced
Heat large Dutch oven over medium heat. Cut bacon into one-fourth-inch pieces and cook to render fat. Add leek and thyme, and sauté for a minute. Stir in turnip, parsnips, carrot, golden beet, celery root, and tomato paste, and cook for several minutes. Add garlic and bay leaf, and continue cooking. Cover vegetables with chicken stock and season with salt and pepper. (Note: Add water if needed to cover vegetables.) Cross cut the ham hock skin and add to the Dutch oven. Cover, and cook on medium-low until vegetables are tender, about 20 minutes. Add Brussels sprouts and cook for five more minutes, or until tender. Add cabbage and cook until wilted. Remove ham hock. Remove skin and bone, chop meat into pieces, and then add back to the soup. Adjust seasoning to taste. Garnish with a dollop of Pistou, and serve with warm crusty bread.
Pistou
Generally, the French make pistou with crushed basil, garlic, and olive oil. It has a loose pesto consistency and is served as a dollop on top of soup. In the winter months when fresh basil isn't readily available, opt for fresh Italian flat leaf parsley, thyme, and oregano instead. Coarsely chop the ingredients, and then stir in olive oil and mix to reach a loose pesto-like consistency. Season with Kosher salt and coarse-ground black pepper to taste.
---

Spicy Carrot & Poblano Soup
Storie Street Grille
Utilizing ingredients that are fresh this time of year, Chef Stan Chamberlain created this soup for the simplest of reasons. "It includes three of my favorite foods: carrots for sweetness, poblano for smoke, and sausage for heat," he says. "Soup is the perfect way to get them all in one happy bite!" 1167 Main St., Blowing Rock; (828) 295-7075; www.storiestreetgrille.com