Show & Tell
Show & Tell:
Fiber sculptor Anne Lemanski narrates messages through her delicate conceptual creatures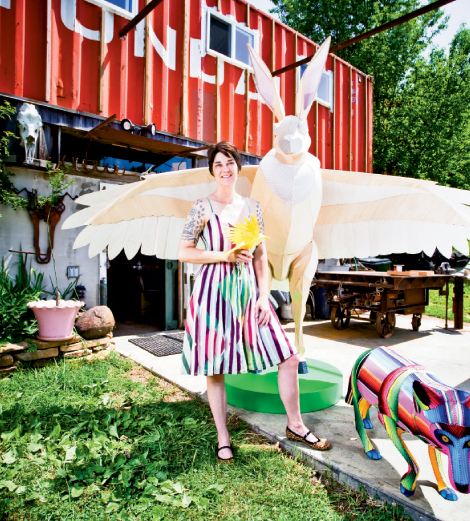 Anne Lemanski lives in a magical world of beasts. They are sharply outlined armatures with tight skins made of plastic, paper, and fabric that marry words, materials, and ideas. The Spruce Pine artist's sculptures, including the birds she's showcasing in her current exhibit, "Ornithomancy," on display through September 30 at Blue Spiral 1 in Asheville, are inspired by historic and current events.
"I've always derived ideas from the news," says Lemanski. For example, an earlier work titled Senkwekwe depicts the head of the patriarch of the gorilla family, Rugendo. Senkwekwe was one of seven primates killed in the Congo in 2007 during the charcoal wars. A newer piece, Responsible Spiller, presents an oil-slicked, black vinyl seabird, a symbol of the BP oil spill in the Gulf of Mexico. And another, Gorgeted Puffleg, draws attention to the near extinction of a hummingbird endemic to Columbia due to illegal coca cultivation.
Lemanski earned a Bachelor's of Fine Arts degree from the College for Creative Studies in Detroit. While working in a framing gallery in Chicago after graduation, she was able to complete only one or two pieces a year, which would sell as soon as she put them on display. Deciding it was "do or die" for her art career, she applied for a residency at Penland School of Crafts and held a fund-raiser, amassing enough money to subsidize her move and living expenses for a year.
Penland awarded Lemanski a three-year residency, from 2004 to '07, and the artist has become one of the school's greatest mouthpieces. "If it wasn't for Penland, I probably wouldn't be here," she says.
While she's sure her education at Penland is now what labels her as a craft artist, Lemanski considers herself a narrative sculptor. Titles alone don't convey the whole meanings of her works, but they hint at them. Coyote is a life-size sculpture made of artificial sinew and "skin" sewn from a colorful Mexican serape blanket. Its concept explained: Professionals who smuggle illegal immigrants across the U.S.-Mexico border are informally known as "coyotes."
In "Ornithomancy," Lemanski pays homage to Cher Ami, the World War I homing pigeon that was awarded a medal for its help in saving the Lost Battalion of the 77th Division in the Battle of Argonne. Her Cher Ami is made from the fabric of a soldier's uniform, and the bird stands on one tiny wooden leg, representing his injuries sustained during that last flight. Other birds (an eagle and two pigeons) comment on the financial meltdown in one vignette. The Messenger is composed of a bottle filled with 200 tiny plaster skulls that Lemanski molded. Its narrative, symbolism, and artistry combine to evoke thought—perhaps the grandest purpose of art.  
"Ornithomancy"
Blue Spiral 1, Asheville
Through September 30
www.annelemanski.com