Mix Master
Mix Master:
Asheville food guru Meherwan Irani's collaboration with rapper T-Pain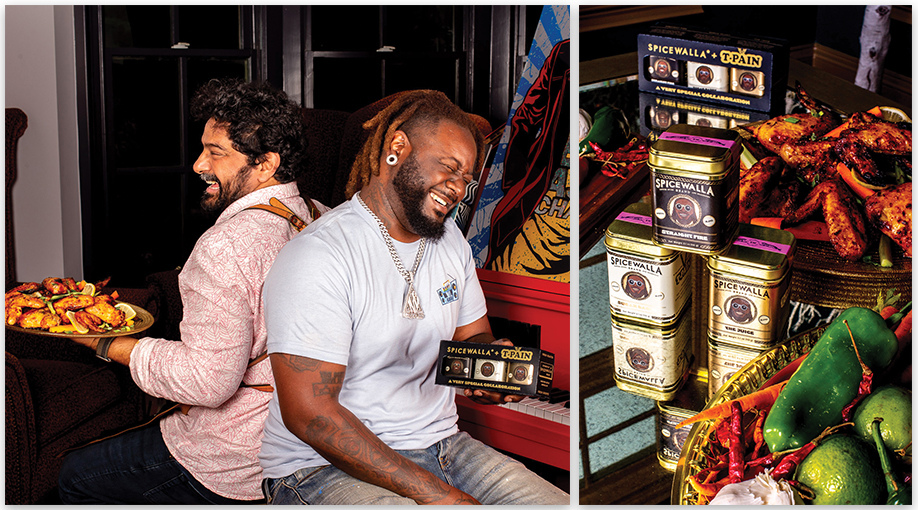 Irani and T-Pain show off the fruits of their labor.
The way Meherwan Irani tells it, he got a text message from rapper T-Pain the other day. "He's got this specially-modified trailer that he loads his cars into for when he goes to drift," he says. "And sure enough, he sent me a video of the truck wrapped with a Spicewalla-T-Pain logo!" The James Beard Award-winning chef/owner of Chai Pani and the musician announced their collaboration in November, not on a new album, but a trio of spice blends—the T-Pain Wing Collection from Spicewalla. 
After opening two restaurants in the Atlanta area, Irani guest-starred on Atlanta rapper Ludacris's TV show Luda Can't Cook, which led to him receiving an invitation from Kingsford Charcoal to film a commercial with T-Pain. 
"In between shoots, we were just hanging out with him and his wife, Amber, who is delightful. I started talking to them about spices and they kind of admitted that they don't cook a lot at home." So he gave them a Spicewalla 18-pack and directed them towards some recipes on the Spicewalla website.  A few days later, he received a text message from the couple thanking him for the gift, "and a thought popped into my head. I said, 'would Pain be interested in a collaboration?'" He received an instant reply of "Hell yeah!"
Irani and his Spicewalla team put together a few blends of spices, designed the packaging, and headed over to T-Pain's house to cook dinner and see which flavors he liked. "We thought about Atlanta, rappers, and that whole culture, and chicken wings came up immediately," Irani explains. "There's a famous strip club in Atlanta called Magic City that is almost more famous for their lemon pepper chicken wings than they are for anything else!" T-Pain gave Irani his feedback, and Spicewalla's master blender, Alyse Baca, made the adjustments, developing three distinct flavors: The Juice (jalapeño and pineapple), Straight Fire (smokey and spicy), and Sugar Daddy (honey, garlic, and herb). 
"Of all of the blends that Spicewalla has made, these three are the ones I feel like we should be the most proud of, because they absolutely nail what you'd imagine those flavors should taste like," says Irani, who never envisioned his career as a chef leading to dinner at the Grammy-winning rapper's house. "It's one of those things that makes you go, 'What is my life right now?'"
Spice it Up - To purchase, visit Spicewalla's website spicewallabrand.com, or head to their storefront location in downtown Asheville. 1 Page Avenue, Suite 147