Local Honeys to Keep You Buzzing
Local Honeys to Keep You Buzzing:
Make life sweeter and find more ways to enjoy the sweet nectar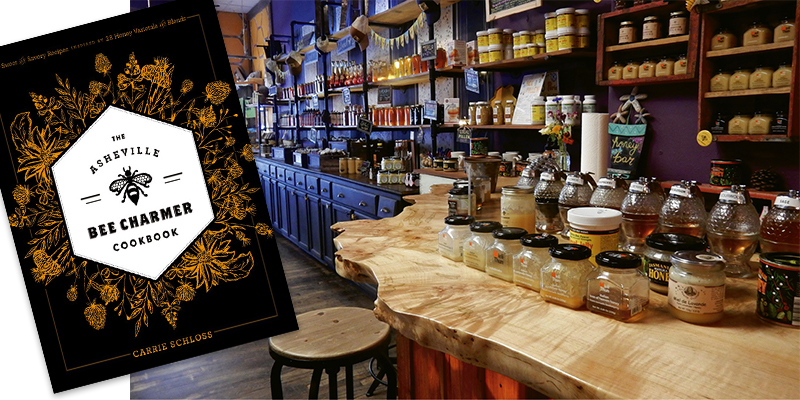 Celebrate: Sourwood honey certainly deserves a celebration: It's a rare commodity produced right here in WNC and sought after by honey connoisseurs everywhere. You can taste and purchase it at the Sourwood Festival, August 11-13, in Black Mountain. Besides honey tastings and bee demos, the family-focused event offers music, dancing, arts and crafts vendors, children's activities, and summertime food favorites. The festivities begin Thursday with Sourwood Idol, an amateur singing competition à la its famous TV namesake. (828) 669-2300; http://sourwoodfestival.com/
Cook: Find a wealth of delicious honey-inflected recipes in two local books. The Fresh Honey Cookbook, by Asheville's late chef, restaurateur, and beekeeper Laurey Masterton, offers up 84 recipes including watermelon salad and baby back ribs with sage honey, plus a guide to identifying and tasting. Releasing in August, The Asheville Bee Charmer Cookbook: Sweet and Savory Recipes Inspired by 28 Honey Varietals and Blends offers 130 dishes, from apple-lavender muffins to homemade honey graham crackers to a Sweet Bee bourbon cocktail.
Explore: Hit the trail! The brand new McDowell Honey Trail that is. Launched in late June by Ed and Karen Speer of Sweet Betsy Farm in Marion, the venture is an effort to connect the public with the beekeepers in the "heart of sourwood country." The website, http://www.mcdowellcountyhoneytrail.org/, contains info on 23 McDowell County farms that offer everything from tastings of regionally unique sourwood to observation hives or beekeeping lessons. An interactive map includes hours and contact info for each farm and details on any special services.
Shop: A handful of stores across the region caters to the beekeeper, but for those looking for retail outlets selling honey-inspired trappings and honey varieties galore, check out Asheville Bee Charmer and The Honey Hole in West Jefferson. Both offer tastings of local, national, and international honeys. The Bee Charmer in downtown Asheville sells honey-tinged body care products, adorable bee-themed kitchen accoutrements, shirts and accessories, and candles. Sample honeys from near and far, including a Tasmanian leatherwood or savory coffee-infused version. At The Honey Hole, 25 types of nectar—from eucalyptus to avocado to raspberry—are available for tasting while you browse for locally made and raised items like honey pots, soaps, eggs, ham, and more. There's also an observation hive where you can witness bees at work. https://ashevillebeecharmer.com/; http://www.the-honey-hole.com/
Make life sweeter with an array of local honeys
Sourwood
Sweet Betsy Farm, Marion
Sweet floral hints are followed by mild flavors of spice, like anise, and a tangy caramel and butter finish. 
https://www.sweetbetsyfarm.com/
Sourwood
Mikell's Farm Honey, Old Fort
An eighty-nine percent certified sourwood honey that's floral and light with a note of spice. Two-time sourwood winner of the International Black Jar Honey Contest. 
http://www.mikellsfarmhoney.com/
Lavender-infused
Bee Kind Family Farm, Edgemont
Mild, small-batch wildflower honey infused with fresh lavender flowers.
Facebook: Bee Kind Family Farm -- https://www.facebook.com/Bee-Kind-Family-Farm-162195373827456/
Locust
Osada Bee Farm, Asheville
Light tasting "kissing cousin" of sourwood. Available at North Asheville Tailgate Market. 
cosada@yahoo.com
Summer seasonal
Bee Branch Farm, Sandy Mush
Flavors of citrus comprised of summer wildflowers, sourwood, and a hint of buckwheat. 
https://beebranchfarm.com/
Spring mix
Faith Mountain Farm, Creston
A wildflower mix harvested in small batches and dominated by tulip poplar. 
https://faithmtnfarm.com/
Mountain wildflower
Papa's Blue Ridge Mountain
Bee Farm, Marshall
A light summer wildflower honey with notes of sourwood and lavender blossoms.
http://www.papasblueridgebees.com/
Wehrloom special blend
Wehrloom Honey, Robbinsville
Subtle hints of spring wildflower and sourwood blossoms. 
http://www.wehrloom.com/
Buckwheat
Bee Charmer, Asheville
Pungent in flavor, with molasses and malty tones. 
https://ashevillebeecharmer.com/
RESOURCES:
Photographs Courtesy of (book) Agate Publishing; (store) Asheville Bee Charmer