Jaime's Creole Brasserie
Jaime's Creole Brasserie: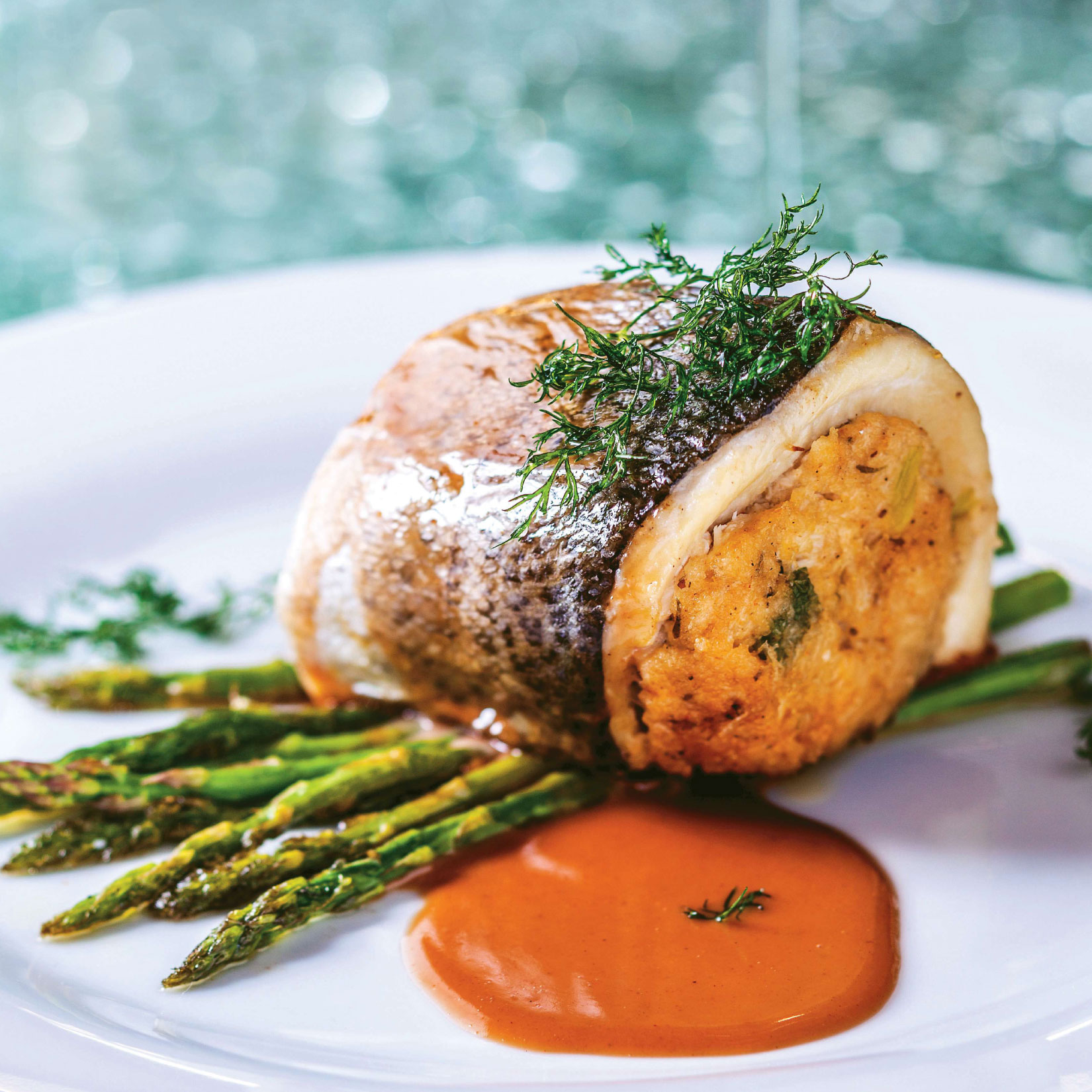 Hold onto your taste buds: There's nothing you won't want to try on the menu of Jaime's Creole Brasserie in Brevard. The 17-month-old restaurant signals polished hospitality and the promise of good food.
Although the space is gargantuan, the cozy central hub of the room is the long bar area situated under 200-year-old pine beams. Smaller anterooms with lower ceilings and optional privacy screens skirt the main hall. From our perch we can see the gleaming open kitchen at the far end of the dining room. The truly curious can belly up to the eight seats at the kitchen-side chef's table.
A wood-fired oven bakes pizzas, such as the Finnochio (ricotta, mozzarella, duck confit, shaved fennel, anise seed, balsamic braised figs, and rosemary), the Mr. Paul (a muffaletta-inspired pie), and at least six others. But we are here to taste the creole cuisine of Chef Jaime Hernandez, the former executive chef of Baton Rouge's Jubans, who was voted one of the best chefs in America by his peers. He came to Western North Carolina three years ago, first opening a small, well-regarded café in Marshall. Ultimately, Brevard, with its small Louisiana diaspora, seemed a better fit.
Hernandez makes everything in his kitchen, from the Worcestershire sauce to the local farm tomato ketchup to the blends he grinds from whole spices. He grew up in Breaux Bridge, Louisiana, the purported crawfish capital of the world. "In Louisiana, you just grow up around food, and the emphasis on food is everywhere," Hernandez says. Even socializing is "based on 'where you gonna eat next.'"
For us, the question is what are we going to eat next. We're already enamored with the dark and deep base notes of spice in the gumbo that's served with a mound of jasmine rice floating atop and spoonfuls of sliced Andouille sausage. And a lobster bisque provides a rich cream-tomato potage with a slow heat, slightly smoky edge, and taste of the sea in that rich, crustacean way only lobster can provide.
A substantial Wine Spectator award-winning wine list takes time to study, and local beers and ciders make a welcome accompaniment to many of the more complexly spiced dishes.
We dive into the crawfish and brussels small plate, served in an Asian noodle bowl—a nod to the Vietnamese-American culture Hernandez also grew up enjoying. "It's about the combination of ingredients," he explains. "There are so many combinations going on in Louisiana cooking, like with any ethnic cuisine. If you've lived there and felt the heartbeat of the culture, then the techniques come with that."
The brussels are slightly charred and studded with Benton's bacon, shaved radish, cilantro, and thin pickled onion rounds in a piquant honey-mustard sauce. While we could opt for any number of light, bright salads, and starters like honey bourbon-brined bone marrow, escargots, and wood fire-roasted oysters, our hearts are set on the crawfish and bacon mac and cheese. Rich with sherry-spiked pimento Mornay, Louisiana crawfish tails, and bacon gratineé, it's possibly the least delicate dish on the menu but satisfies completely.
Hernandez's creole and classic French experience shines most with the entrées. Mountain trout meunière, an oven-roasted rainbow trout filet stuffed with lump crabmeat, is served as a roulade skin side out, perched on a bed of grilled asparagus. A creole meunière—brown butter, chopped parsley, and lemon—makes this dish a light but brilliant dinner choice. It's so beautifully executed, you'll fall in love with brown butter all over again.
Tonight's risotto special (it's usually on the menu, but with various pairings) is a gorgeous plate of plump mussels flowering open around a generous mound of swordfish chunks, shrimp, and more crawfish. Lashings of saffron-scented sauce make this version particularly aromatic.
If you prefer deep and savory, try the grillades—tender Abita root beer-braised pork cheeks atop creamy stone-ground grits, ginger-tomato jam, and fried leeks—or the wonderfully traditional steak frites, replete with béarnaise sauce.
Because it's so unusual for these parts, we must try the bananas Foster, created first at Brennan's, the famed New Orleans restaurant, in 1951. Butter, brown sugar, cinnamon, dark rum, and liqueur are cooked to caramel-sauce perfection with ripe bananas, lit afire and served on top of vanilla ice cream. Forgoing the flambé, Hernandez uses a crisp waffle as his canvas. The dessert disappears quickly; in fact, nothing lingers for long at Jaime's, except for the diners.     
The Draw: This great space is creating excitement with Louisiana cooking by a native.
The Drawback: Cocktails could be prettier if not served in mason jars.
Don't Miss: Lick-your-plate-delicious bananas Foster, rustic gumbo, or anything with crawfish       
Jaime's Creole Brasserie
Brevard
44 E. Main St.
(828) 883-3388
www.jaimescreole.com
L, D, SBR (closed Monday) $$$