Italian Getaway
Italian Getaway :
In the countryside, Giardini Trattoria beckons with authentic family recipes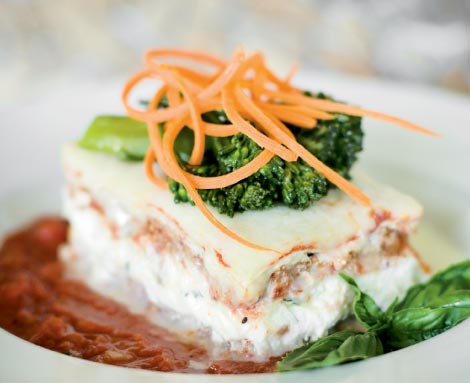 The cheery yellow clapboard house looks like any picturesque home set amid the rolling hills near Columbus, except for the many cars parked in a gravel lot nearby and an abundance of twinkling lights hung outside. Inside Giardini Trattoria, ochre walls, a cathedral ceiling, and hardwood floors create a cozy eatery inspired by farmstead restaurants in the Tuscan countryside.
Mary Lyth, Joe Laudisio, and their daughter, Kate, the restaurant's pastry chef, greet guests—some toting bottles of wine—as they arrive for a relaxed evening.
After business careers and a restaurant venture on Hilton Head Island, the couple settled on six acres in the mountains to enjoy a second retirement. But it became too tempting not to share the bounty from their organic gardens and Joe's Italian family recipes, and
so Giardini Trattoria was born. Their goal was to create "a place where people appreciate good conversation, laughter, romance, friendship, and good health—all through simplicity and fresh flavors of the Italian meal," Lyth explains. "When we circulate through the restaurant at night, these are the sounds and sights that we love to experience."
Chefs Mario Girard, from Commanders Palace in New Orleans, and Johnson & Wales-trained Diony Hernandez create house-made pastas, wood-fire grilled pizzas, rustic lasagna, and char-grilled seafood and lamb chops.
On this Friday evening, plates of drunken fig salad are omnipresent at tables. The antipasti's balsamic acidity is tempered by sweet and sour figs (plumped by a soaking of marsala), dried cranberries, creamy goat cheese, and greens. Fresh creations include the mushroom and ricotta-stuffed ravioli and ravioli Genovese with Italian sausage, goat cheese, and spinach. Trout picatta is a meaty filet draped over Parmesan risotto that's drizzled with a piquant white wine-cream sauce and sprinkled with capers.
By all means, save room for dessert. Kate's light Italian cream cake, densely populated with nuts, coconut, and topped with a velvety crema and cheese icing, completes a lovely evening in the country.
Giardini Trattoria
Columbus
2411 N.C. 108 E.
(828) 894-0234
www.giardinigardens.com
$$$