Food Networking
Food Networking:
Be the top chef of this year's holiday party with our foodies' guide to local flavors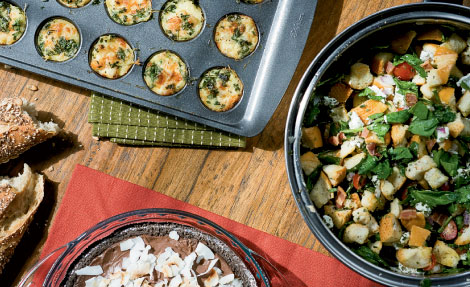 Ahhh, the potluck party.... It's the event where the most delicious dishes are invited to dinner, and you are the plus-one. This meal isn't about complementary flavors and perfect presentation, it's about eating all your favorites. But before you pull out that worn and smudged recipe card for your mother's green bean casserole (yes, we know it's yummy), take a gander at these dishes provided by local restaurateurs. While you're at it, test your knowledge of Appalachian foodways, find a regionally brewed beer to suit your taste, and learn where you can find that perfect loaf of artisan bread to impress the crowd.
---

Quite a Pair
Local wine experts share what dishes they'll be bringing to the party this year—and pick a bottle to match
On the Menu: Roasted Turkey
In the Glass: Bruno Hunald, Gewürztraminer, Germany, $15
Don't overpower that bird's savory flavor with something too sweet. "This wine really complements the light flavor of turkey," says Hunt Mallet of Weinhaus in Asheville, "but it's dryer than a Reisling."
www.weinhaus.com
On the Menu: Short Ribs & Celery Root and Leek Gratin
In the Glass: 2007 Sattler Zweigelt, Austria, $35
If you're going to serve really savory foods, like braised short ribs and a gratin, your wine choice better be able to stand up to them. "The luscious fruit and strong acidic backbone of this wine play off the richness of the meat," says Lawrence Kobesky of Hendersonville's Vue Wine Bar. He suggests letting
it breathe for about 20 minutes before serving.
www.vuewinebar.com
On the Menu: Artichoke & Pancetta Stuffing
In the Glass: Writer's Block Grenache 2007, California, $18.50
Aglass of this red will hold up to the saltiness of the pancetta, but won't overwhelm the artichokes. "Most people pair pinot noirs with turkey and dressing. This wine is light and fruit-forward like a pinot noir, but with more body and substance," says Elspeth Brown, owner of Maggie B's Wine & Specialty Store in Weaverville.
www.maggiebswine.com
On the Menu: Beef Bourguignon
In the Glass: Kermit Lynch, Cotes du Rhone Rouge, France 2007, $16
This wine is a classic pairing for this dish, which hails from the same region of France. "It has dark plum and berry flavors that are a perfect complement to the rich and powerful traditional French cuisine," says Mike Demos of Papou's Wine Shop in Sylva. "You may want a second bottle. After all, cooking with wine requires you use some in the recipe." He suggests decanting for two hours to fully unlock the wine's flavor. (828) 586-6300
-Eric Seeger
---
Hop Aboard
Get up to speed on local beer with A beginner's guide to a few microbrews
Navigating the microbrewing world is tricky. In a sea of German pilsners, unblended lambics, bottom-fermenting doppelbocks, bitters, and Belgians, the familiarity of a mass-produced beer can be a welcome fallback. While indulging in some boring suds isn't a sin, Western North Carolina boasts too many expertly crafted pours (with easy-to-remember names) to excuse the macrobrews in your fridge.
If You Like: Heineken
Try: Gateway Kölsch
The kölsch strikes a perfect malty and hoppy balance. It's simply a good beer with an excellent dry finish that makes Europe's most popular pilsner taste like hard water.
French Broad Brewery, Asheville, www.frenchbroadbrewery.com
If You Like: Guinness
Try: Nitro Stout
This full-bodied stout with a creamy
head would be a dead ringer for the Irish "Meal in a Glass," but it's got its own roasted personality and aesthetic appeal. After a few gulps, take a look at the near-perfect lacing on the glass.
Pisgah Brewing Company, Black Mountain, www.pisgahbrewing.com
If You Like: Miller
Try: Farmer Ted's Creamhouse Ale
Catawba's self-described ode to "the original settlers of Appalachia" is brewed with corn and free-range yeast, producing a golden-amber pour that's refreshing, smooth, and rich without being too heavy.
Catawba Valley Brewing Company, Morganton, wwwcatawbavalley-brewingcompany.com
If You Like: Samuel Adams Winter Lager
Try: Cold Mountain Winter Ale
The medium-bodied brew's sweet, rich, and dark malt with a touch of spice has made it an annually anticipated release for local beer geeks. It hits stores around Thanksgiving, and has sold out quickly in years past. So act fast.
Highland Brewing Company, Asheville, www.highlandbrewing.com
If You Like: Blue Moon
Try: Christmas Jam White Ale
Jam-band fans rejoice. Asheville's native son, Warren Haynes, gets his own Belgian wit just in time for the annual Christmas Jam. As the event's official brew, this light-bodied, malty wheat beer features prominent notes of orange and coriander. Look for the label in Asheville stores at the beginning
of November.
Asheville Brewing Company, www.ashevillepizza.com
–—Brian Gallagher
---
Taste Test
How much do you really know about local culinary traditions? By Mackensy Lunsford
Are you a Western North Carolina foodie? Are you versed in native mushrooms? Well-acquainted with heirloom tomato varieties? Or do you think that heirloom refers to dusty old furniture and mushrooms come canned, and suspended in gelatinous cream sauce? Take our quiz to find out where you stand on the WNC foodie spectrum.
1. What is paw-paw?
A. A small, burrowing mammal native to the Appalachian region that was prized as game by early settlers
B. A fruit-bearing tree related to ylang-ylang that grows wild in Western North Carolina
C. A type of native trout, closely related to the rainbow trout
D. An old Appalachian word for your grandfather on your mother's side
2. What stinky wild edible is honored with a festival at the Cherokee Indian Fairgrounds every spring
A. A member of the Allium family called the ramp, the garlicky smell of which inspires many WNC wives to banish their ramp-loving husbands to the porch
B. The durian, a soft-fleshed fruit that is banned on most means of public transportation because of its overwhelming smell
C. The skunk, which was served as a joke when hunters returned from the forest empty-handed. Hence the saying, "He got skunked."
3. In terms of barbecue, Western North Carolina distinguishes itself from the eastern part of the state in what way?
A. Western-style barbecue is usually pork, while eastern-style is usually beef brisket
B. Western-style barbecue uses a sweeter tomato-based sauce while eastern-style uses a vinegar base
C. Western-style barbecue is based on an old Scottish recipe, while the eastern-style is based on a recipe guarded closely by the Freemasons
4. Which of the following Asheville restaurants was featured on Rachael Ray's $40 a Day show?
A. Salsas, where she and owner Hector Diaz sampled hot sauce together
B. 12 Bones, where she waited in line with everyone else to try the ribs
C. Tupelo Honey, where she pronounced the sweet potato pancakes "yummo"
D. That elegant McDonald's in Biltmore Village where she dined on a Big Mac then pounded out a rousing version of "Heart and Soul" on the grand piano
5. Chow-chow is a relish typically made out of what?
A. Cabbage
B. Jalapeños
C. Watermelon
D. Purina's finest
6. Hendersonville hosts a festival every Labor Day Weekend to celebrate the harvest of what?
A. Corn. Every attendee gets a free ear.
B. Apples. Festival-goers can tour orchards and sample apple recipes.
C. Rocky Mountain Oysters. Many people storm away in disgust when they realize what a mountain oyster really is, so festival attendance is sparse.
7. Which of the following is NOT a type of tomato grown in Western North Carolina?
A. Jersey Devil
B. Grandpa Charlie's Mortgage Lifter
C. German Johnson
D. Jack O' Lantern
Extra credit
(one point for every "yes" answer):
Have you ever eaten a Rocky Mountain Oyster?
Did you enjoy it?
Make the Grade
(score one point for every correct answer):
7-9 points: You know your stuff! You can navigate the farmer's markets with confidence—you probably know the difference between a morel and a chicken of the woods mushroom.
4-6 points: You could use some work. You know that there are different kinds of mushrooms, but you suspect that chicken of the woods is something akin to Chicken of the Sea.
1-3 points: Yikes! You think the only chicken worth eating comes in a 10-piece bucket.
Answers: 1:B, 2:A, 3:B, 4:C, 5:A, 6:B, 7:D
---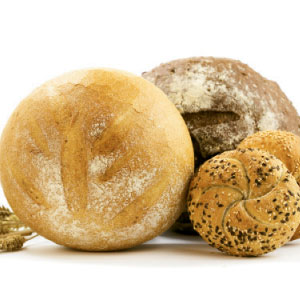 Rolling In Dough
You don't have to buy a breadmaker to get a fresh, quality loaf
Separating two dozen eggs for a bowl of nog is mighty tricky. And figgy flambé pudding? Sure, that might happen. Truth is, many classic holiday goodies are too difficult or time-consuming to make from scratch. Luckily, a crusty Christmas loaf can easily be crossed off the to-do list thanks to WNC's multitude of artisan bakeries.
Annie's Naturally Bakery
506 W. Main St., Sylva | (828) 586-9096
Founded in Greenville, South Carolina, by Italian immigrants, Annie's is a mainstay among the rise of regional artisan bakeries, having been situated in Sylva for a couple of decades now. Thanks to old-world grit and grist, Annie's blossomed into a wholesale business. The bakery's namesake organic loaves can be found on grocery shelves
from Franklin to Fletcher.
Bracken Mountain Bakery
42 S. Broad St., Brevard | (828) 883-4034
Bracken offers preservative-free loaves baked European-style in a steam oven. House favorites include Greek olive flatbread, classic baguettes, and country French.
Carolina Mountain Bakery
1950 Hendersonville Rd., Asheville
(828) 681-5066
Urbanites homesick for a good, stout rye need look no further than Carolina Mountain Bakery, which specializes in several varieties of this sandwich classic. "Of all our breads, it's our overall best seller," confirms owner/baker Aaron Wiener.
City Bakery/café
88 Charlotte St., (828) 254-4289
60 Biltmore Ave., (828) 252-4426
Having risen in two locations and now offering more than 15 types of hearth-baked bread, City Bakery/Café is Asheville's multigrain mainstay. Head baker Jesse Bardyn uses a smaller-than-usual amount of yeast in his loaves, letting them bloom to fruition as slowly and naturally as possible.
Farm and Sparrow
590 Barnard Rd., Marshall | (612) 720-6435
Tucked in rugged Madison County, Farm and Sparrow is a proudly old-fashioned operation that uses a wood-fired oven. Loaves bear such pioneer-chic names as Country Log and Heirloom Grit. Available at local tailgate markets and natural food groceries.
Flat Rock Village Bakery
2710 Greenville Hwy., Flat Rock
(828) 693-1313
This Henderson County hot spot is a mecca for tourists and locals alike. Return visitors come for the "good, crusty artisan loaves, which we make daily in small batches," says owner David Workman. The bakery uses all organic flours.
Loaf Child Bakery
Marshall | (828) 649-9612 |
A family-run Madison County microbakery, Loaf Child wholesales its products, including baguettes and their best-selling 10-Grain Sandwich Loaf, to Good Stuff in downtown Marshall, Greenlife Grocery in Asheville, and at seasonal tailgate markets. Running a low-impact operation is crucial to owners Darci and Dimitri DeWulf. They buy organic flour milled in-state, and their loaves are minimally packaged (with recycled-paper labels).
Stick Boy Bread Co.
345 Hardin St., Boone
(828) 268-9900
Co-owner Carson Coatney's passion for bread led him to found Stick Boy, a family operation located in this High Country college town. Twenty varieties are available on a rotating schedule. Don't miss such inspired flavors as Shaker Squash and Spinach Feta French.
Well-Bred Bakery & Cafe
26 N. Main St., Weaverville
(828) 645-9300
Boutique bread is the high point of this well-appointed Weaverville eatery. Well-Bred is best known for its homemade challah (offered in no less than five varieties) and focaccia. Call ahead, because they go fast.
West End Bakery & Cafe
757 Haywood Rd., Asheville
(828) 252-9378
According to pastry chef Meghan Tucker, West End Bakery's "number-one difference is that we're the only bakery in Buncombe County that uses organic flour in our bread." That star commodity is batch-ground at a mill in Linville.
Wildflour Bakery
173 E. Main St., Saluda | (828) 749-9224
This downtown-Saluda institution offers a full range of classic artisan loaves and sweetbreads (including honey corn bread). Their raison d'être is boldly asserted in their mission statement: "Wheat germ, that vitamin-rich center of each wheat berry, goes rancid within hours after milling; so
we stone-grind our wheat every morning."
–—Melanie McGee Bianchi
RESOURCES:
Photography by Christopher Shane Photographs (mini grilled shrimp, wine) by Matt Tierney Writer's Block wine courtesy of Maggie B's Wine & Specialty Shop