Farmhouse Hospitality
Farmhouse Hospitality:
Homesteaders open their gates for a bountiful harvest supper club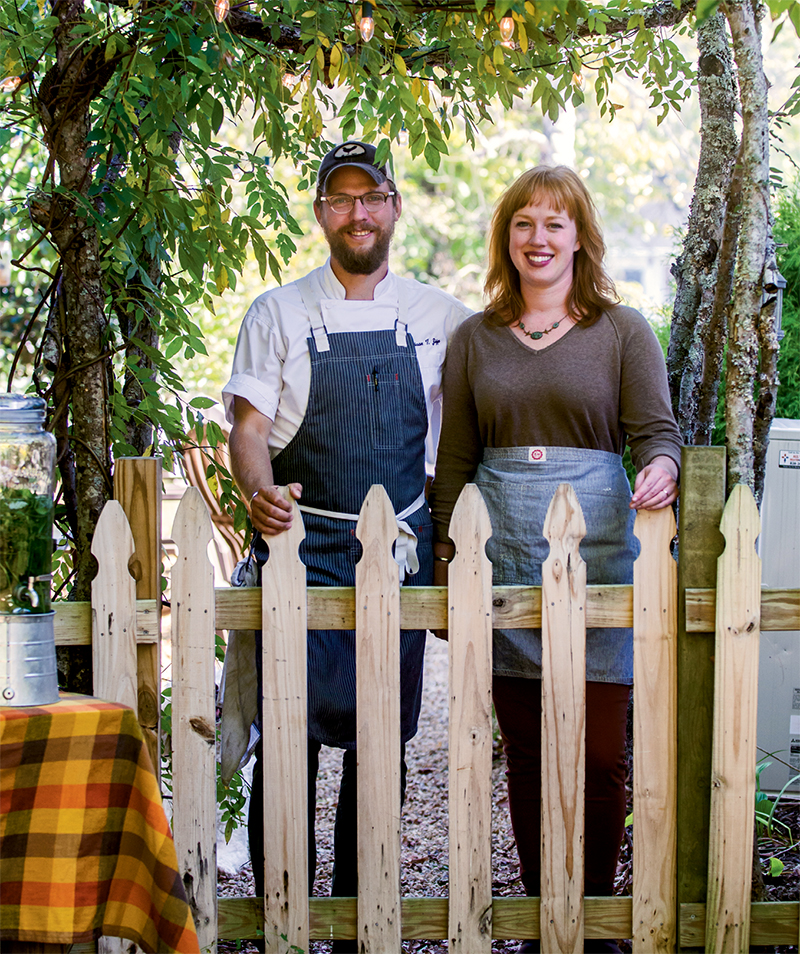 A breeze rustles autumn leaves as Sebastiaan and Ariel Zijp step out of their pre-Civil War home in Mars Hill. Thirty-two guests will arrive soon, hungry for a meal sourced from the couple's homestead. Sebastiaan and Ariel host supper clubs under the name The Farmer's Hands, a tribute to the handcrafted nature of every element of the meal. From the tables Sebastiaan built to the edible flowers that crown the plates, the couple infuses each event with a personal touch.
It's the last supper club of the fall season and the culmination of many months of preparation. Ninety percent of the ingredients on tonight's menu were produced on their two-acre homestead—everything from garlic and honey to winter squash and ginger. The couple will delight their guests with 10 decadent dishes, yet Sebastiaan and Ariel seem entirely at ease.
The supper club was born after the couple threw a rehearsal dinner for friends in 2014. They collected mismatch dishes from thrift stores, built two long wooden tables, and invited friends and family to eat under the stars at their new home. It wasn't until she saw their friends eating by candlelight that Ariel realized they could build their life around cooking and entertaining at their home.
Sebastiaan was already immersed in fine food from his eight years as a chef in New York City. He attended culinary school in Vancouver and worked his way through several excellent New York City restaurants, including Bar Blanc, where he was executive chef. He left city life in 2012 to work on a farm in Pennsylvania, where he gained experience growing the ingredients he loved, and later moved to Asheville to be with Ariel while she was finishing a degree in sustainable agriculture at Warren Wilson College. (A chance meeting at a music festival in Virginia had set their romance in motion.)
The couple's business is rooted in agritourism, an international movement that encourages farmers to open their land to visitors for tours, activities, and meals. Their homestead is the final stop on the Madison County route of Asheville Farm to Table Tours, which brings visitors to several farms and ends with a locally sourced lunch prepared by Sebastiaan on their property. The couple also has a farm stand by the road, which is a first stop for many supper club guests.
Tonight's dinner marks the couple's fourth year on the homestead, and their newly renovated kitchen buzzes with excitement. Sebastiaan tosses cubes of potatoes with fragrant herbs and generous pats of butter, while friend and private chef Mandy Delerme plates pickled squash, zucchini, and dilly beans served with the stems attached. Sebastiaan goes outside to light the campfire where he will sear pork belly from a nearby farm as guests help themselves to rabbit pâté served with an onion jam Sebastiaan sells at farmers markets.
The dappled afternoon light fades as string lights around the porch begin to glow. Candles are lit, glasses are filled, and guests settle at the table, sharing excitement about the meal to come.
Following an introduction from the Zijps, Delerme brings pickle plates to the tables, followed by sweet potato soup served in small Mason jars. The soup embodies the brightest flavors of fall and finishes with a kick of ginger. Next is a stunning platter of butternut squash salad topped with fresh herbs, feta cheese, and edible flowers grown just across the way.
Perhaps the showiest dish of the night is a platter of vanilla-glazed Hakurei turnips (a petite Japanese variety) served on a purée of turnip greens and topped with nasturtium flowers. Handmade fettuccine crafted with locally milled flour arrives next, then the pork belly, which is both sweet and spicy thanks to a fiery blend of peppers grown in the garden.
Finally, it's time for dessert, a dish Sebastiaan has been perfecting since he was a child. He tops roasted apples with a buttercake crumble inspired by a Dutch teatime delicacy called Boterkoek. Sebastiaan was born to Dutch parents, grew up in South Africa, and frequently traveled to the Netherlands with his family, who still primarily speak Dutch. Tonight, he crumbles his grandmother's Boterkoek recipe over roasted apples and tops it all with homemade ginger ice cream.
As the last bite of dessert is savored, a guest looks at the sky and exclaims, "Look behind you. It's the moon!" The crowd gazes in awe at a full harvest moon. Under the star-filled sky, surrounded by the fruits of their labor, there's no doubt the Zijps will be welcoming people to their homestead for many years to come.
The Menu
• Rabbit liver pâté with onion jam
• Local cheese and meats
• Sweet potato and ginger soup
• House-made pickle platter
• Roasted herbed potatoes
• House-made fettuccine with arugula pesto, candied walnuts, and Parmesan cheese
• Roasted butternut squash with pickled red onion, honey garlic, and feta
• Vanilla-glazed Hakurei turnips
• Slow cooked pork belly with pepper agrodolce
• Butter-roasted apples topped with buttercake crumble and ginger ice cream
---
The Farmer's Hands Supper Club
September 9 & October 7
Winter supper clubs are held indoors January-April.
605 Phillips Valley Rd., Mars Hill
---
Recipes:
Roasted Butternut Squash Salad
Vanilla-Glazed Hakurei Turnips
Butter-Roasted Apples & Buttercake Crumble