Eat it Up
Eat it Up:
Get ready for Asheville's grand new culinary event - CHOW CHOW September 12-15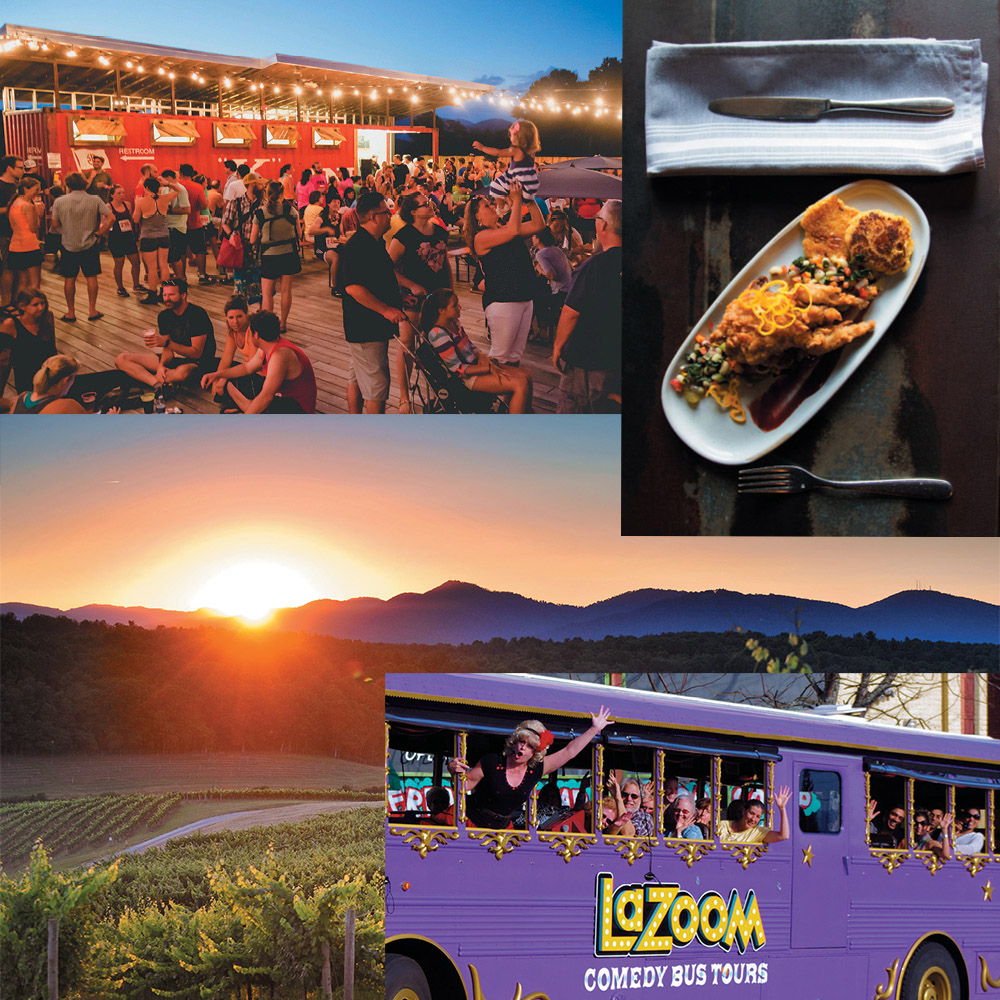 Asheville's inaugural Chow Chow culinary extravaganza, happening September 12-15, 2019, is taking the city's status as a food mecca to a whole new level, pulling together the area's best and brightest chefs, makers of artisan food products, mixologists, and more. Over 20 events and experiences take place in the streets, on farms, and in restaurants around town. Choose your adventure with this A to Z guide of festival highlights.
A - Art goes hand in hand with artisan food on September 14, when the region's deep glass and pottery heritage will be used to inspire chefs to whip up creative dishes during Fire it Up! at Lexington Glassworks and Clay Bake held at East Fork Pottery.
B - Barrel-aged spirits are the subject of Friday night's Follow the Barrel at Antidote, which illuminates the process of infusing the unique flavors of wooden barrels into specialty beer, wine, coffee, and liquors.
C - Cacao, Confections, and Cocktails on Friday night is a chance to learn about bean-to-bar chocolate, meet notable pastry chefs and mixologists, and sample myriad sweet treats alongside coffee and concoctions at French Broad Chocolate Factory.
D - Dine on a farm amongst beds of colorful veggies and flowers at Sunday's Noble Dirt: A Field-to-Fork Brunch, held at Gaining Ground Farm in Leicester. Area growers will share the relationship between their work and some of Asheville's top eateries.
E - Explore the crossroads of ethnicity and Southern food during Brown in the South on Friday, a supper revolving around themes of identity and belonging through food presented by six Indian and Indian-American chefs from across the country, including Asheville's Meherwan Irani.
F - Fill up on food truck fare galore with an à la carte menu at the Food Truck Rodeo, taking place Friday, Saturday, and Sunday in Pack Square Park downtown.
G - Graze 'til your heart's content at the grand tasting, dubbed Pickled in the Park, a gathering of beverage experts, master chefs, and artisans, taking place throughout the weekend in Pack Square Park.
H - Hands-on workshops and seminars covering topics like fermenting, mixology, and packing the perfect picnic take place Friday and Saturday at Aloft, Rhubarb, and Kimpton Hotel Arras (the presenting event sponsor).
I - Imbibe local wines with Biltmore's Bounty, a behind-the-scenes look at Biltmore's agricultural side that connects you with its farmers, chefs, and owners. It takes place Saturday at Biltmore.
Asheville's Chef Katie Button
J - Two dozen and counting James Beard nominees, finalists, semifinalists, and winners are participating in this premier festival.
K - Keep your eyes peeled for celebrity guest chefs in town, like Craig Deihl (pictured above), Vivian Howard, and Sean Brock.
L - Laugh your socks off aboard the LaZoom bus Friday evening during a moveable feast and comedy tour designed just for Chow Chow. Special stops include bites and hilarity.
M - Shop for locally produced artisan food items, handmade dinnerware, and more at the Makers Market, happening Friday through Sunday in Pack Square Park.
N - Nearly 200 chefs, mixologists, artists, and more are participating in Chow Chow's inaugural year.
O - Opening the festival is Mountain Top Soirée, a pop-up food hall taking place Thursday night at Highland Brewing Company featuring culinary movers and shakers.
P - Philanthropy is built into Chow Chow—attendees are encouraged to make a donation to the festival's chosen charity, MANNA FoodBank, which helps feed 100,000-plus hungry people in WNC annually.
Q - With ample amounts of locally made brews, spirits, wines, and ciders from folks including Eda Rhyne, Catawba Brewing Company, and Cultivated Cocktails, quaffing is practically a festival requirement.
R - Asheville's food scene is one that's nationally lauded, and Chow Chow will be an opportunity to taste fare from 50 and counting local participating restaurants, including The Admiral, Cúrate, and Lobster Trap.
S - Appalachian Soul Food: A Celebration of the Block is an opportunity to learn about the heritage of Asheville's historic African-American business district during a walking tour with cultural guide DeWayne Barton, followed by a panel discussion at the YMI Cultural Center and a family-style meal at Benne on Eagle.
T - Tour a farm and partake of award-winning artisan cheeses and more during Friday's Fairview Farm Trot, making stops at Hickory Nut Gap and Flying Cloud farms and Looking Glass Creamery.
U - A guided tour of the Asheville Urban Trail on Saturday for Women on the Urban Trail is a chance to enjoy an old-fashioned luncheon at the S&W Cafeteria and sip cocktails on the porch of Julia Wolfe's historic boarding house while learning about the city's leading ladies.
V - Vegans and those looking for plant-based eats will enjoy meat and dairy-free food aplenty with Plant All Mighty, taking place Sunday at the Omni Grove Park's Seely Pavilion.
W - Hunt for and indulge in wild edibles with Saturday's Forage + Feast, held on the richly biodiverse grounds of Warren Wilson College.
X - Don't miss the flavor (e)xplosion of the Sunday supper finale, Chow Time Closing Party, taking place along the banks of the French Broad River at Salvage Station.
Y - Yoga will be on offer with Sips & Sun Salutations, held downtown at Pack Square on Saturday morning.
Z - Among the musical guests are local act Zoe & Cloyd, who create original tunes with country, folk, bluegrass, and old-time influences. They perform at the Fairview Farm Trot on Friday.
CHOW CHOW September 12-15, 2019, Asheville
Ticket prices range from $20 to $150  for individual events.
For more info, visit exploreasheville.com/chow-chow-culinary-festival.
RESOURCES:
Photographs by (B) Jill Schwarzkopf; (I) Keith Wright; (J) courtesy of Katie Button; (K) Katie Tyler; (L) Jennifer Lauzon; (O) courtesy of Highland Brewing Company; (Q) Eda Rhyne; (S) by Bryce Alberghini; (Y) Jill Lieberman