Baking History
Baking History:
How a savory Southern accompaniment got its start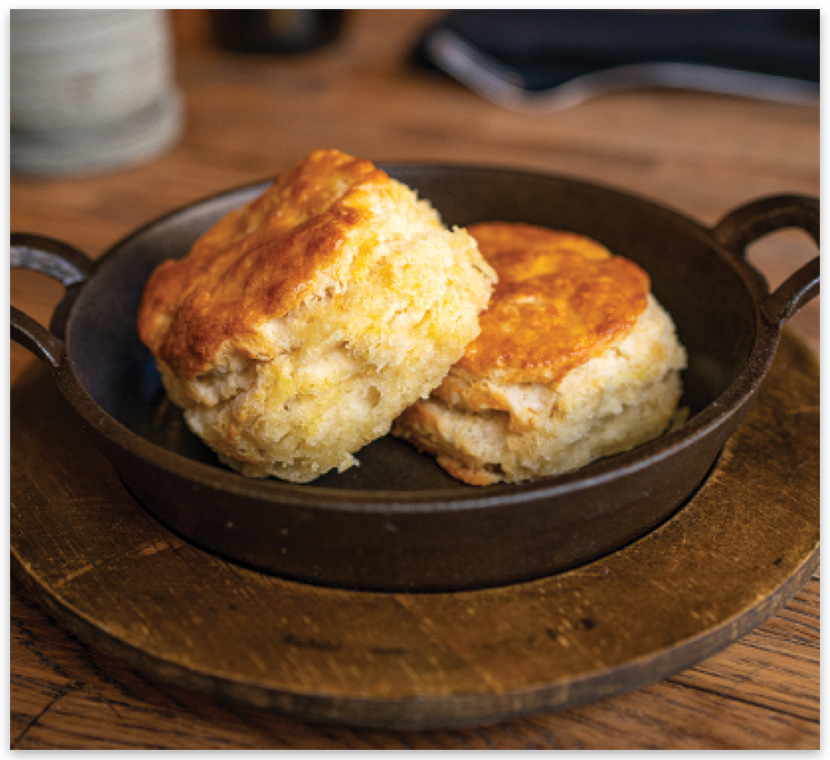 Just in time for National Buttermilk Biscuit Day on May 14, check out Benne on Eagle's recipe for Southern Appalachian biscuits and gravy.
Buttermilk biscuits are a staple for Southern cooking; paired with a savory gravy, they're a great addition to any meal. It's up for debate exactly how long ago buttermilk biscuits first came on the scene, but the general consensus from historians is that they originate from Southern Appalachia, most likely in the 1800s. Following the Revolutionary War, sausage gravy became its matching pair. Historically, this dish was associated with low-income communities, as pork is high in fat and, at the time, relatively inexpensive, making biscuits and gravy an affordable, high-calorie meal for loggers and other laborers. Thus, it came to be a meal spread between communities, and its popularity grew over time, eventually warping into the nationwide favorite we have today.
Handmade - Sous Chef Paul Caricato crafts the biscuit dough by hand at Benne on Eagle for the perfect texture and rise.
Restaurants like Benne on Eagle have worked to preserve and perfect their buttermilk biscuit recipe—and the paired gravy as well. "We're trying to keep alive the food that was made here, and ties to the community; gentrification kind of takes away some of that identity, so this is an attempt to reinject them into the community and keep that alive," says Paul Caricato, Benne on Eagle's sous chef.
The restaurant sits in the heart of what was colloquially called "The Block" neighborhood—a once-predominantly Black business district in downtown Asheville. With its decor, atmosphere, and most pointedly, its Southern Appalachian menu items, Benne on Eagle is helping revitalize and honor the history of the neighborhood.
Straight from the kitchen at Benne on Eagle, Caricato's recipe for buttermilk biscuits and gravy makes comfort something you can taste. "If the butter is not super cold, then you can end up not getting the flakiness you want." Caricato also advises that bakers freeze their butter, then shave it on a cheese grater to get the right consistency. Working the dough by hand, he says, is the best way to keep the butter cold and to ensure the dough doesn't become overworked. Check out his recipes below, and visit our website for a few bonus recipes as well.
Prepare your own breakfast sausage with Caricato's recipe.
Southern Biscuits and Sausage Gravy (Courtesy of Paul Caricato, Benne on Eagle)
(Yields 25 biscuits)
Buttermilk Biscuits
5 1/4 cups all purpose flour
2 tbsp + 1 1/2 tsp baking powder
1 1/4 tsp baking soda
1/4 cup granulated sugar
1 1/4 tsp kosher salt
2 cups cold, unsalted butter, diced
2 cups buttermilk
2 1/2 egg yolks
1/4 cup heavy cream
Combine flour, sugar, salt, baking soda, and baking powder into a large mixing bowl and mix thoroughly. Add in the diced butter, and using your hands, grind down the flour into the butter as much as you can without heating up the mixture. Pour in the buttermilk and knead it into a dough ball that is pliable, but not too sticky.
On a floured surface, roll out the dough and punch out the biscuits with a ring mold. Do not twist the ring mold, as this will cause the dough to rise incorrectly. Arrange the biscuits on a baking sheet lined with parchment paper, ensuring the edges touch so they rise correctly. Mix the egg yolks and heavy cream. Brush the mixture on top of the biscuits, then refrigerate the dough for twenty minutes.
Bake at 350° for twelve to fifteen minutes, or until golden brown. Freeze extra for future use.
Sausage Gravy
1/2 cup unsalted butter
1/4 cups + 2 tbsp all-purpose flour
1 1/2 lb. breakfast sausage
4 1/2 cups milk
1 pt. heavy cream
1 tbsp kosher salt
Melt the butter in a sauce pot, then add flour. Cook the flour until it is light brown in color and begins to smell a bit nutty, like hazelnuts, to create a roux. Render the breakfast sausage in a pot without straining the fat. Add heavy cream and milk, then bring to a boil. Add the roux to the milk, heavy cream, and sausage. Cook until the roux thickens its dairy into gravy. Freeze extra for future use.
Breakfast Sausage
1 1/2 tbs sage, finely chopped
1 1/2 tbs oregano, finely chopped
1 1/2 tbs rosemary, finely chopped
1 1/2 tbs allspice, ground
1 1/2 tbs fennel seed, ground
2 tbs black pepper, ground
1 tbs Home Fry seasoning
1 1/2 tbs cayenne pepper
1 1/2 tbs crushed red pepper flakes
2 tbs kosher salt
3/4 cup brown sugar
3 tbs paprika
3 lbs. pork, ground
Combine all ingredients in a mixing bowl and mix by hand thoroughly. Cook a small piece to taste for correct seasoning.
Home Fry Seasoning
1 1/3 tbsp Old Bay seasoning
1 1/4 tbsp Spanish paprika
1 tbsp onion powder
1 tbsp garlic powder
2 tsp salt
Combine ingredients thoroughly in a mixing bowl, then reserve.
Benne on Eagle
35 Eagle Street, Asheville
(828) 552-8833; benneoneagle.com