Pop Stars
Pop Stars:
Waynesville Soda Jerks brings natural local flavors to soft drinks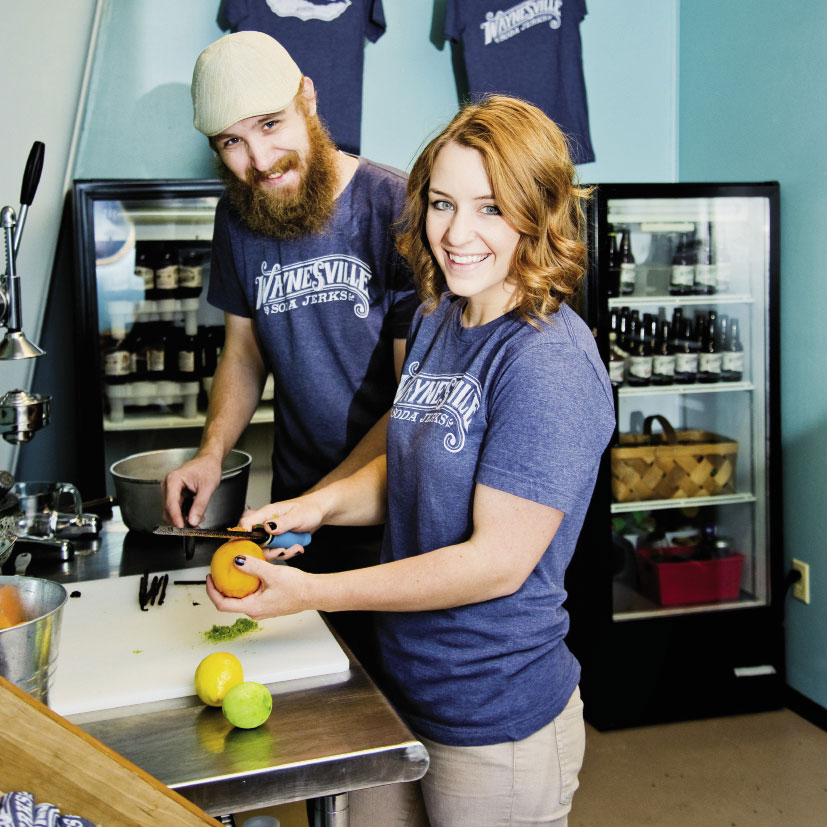 Following in the footsteps of microbreweries, Waynesville Soda Jerks is developing a niche market for homegrown soft drinks. Their bubbly beverages, dubbed "Southern Appalachia in a bottle," use ingredients sourced from farms throughout Western North Carolina to provide seasonal, fresh flavors.
Chris Allen and Megan Brown—aka "The Jerks"—are recent by-products of Haywood Community College's entrepreneurship program and partners in the soda business. Former high school sweethearts, they reunited about five years ago. The idea for their company was sparked when Brown bought a carbonation system in early 2013, quickly realizing that the provided syrup samples were chemically derived and artificial. Not pleased, the couple decided to take a crack at crafting their own syrup with berries harvested from their backyard. "We thought, 'This is great; it's a natural fruit soda,'" Brown remembers.
A few months later, they started selling hand-mixed sodas with a dozen different syrups at the Waynesville farmers market. At the time, The Jerks had no plans to sell their drinks elsewhere, but customer demand soon prompted them to grow the company's production and distribution. "We're not having to convince people of the idea," Allen says. "They're already convinced. We're just doing everything we can to keep up."
With a syrup-filled refrigerator, they quickly outgrew their home processing operation and decided to move into what was then HCC's Student Business Incubator, which is now part of the Center for New & Expanding Businesses in Waynesville.
The company has since expanded to offer eight flavors of bottled sodas, including Concord grape, lavender lemonade, blueberry basil, and strawberry rhubarb, which can be purchased online and at stores throughout Western North Carolina. Not all of the varieties are offered year round, Brown notes. "When we run out of strawberries, we're out of them and we won't have them until next year," she says, so the sodas are "just another way of preserving the seasons."
Partnering with organizations like the Appalachian Sustainable Agriculture Project and Buy Haywood, The Jerks have been able keep their product decidedly local. And no matter how bustling business may be, they continue to sling their sodas at the farmers market, which has helped them sustain relationships with area farmers.
"We said from the very beginning that we're always going to have a farmers market booth," Brown says. "We can point to at least six people at the market and say, 'This person grew our basil, and this person grew our peaches.' That's a good feeling." 
Get Fizzy
To purchase Waynesville Soda Jerks' bottle sodas and syrups, visit www.waynesvillesodajerks.com or call (828) 278-8589.
Rosemary Orange Fizz
Courtesy of Waynesville Soda Jerks (Yields 3 Servings)
2 cups orange juice (fresh squeezed or high quality)
3 Tbsp. fresh rosemary
2 Tbsp. orange zest
1/3 cup local honey
Combine orange juice, rosemary, and orange zest in a medium saucepan. Bring to a simmer over medium heat, stirring occasionally. Once simmering, remove from heat. Add honey and stir until it dissolves. Cool and strain into a glass container.  Store syrup in refrigerator for up to a week.
To make the soda, mix two-thirds cup syrup with two-thirds cup seltzer water.
Mountain Molasses Winter Cocktail
Courtesy of Waynesville Soda Jerks
(Yields 1 Drink)
1-2 oz. Troy & Sons Blonde Whiskey
8 oz. Waynesville Soda Jerks Molasses Cola
Fresh orange wedge
Fill a Mason jar with ice. Pour desired amount of whiskey over ice and top with Molasses Cola. Stir and garnish with orange wedge.