World's Fare
World's Fare:
Explore new culinary territory this holiday season with recipes that will take you around the globe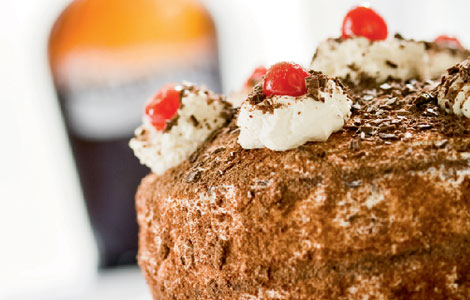 Theros Olive Oil
If the holidays are a time to give thanks for family and prosperity, the Theros clan can sum up their backstory in one fleshy, seeded fruit—the olive. Spero Theros emigrated from the Messinia region of Southern Greece to the United States about 60 years ago. And each year the WNC-based family flies back to their home country to harvest their centuries-old olive groves entirely by hand, says son, Jason Theros, who runs Theros Olive Oil with his brothers and father.
Curras Dom
You can order Chiles Rellenos at almost any Mexican restaurant, any time of the year, but Marco Garcia, owner of Curras Dom in Woodfin, offers a little more insight on why the Pueblan stuffed peppers are a holiday staple in his country. "The dish is popular this time of year," he explains, "because it's when pomegranate and walnuts are in season in Mexico." Though he admits his recipe is labor intensive, it's well worth the effort.
Cyprus International
Restaurateur and chef Nicholas Figel may be a Highlands native, but he was formally trained to cook in Venice
and Milan, before continuing his culinary education through world travel. Today, his restaurant, Cyprus International, specializes in a contemporary interpretation of rustic world foods. One example is this Moroccan lamb dish, a staple traditionally served during the Islamic celebration Eid-el-Kebir in December. According to Figel, the holy day is a time when "people dress in their finest and feast on lamb, symbolizing
Abraham's willingness to sacrifice his son Ishmael."
Lomo Grill
Waynesville chef Ricardo Fernandez hails from Argentina, but he's not afraid to cross a few borders for culinary inspiration. He took time out from his latest endeavor—marketing his namesake marinara sauces—to contribute a Franco-Italian fusion recipe that combines both his Mucho Macho Tomato Sauce and the requisite leftover turkey that haunts everyone's refrigerator after the holidays. Fernandez substitutes crepes for traditional pasta in his take on cannelloni.
Heinzelmännchen Brewery
Christstollen may be a classic German holiday dessert but it sure doesn't provoke glee like the notion of this wickedly sumptuous Chocolate Black Forest Stout cake. German-born brewmeister Dieter Kuhn adds his own Black Forest Stout to the recipe he's cooked up with his wife, Sheryl Rudd, making this confection an even richer source of comfort and joy. The owners of Heinzelmännchen Brewery in Sylva are fond of beer-infused recipes, including kielbasa mac and cheese casserole and a stout-stewed London broil.
Old Europe
You won't find the typical cookie-cutter
holiday treats at Asheville's Old Europe. Hungarian-born owners Zoltan and Melinda Vetro's divinely rich, European-inspired pastries and desserts are what have cemented the café as a local institution. "These spritz cookies are a simple, but tasty, part of the traditional Hungarian holiday celebration," says Melinda.