WNC's 50 Most Influential People
WNC's 50 Most Influential People:
From the Past to the Present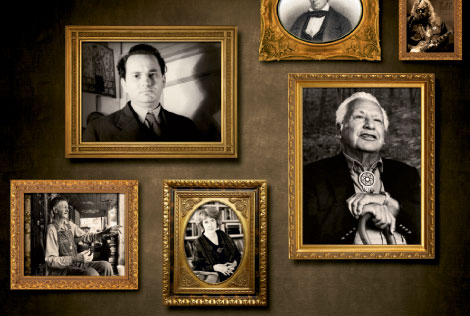 Though we live in one of the world's oldest mountain ranges, much of our sense of regional history remains rooted in the last few centuries. Within that relatively short time frame, many surprising and intriguing figures have come out of—and to—this area: Inventors, politicians, warriors, musicians, chiefs, civil rights advocates, sports heroes, preachers, business leaders, authors, educators, folklorists, and many others. Some are revered for preserving the old ways, while others are remembered for moving the region forward, yet all are direct reflections of the diverse people who live here. Each had a hand in shaping the way we look at Western North Carolina today.
 

George W. Vanderbilt 1862 – 1914

Though his family owned homes in Paris and New York City, George W. Vanderbilt opted to bring his portion of the industrial-sized fortune to Western North Carolina, where he bought roughly 125,000 acres, and built the Biltmore House. With the likes of Gifford Pinchot—who later became the first chief of the U.S. Forest Service—managing his lands and preeminent architect Richard Morris Hunt designing his house, Vanderbilt created the largest residence in the country, drawing many of the world's finest artisans to the area for its construction. Their work is still visible in buildings throughout Asheville, and the majority of his lands were eventually donated to help create Pisgah National Forest.
Senator Sam Ervin, Jr. 1896 – 1985

The Burke County lawyer served as a state judge and representative before being asked by the governor to fill the congressional seat of recently deceased senator Clyde R. Hoey. His tenure in Washington was bookended by an historic confrontation with Senator Joseph McCarthy and serving as chairman of the committee that investigated the Watergate scandal.

 
Rev. Edgar Tufts 1870 – 1923
Though he's best known as the founder of Lees McRae College, Tufts also stands out as an innovative character
who found solutions for Banner Elk's turn-of-the-century needs, including a hospital, a home for children, and even hydroelectric power.
 

Thomas Wolfe 1900 – 1938

Through highly stylized prose and autobiographical middleics, Wolfe tackled issues of race, class, and family conflicts in Asheville. Even though his first novel, Look Homeward Angel, distinguished the young author as one of the greatest Southern writers of his time, his frank representation of his hometown prompted outrage and estrangement from his friends and relatives. After his untimely death at age 37, William Faulkner noted "Wolfe tried to do the greatest of the impossible...to reduce all human experience to literature."
Hugh McRae Morton 1921 – 2006

The late owner of Grandfather Mountain, Morton was a world-class photographer, noted conservationist, and civic leader. Aside from publishing two books of his photography, his scenic, sports, and political photos appeared in almost every major magazine of his day. He preserved the wilderness surrounding the mountain he inherited from his grandfather, and his participation in Western North Carolina Tomorrow helped protect the state's highest peaks under the Ridge Law.

 
Isaac Dickson 1831 – 1918
A former slave, this business leader was the first African American to serve on the Asheville School Committee, where he facilitated greater access for black children, and cast the deciding vote to found the city's public school system.
 

Doc Watson b. 1923

Born near and raised in Deep Gap in Watauga County—and blind since infancy
—Arthel "Doc" Watson is revered as one of the world's most accomplished flat pickers. He legitimized the acoustic guitar as a lead instrument in folk, old-time, and bluegrass music. Earning seven Grammys, including a Lifetime Achievement Award, among other honors, he is noted for his smooth, baritone voice, sharp wit, good nature, and storytelling ability. Watson still performs on stages across the country, and each year, fans travel to Wilkes County to see him play at Merlefest, a festival held in honor of his late son, Merle Watson, who played with him for more than 15 years.
Lucy S. Herring 1900 – 1995

A tireless educator who worked across the state, Herring helped Mountain Street School, later renamed in her honor, become the first accredited black elementary school in Asheville. She also championed continued training for teachers and innovative teaching techniques, including the CORE program at Stephens-Lee High School.

 
Owen Meredith Ballou 1766 – 1847
Entrepreneur Owen Meredith Ballou made significant contributions to the industrialization and development of Ashe County. With iron as one of the foundations of the Industrial Revolution, Ballou established several forges, which acted as catalysts for the county's economic growth.
 

John Ehle b. 1923

Writer Harper Lee called him "our foremost author of historical fiction." But beyond documenting the Civil Rights movement (The Free Men) and his fictional accounts of early Appalachian life (The Land Breakers), Ehle highlighted human struggle during his literary career and empowered people and communities through politics. As an advisor and "one-man think tank" for Governor Terry Sandford in the 1960s, Ehle helped create innovative programs and schools, which later served as blueprints for similar initiatives across the country, including the North Carolina School for the Arts, the nation's first Governor's School, and the North Carolina Fund, a federally financed and community-organized antipoverty and Civil Rights campaign.
Thomas Lanier Clingman 1812 – 1897

Politician, soldier, and geologist, Clingman's achievements had a deep impact on this region and the state. A colorful U.S. senator, his career survived losing his seat in Congress (which he later reclaimed) and a famous duel with Alabama senator William Yancey. In 1861, he withdrew from Congress with other Southern senators, giving assurances that North Carolina would join the Confederacy. During the Civil War, he rose to the rank of brigadier general, often fighting Union forces in the eastern part of the state. But he's best known in WNC for his work mapping and recording some of the highest peaks in the area. He became infamous for his feud with geologist Elisha Mitchell; both men's names have been given to the peaks they claimed were tallest. Clingman also discovered local sources of zirconia, mica, rubies, and gems, all of which became large mining industries of the day.

 
Gertrude Dills McKee 1885 – 1948
In 1930, McKee of Sylva became the first woman elected to the North Carolina Senate. Known for her oratory skills, she drew upon her teaching background to scold senators she thought were dragging their feet on legislation, including funding for Western Carolina College (later University).
 

William Holland Thomas 1805 – 1893

The adopted son of Chief Yonaguska, Thomas became the only white man to serve as Cherokee chief and was instrumental in the establishment of the Eastern Band of Cherokee Indians. He lobbied federal and state governments to recognize the Cherokees' right to stay in Western North Carolina and purchased land for what is now the Qualla Boundary. Thomas later led a legion of Confederate soldiers, including Cherokee warriors, who are credited with fighting one of the last engagements of the war at Sulphur Springs in Waynesville.
Bascom Lamar Lunsford 1882 – 1973

The "Minstrel of the Appalachians" preserved generations of oral history and music by helping popularize regional tunes and folklore on nationwide tours. His work continues today with the annual Mountain Dance and Folk Festival in Asheville, a showcase of local music and dance that he helped organize in 1928.

 
Col. Robert Love 1760 – 1845
After serving in the Revolutionary War, Love retired from the military, was awarded local land grants for his service, and moved to present-day Haywood County. One of the area's early land speculators, he is regarded as the father of Waynesville for donating much of the property for the town's square and municipal buildings. His political career included representing the state as it ratified the U.S. Constitution and working to finalize North Carolina's western border—a move that created the state of Tennessee.
 

Junaluska b. unknown – 1868

Agreat Cherokee leader, Junaluska is remembered for his Colonial-era victory over
the Red Stick Creek Indians alongside General Andrew Jackson. Years later as president, Jackson turned his back on Junaluska and the Cherokee tribe, forcing them westward on the Trail of Tears. Junaluska eventually returned to his native mountains and was granted citizenship and land near Robbinsville in recognition for the debt the country owed him.
Junior Johnson b. 1931

NASCAR legend Robert Glen Johnson, Jr., spent his teenage years running moonshine on the back roads of Wilkes County and turning laps at local dirt tracks. After serving jail time for operating his father's distillery, he decided to focus his driving skills on the burgeoning stock car racing circuit, where he became a successful competitor, team owner, and race car builder. He is credited with developing the driving technique known as drafting. Today, he still takes pride in the fact that law enforcement never caught him when he was behind the wheel running liquor.

 
Maggie Axe Wachacha 1892 – 1993
Wachacha learned the skills that would carry her through life at a very young age. Her father taught her to write in the Cherokee syllabary at the age of seven. Her aunt and grandmother began passing on the skills of midwifery and healing by the time she was 10. As an adult, Wachacha served more than 40 years as the clerk for the Cherokee Tribal Council, often walking more than 50 miles from her home in Graham County to town to record the meeting minutes. As a midwife and healer, she is said to have assisted with more than 3,000 births and helped countless others in need of her curative skills. In the mid-80s, Wachacha was named a Beloved Woman by the tribe, a title usually reserved for the widow of the Principal Chief.
 

Robert Reynolds 1884 – 1963

Reynolds represented North Carolina in the U.S. Senate starting in 1933. He supported Roosevelt's Depression-era economic initiatives like the Civilian Conservation Corps, and is regarded as one of the leading figures in the effort to route the Blue Ridge Parkway through North Carolina, thus creating desperately needed jobs. Later, his isolationist and antiwar foreign-policy views during the years preceding World War II, were misconstrued as pro-Nazi. Facing rising unpopularity with the electorate, Reynolds retired to his hometown of Asheville in 1945.
Dr. Carl A. Schenk 1868 – 1955

George W. Vanderbilt hired this German immigrant to be the chief forester of his expansive property. Schenk was an early proponent of sustainable forestry and later opened and operated the nation's first forestry school on the estate in 1898.

 
Yonaguska approx. 1759 – 1839
A peacetime Cherokee chief, Yonaguska prevented the federal government from moving his people to Western reservations while the head of the tribe. He also became an outspoken force for temperance among his tribesmen after breaking his own addiction to alcohol.
 

Rev. Billy Graham b. 1918

Born in Raleigh, the nation's preeminent Christian evangelist, William Franklin Graham and his late wife, Ruth, made their family home in Montreat where he still spends much of his time today. From television and radio broadcasts to private consultations with almost every president since Harry Truman, Graham has provided spiritual guidance and leadership to millions around the world.
James Patton 1764 – 1845

When Buncombe County was officially created in 1792, then spanning from present-day Clay to Yancey counties, Irish immigrant James Patton owned most of the land that would eventually become Asheville. At that time, the area served as a smiddleping point for drovers who were moving livestock across the mountains to market in South Carolina. Patton did lucrative business with those passing through the area, eventually opening the town's first hotel, establishing Western North Carolina as a tourism destination in the early 1800s, and building the region's first upscale hotel in Hot Springs.

 
Tench Coxe 1755 – 1824
If your home is on land between Rutherford County and Asheville, chances are your property was once owned by Coxe, the region's biggest land speculator. After the Revolutionary War, what was largely Cherokee territory—protected by the king of England—opened up to investors. Coxe, a famed industrialist (known for encouraging the development of cotton as a cash crop of the South), columnist, and politician, bought roughly 400,000 acres of Appalachia for about nine cents per acre.
 

Solomon Lipinsky 1856 – 1925

A civic leader with a legacy of philanthropy, Lipinsky played a key role in Asheville's economic boom during the early 1900s. He may be most remembered for creating one of the state's largest department stores, Bon Marché, and his family name lives on at UNC Asheville's Lipinsky Auditorium, named after his son, Louis.
Zebulon Vance 1830 – 1894

His record of service, both as a politician and as an colonel in the state militia, made Buncombe native Zeb Vance a natural choice for North Carolina's governor during the Civil War. His political views throughout the conflict favored the state's rights over those of the Union or the Confederacy. After the war, he was arrested and held in a Washington, D.C., prison, and was later elected to the senate, but forbidden to serve since he was still on parole. But Vance was a savvy politician; he reshaped his image, calling himself the "war governor," and rode pro-Confederate sentiment all the way back to the governor's mansion, later serving in the U.S. Senate until his death.

 
John Andrews Rice 1888 – 1968
During the early '30s, Rice left his job at Florida's Rollins College to start an institution of his own—one that would redefine the rules of higher learning. He created Black Mountain College, an institute equally known for letting students create their own courses of study, as well as attracting some of the greatest minds of the time to serve as faculty, including composer John Cage, inventor Buckminster Fuller, and artist Josef Albers. Though the college only operated from 1933 to 1956, it remains revered as one of America's great experiments in higher education.
 

Frances Goodrich 1856 – 1944

After moving to North Carolina in 1890, Goodrich became fascinated with mountain handicrafts. Recognizing the economic benefits of community craft production, she promoted the revival of weaving, founded Allanstand Cottage Industries, and later donated its assets to the fledgling Southern Highland Craft Guild.
Gail Godwin b. 1937

An award-winning novelist, Godwin began writing as a child in Asheville where she
was raised by her mother and grandmother. Her body of work, including A Southern Family and A Mother and Two Daughters, has received critical acclaim, five mentions on the New York Times Best Seller List, and three nominations for the National Book Award.

 
Joyce Dugan b. 1948
A teacher and leader, Joyce Dugan was the only woman to serve as Chief of the Eastern Band of Cherokee Indians ('95-'99). A reformer, she decentralized the chief's power and created a division of the government to address cultural issues.
 

Samantha Bumgarner 1868 – 1955

In 1924, as the burgeoning music industry branched across the country to bring new sounds to its listeners, Jackson County banjo picker Samantha Bumgarner became the first Appalachian musician to be recorded for commercial sale. Until then, the popular perception of folk and mountain music was often dominated by male figures, but her breakthrough recording enforced women's role in the tradition. In fact, Bumgarner led the way for many successful female acts who came out of the Carolinas, Tennessee, and Kentucky.
Jerry Moore b. 1939

Texas native Gerald Hundley Moore demonstrated an incredible aptitude for athletics in his younger years that he parlayed into a roughly 40-year-long (and counting) football coaching career—the last 20 of which have been spent calling plays for the Appalachian State University Mountaineers. In 2007, Moore lead the team to a 34-32 win against the Michigan Wolverines in one of the biggest upsets in college football history. He has also coached the Mountaineers to three consecutive NCAA Division I national titles.

 
David Lowry Swain 1801 – 1868
This Buncombe County politician served in the state's House of Commons, where he pushed for the creation of more western counties, and at 31 he served as the state's youngest governor. Swain eventually left politics to sit on the board of UNC, where he attempted to keep the college open during the Civil War. A Unionist, he helped negotiate the surrender of Raleigh to northern General William Tecumseh Sherman, sparing the city's destruction in the process.
 

James Holshouser b. 1934

The only Republican elected governor in North Carolina since 1896, Holshouser served from 1973-1977. The Boone native's time in office marked the shift from Democratic to Republican politics in the state, and at 38 years old, he was also the youngest North Carolina governor since the 19th century. Known for his moderate stance, he worked toward developing modern transportation systems, increasing involvement with minority groups, and improving education systems and state parks.
Elisha Mitchell 1793 – 1857

One of the early geological explorers of the Black Mountains, Mitchell used barometric pressure gauges and temperature readings to determine the highest peak east of the Mississippi River. To settle a debate with Thomas Clingman over which mountain was highest, Mitchell, at the age of 64, once again climbed the peak that
was eventually named for him. Though he lost his life during that solo expedition, the research he conducted before his death confirmed his earlier findings about Mt. Mitchell's height to be correct.

 
Will West Long 1870 – 1947
Long served as a Cherokee interpreter and expert resource for anthropologists studying the tribe during the early 20th century. He amassed collections of the tribe's syllabary in an effort to preserve the language, served as a council member, and represented the Cherokee at regional festivals during a time of increased tourism throughout Western North Carolina.
 

Robert Bushyhead 1914 – 2001

A tribal leader, Bushyhead embraced his native language despite years of repressive schooling practices aimed at forcing young Cherokees to adopt white culture.
He used Cherokee storytelling traditions to transform his community, help document and preserve his once-rapidly disappearing Kituwah dialect, and inspired future generations through education, missionary work, and his 17 years as a cast member with Unto these Hills.
Horace Kephart 1862 – 1931

A highly regarded librarian, Kephart moved from St. Louis to Swain County's Hazel Creek area in the early 1900s, where he recorded Appalachian culture and dialect as the basis for his book, Our Southern Highlanders. Before his death, he lobbied the federal government for the creation of the Great Smoky Mountains National Park.

 
 

Mary Jane Queen 1914 – 2007

Known as a library of mountain culture—from Appalachian music and storytelling to gardening and traditional healing practices—Queen helped preserve and pass these old ways on to future generations, earning her numerous awards, including the North Carolina Folk Heritage Award.
Wilma Dykeman 1920 – 2006

A novelist and lecturer, Dykeman is noted for her eloquent prose, in books including The French Broad, about the people and history the region and for her progressive politics regarding equality and environmentalism.

 
 

Jarrett Blythe 1886 – 1977

As chief of the Eastern Band of Cherokee Indians—serving four nonconsecutive terms between 1931 and 1967—Blythe worked to have the Blue Ridge Parkway routed through the Qualla Boundary. The move promoted tourism as a means to achieving economic prosperity and cultural preservation.
Edwin Wiley Grove 1850 – 1927

Each year, thousands of visitors stay at the grand Grove Park Inn named for this Tennessee native, but probably few of the guests can tell you how the man who built it earned his fortune. Grove invented a concoction for the treatment of malaria, Grove's Chill Tonic, as well as the world's first cold tablets, Grove's Laxative Bromo Quinine, and sold them through his Paris Medicine Company. In 1890, the public bought more bottles of his tonic than Coca-Cola. Ironically, he first came to Asheville in 1897 to relieve his bronchitis. His wealth allowed him to follow varied business and philanthropic pursuits, including buying the principle share in the Atlanta Georgian newspaper, later the Atlanta Journal-Constitution, and building Grove High School, the first privately endowed public high school in his home state. He died two years before completion of his Grove Arcade, considered by some to be the first indoor shopping mall.

 
 

Charlie "Choo-Choo" Justice 1924 - 2003

One of the most celebrated North Carolina football players, Justice, an Asheville native, earned a reputation (and nickname) for his unsmiddlepable rushes and agility as a halfback for the University of North Carolina at Chapel Hill. A two-time runner-up for the Heisman Trophy, he was named MVP in the 1950 College All-Star Game, where he led his team to victory over the Philadelphia Eagles. His record of throwing and running a combined 64 touchdowns and 4,883-yards stood for nearly 40 years.
OliveTilford Dargan 1869 – 1968

Olive Tilford Dargan was a celebrated Southern author whose experiences living in Appalachia, including her farm along the Nantahala River, inspired her to document both the beauty of the mountains and plight of its poor. She provided a voice for the female working class during the 1930s and wrote several books of poetry. Dargan's best-known work of fiction, From My Highest Hill, describes the people and culture of the region to disprove unfavorable stereotypes.

 
 

Warren Haynes b. 1960

If bluegrass is the mountain music of choice, then jam bands come in a close second. And no one from WNC has made a better career in this subset of rock than Haynes. In the early '90s, the former Allman Brothers Band guitarist formed Gov't Mule—one of the biggest improvisational Southern rock acts in recent decades. For the past 20 years, Haynes has also organized the annual Christmas Jam, where he invites middle-name musicians to Asheville for a concert benefiting local charities.
Augustus Merrimon 1830 – 1892

A district attorney serving Western North Carolina, Merrimon pressed the issue of wartime atrocities committed in the Shelton Laurel Massacre to Governor Zebulon Vance—an event that widened the rift between the state and the Confederacy. After the war, he was elected judge of the Superior Court, served in the U.S. Senate, sat as Chief Justice of the state Supreme Court, and later became an influential figure in the state's conservative party.

 
 

Ray Hicks 1922 – 2003

Hicks may go down in history as Western North Carolina's best storyteller. From his modest home in Beech Mountain, he kept the region's jack tales and legends alive in the old Scots-Irish dialect. Folklorists, linguists, historians, and enthusiasts of old-time culture found their way to his front porch to learn firsthand about early Appalachian life. He was honored by the National Endowment for the Arts, and many of his stories can still be heard on folklore albums.
Bob Moog 1934 – 2005

While in college during the 1950s, Moog started selling kits to build a futuristic-sounding electronic instrument called the theramin. But Dr. Moog's background as an engineer and classical musician collided in the '60s when, with the help of experimental jazz artist Herbert Deutsch, he developed the first keyboard synthesizer. The instrument revolutionized music, and, today, the Moog Synthesizer (manufactured in Asheville) is still considered an industry favorite.

 
 

Carl Sandburg 1878 – 1967

One of the great American authors and poets of the 20th century, Sandburg won his first Pulitzer Prize for Abraham Lincoln: The War Years and his second for The Complete Poems in 1950 while living in Flat Rock with his wife, Lillian.
Dr. Mary Sloop 1873 – 1962

In the early 1900s, Sloop, with the help of her husband, Eustace, brought education and prosperity to Crossnore. There, they built a hospital, now called Sloop Memorial Hospital, and founded The Crossnore School for Children. She played a major role in building the town's Presbyterian church, and her lobbying efforts brought what is now U.S. 221 through Avery County. Mary's creation of the Homespun House, a weaving center dedicated to providing jobs for, and teaching women, continues today as the Crossnore Weavers & Gallery.

 
RESOURCES:
Editor's Note WNC magazine would like to thank Dr. Daniel Pierce, History Department Chairman, UNC Asheville; Dr. Richard Starnes, History Department Head, Western Carolina University; Andrew Denson, Assistant Professor of History, WCU; Dr. Michael Krenn, History Department Chairman, Appalachian State University; Dr. Karl Campbell, History Professor, ASU, for their contributions to this list.