Wisteria Southern Gastropub
Wisteria Southern Gastropub: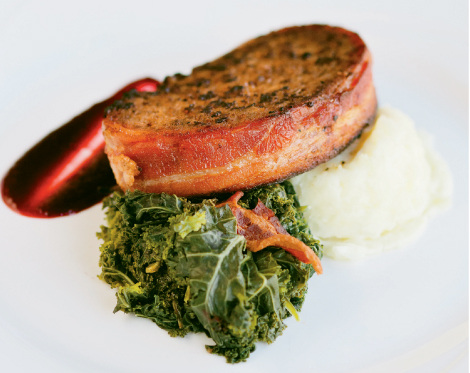 In a small stone building surrounded by crepe myrtle (not wisteria, mind you), Wisteria Southern Gastropub is entering its sophomore year on the Morganton dining scene with a formidable fan base.
In a town where the farm-to-table movement is just now taking root, chef and co-owner Obie Ferguson is something of a pioneer, winning over the crowds with the likes of chicken and waffles Benedict and pork chops with grits, greens, and sweet tea chop sauce.
Inside, Ferguson and his mother and business partner, Linda Kennedy, have created a Southern Living-esque cottage atmosphere with painted farm chairs and tables set against celery green walls adorned with classical realist canvases by local painter Frances Hairfield.
Every few months, the work of another artist goes up, but the arid landscapes of Umbria made me crave the Blood Orange Fizz, a specialty cocktail of Solerno, gin, blood orange, lemon, soda, and rose water. Tart and refreshing with a slightly bitter after-note, the cocktail bodes well for other original libations on the drink list. The bar, as well as the kitchen, stays true to local ties, featuring Cardinal Gin distilled in Kings Mountain, Covington Sweet Potato Vodka from Snow Hill, and Carriage House Apple Brandy out of Lenoir, as well as local brews and a plentiful wine list.
The menu is simply fun, with Cheerwine-basted meatloaf, Carolina squab and squash casserole, watermelon gazpacho, and other seasonal creations that change weekly or even daily—so don't blink. There are pork chops and steaks from Hickory Nut Gap Farm, a hoppin' John veggie burger, cast-iron Ashley Farms chicken, and other Southern classics revamped with Ferguson's signature twists. For instance, his pan-fried trout is dusted with fennel pollen and served with a stewed heirloom tomato and charred North Carolina peach. A roasted pepper and peach soup is piquant with smoky undertones and a spicy kick, followed by a pleasantly acidic finish from the tart stone fruit.
An ample starter of flaky and light Sunburst Farm trout cakes could serve as an entrée, and is topped with corn succotash and a smooth house tar­tar enhanced by diced shallots. Delicate butter lettuce with a whisper of vinaigrette rounds out this winning dish. Fried oysters are paired with a loose grit cake that soaks up a rich thyme jus, alongside savory shiitake mushrooms, caramelized Vidalia onions, and bits of house-cured bacon. Hoppin' John and mac 'n' cheese blended with braised greens are among the homey sides, and the delicate corn pones come with three flavored butters—peach, bacon, and cracked pepper.
Don't skip dessert. My indulgence was huckleberry pie with subtle hints of honey and lemon and a flaky, buttery crust. I couldn't pass up the cool and custardy buttermilk pie either—all a window into one chef's take on classic Southern cookery.         
Wisteria Southern Gastropub
Morganton
108 E. Meeting St.
(828) 475-6200
www.wisteriagastropub.com
L, D, SBR (Closed Monday); $$$