Wine Ruels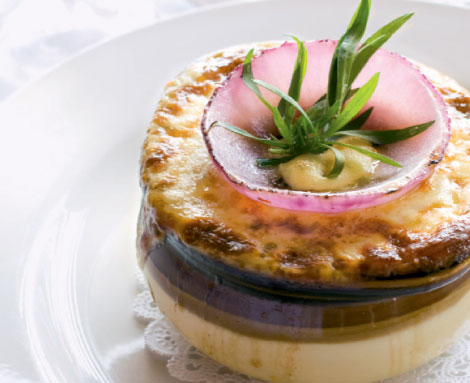 Four years ago, the notion of a wine bar in Marion was far-fetched. But today, Wine Ruels holds tenure as a town gathering spot—the kind of place where regulars chat over glasses of Italian whites, French reds, and cocktails. Local art adorns the brick walls and charming mismatched farmhouse tables are interspersed with racks of wines for sale, starting at $10 a bottle.
"We didn't see anything like this in Marion before we opened," says owner Matt Fletcher, originally from Syracuse, New York. The self-professed front-of-the-house man has always loved to hang out with the chefs wherever he was working—be it the Hyatt Regency in Honolulu or most recently The Boathouse in Asheville.
These days, Fletcher alternates between pouring drinks behind the bar and collaborating with Chef Chris Gagnon to create new takes on old-world cuisine. His wife, Cindy, makes the desserts and bakes jalapeño-cheddar and garlic-herb baguettes, among other flavors.
This evening, lasagna, fried flounder, and halibut cheeks are specials at the bar that adjoins the dining room, but patrons here can also order from the formal menu. Large fried green tomatoes come liberally battered, doused in a delightful smoked-tomato cream sauce that carries a spicy kick. A few dollops of goat cheese add dimension and tang. Shrimp and salmon wontons hold a deep flavor of the ocean, which is complemented by a delicate house-made aioli. An Austrian Hillinger pinot grigio is a surprisingly fruity accompaniment.
Friends at our table dive into the shrimp and bacon-cheddar grits, a magnanimous portion that proves to be rich and spicy. And the fried chicken stuffed with goat cheese and mushrooms served with a side of mashed potatoes soothes the ache for home cooking. In a season filled with sugar plums and other sweets galore, we forgo the banana crème brûlée and chocolate bourbon pecan pie, and order another glass of wine. After all, that's the main event here.
Wine Ruels, 105 S. Main St., Marion; (828) 652-2000; www.wineruels.com
RESOURCES:
Photograph is Mon Chéri French onion soup with tarragon, sherry, and aged provolone