A Welcoming Table
A Welcoming Table:
Native American and Southern Appalachian cuisine meet at the home of a Cherokee couple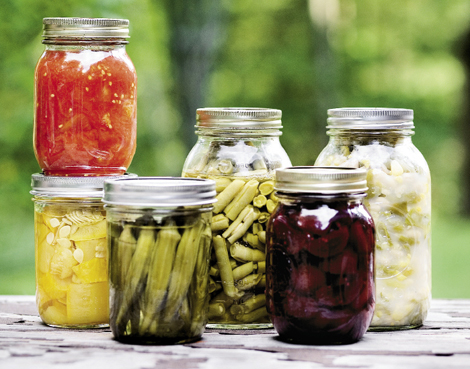 "I'm afraid of snakes," says Johnnie Sue Myers, explaining why picking the wild blackberries for her cobbler is a chore carried out by her husband, Soney, or one of their five grown boys who live close to home in Cherokee. They also pitch in to gather greens, such as sochan and poke, as well as ramps that crop up in the spring, and pull in the autumn harvest of corn, squash, okra, tomatoes, and more from the Myers' mountainside garden. Soney is also an adept hunter, bringing home all manner of wild game including deer, bear, turkey, and rabbit.
That's where Johnnie Sue comes in. She assists with cleaning and preparing the meats, cans the vegetables for winter, and cooks bountiful meals for regular family gatherings. This Native American matriarch is so well versed in cooking wild game and traditional Cherokee dishes with Southern Appalachian influences that she attracts more than just family to the dinner table. Andrew Zimmern, host of the Travel Channel's Bizarre Foods show, sought out Johnnie Sue in 2009 and enjoyed her prize-winning bear meat. And at the urging of family, she published a cookbook, The Gathering Place, the following year.
The Myers' home truly is a gathering place, particularly on evenings like tonight, when family and friends, including Chief Michell Hicks and his wife, Marsha, and young daughters, come together to enjoy an early autumn feast of venison, sumac-seasoned trout from the Eastern Band's trout farm, vegetables, and wild blackberry cobbler.
Before guests arrive, Johnnie Sue prepares the cobbler, working swiftly to roll out the crust. "I've found the uglier it is, the better it tastes," she says. A colorful stack of canned vegetables that she's pulled from a storage shed sits nearby. Emptying a jar of wild blackberries into a pot, she reflects on the first time she made the dessert when she was about eight years old. "I prepared the cobbler, stuck it in the oven, and then went swimming in the Oconaluftee River," she recalls. Luckily the house didn't burn down, but it was a lesson she never forgot: Always stay with the food when you're cooking.
Johnnie Sue grew up in the 1940s, when many Cherokee traditions were falling by the wayside. She learned to cook quick meals from processed foods and much of what she made was typical American or Southern Appalachian cuisine. It wasn't until she and Soney were raising five sons that practicality called for a homesteading lifestyle, giving her the opportunity to rediscover her native culinary roots.
"I always thought of mom's cooking as Southern Appalachian with a big dose of Cherokee," says son, Charlie Myers, who works with the Cherokee Preservation Foundation. His favorite dish is Johnnie Sue's potato salad with ramps. "I could eat a gallon of it."
As diners arrive, daughter-in-law, Pam, and grandson, Matthew, head to the kitchen, assisting with the venison and gravy, peppery sochan greens, squash casserole, and creamed corn. Matthew, who's now 16, knows how to make the corn bread just right. "He's been helping in the kitchen since he was five," notes Johnnie Sue. A traditional Cherokee dinner might include bean bread instead, but Johnnie Sue prefers the buttery corn bread.
Earlier in the day, Soney foraged for the wild sumac berries that Johnnie Sue ground into a rust-colored spice for the fish. The tart flavor akin to lemon makes a perfect rub for the trout, which broils quickly.
The venison-cubed steaks don't take long to cook either. After years of trial and error, Johnnie Sue learned how to temper the gamey taste and maintain its tenderness. Her book offers tips on how to tenderize the meat and avoid overcooking. She uses deer to make meatloaf, stews, burgers, and even sweet and sour meatballs.
As guests take their seats around the table, dishes are passed, plates are filled, and the clinking of glasses filled with sweet tea signals the commencement of yet another shared meal at the gathering place.
Venison Meat Loaf
(Serves 6 to 8)
1 lb. ground venison
2 eggs, beaten
1/2 cup ketchup
2 Tbsp. seasoning salt
1 tsp. paprika
1½ cups instant oatmeal
1 8-oz. can sliced mushroom, drained (optional)
1/2 cup yellow onion, chopped (optional)
Preheat oven to 375°F. Place all ingredients in a large bowl and mix well. Place meat mixture on sheet of aluminum foil sprayed with extra light virgin olive oil. Form into a loaf, then wrap edges of foil around, pinching the ends together. Place on a sheet pan and cook for 45 minutes. Fold back foil enough to expose top of meatloaf and continue cooking for 15 minutes. Cool about 10 minutes before slicing.
Sweet & Sour Venison Meatballs
(Makes about 35 Meatballs)
Meatballs
1 lb. ground venison
Extra virgin olive oil spray
2 tsp. seasoning salt
1 tsp. salt
Black pepper, to taste
2 eggs, beaten
1/2 cup onion, finely chopped
Sweet & Sour Sauce
1 8-oz. jar grape jelly
1 8-oz. jar cherry jelly
2 Tbsp. lemon juice
1 cup hot ketchup
1/2 cup chili sauce
½ cup cornstarch
Preheat oven to 350°F. In a bowl, mix meat, salts, pepper, eggs, and onion. Pinch off enough meat mixture to form one-inch balls. (Deer meat has a lot of water in it, so the meatballs will shrink after cooking.) Place the meatballs on a cookie sheet sprayed with olive oil to prevent sticking. Cook for 15 minutes. Remove from oven and place in slow cooker on low heat and cover. (The meatballs can also be fried in two tablespoons of olive oil, but must be turned often to insure proper cooking.)
To make the sauce, melt grape and cherry jellies in a pot over medium heat for about 10 minutes, stirring constantly. Add lemon juice, hot ketchup, and chili sauce. In a small bowl, add small amount of water to cornstarch to dissolve into a thin paste, then pour into the jelly mixture, stirring constantly until the sauce thickens. Reduce heat and simmer for five minutes. Pour gently over the meatballs in the slow cooker, stir, and replace lid. Simmer for about 20 minutes.
Tip: When working with wild game, Johnnie Sue recommends placing ground venison in a freezer bag and placing in refrigerator overnight to bleed out for no less than eight hours. This method tempers the gamey taste and helps maintain tenderness.