Welcome to Almost Asheville
Welcome to Almost Asheville:
WNC's boomtown has mighty good neighbors—meet 10 nearby communities prized for their own style of livability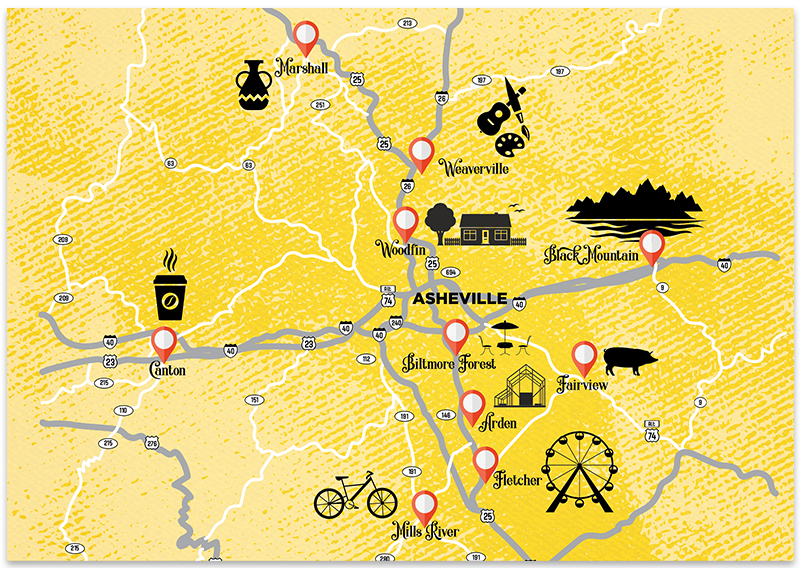 Top retirement destination. Outdoor adventure hotspot. Art, music, food, and beer mecca. Asheville's accolades keep rolling in and strengthening the city's pull. Intrigued by the mix of arts-oriented culture, award-winning food, and ready access to myriad natural wonders, people from around the country are making the trek to put down roots against Asheville's backdrop of rolling blue mountains.
As the hype—and the city—grows, folks from near and far are also looking to the lesser-known locales circling Asheville for a place to call home. Check out these 10 commutable communities—all within 20 miles of Asheville, and all offering their own distinct charms, perks, and promise.
Arden - Buncombe County, pop. 20,000
With some 20,000 residents, Arden is the most populous almost-Asheville community while still being unincorporated. Accessible by Interstate 26 and thoroughfares including Hendersonville, Sweeten Creek, and Brevard roads, its 10-mile jaunt to Asheville (12 to Hendersonville) flies by. With a pleasant blend of rural and suburban settings, something to do around each corner, and plenty of diverse, quality restaurants, it's easy to understand why people are drawn here. Neighborhoods such as Biltmore Park are close enough to schools for students to walk, and the adjoining Biltmore Park Town Square is bursting with lively shops, bars, eateries, and a multiplex theater. Arden is rife with ranch- and farmhouse-style homes, along with new apartment complexes offering varying amenities.
In Arden, dinner options seem limitless. A number of Asheville favorites have satellite locations in the area, including 12 Bones Smokehouse, Biscuit Head, Rocky's Hot Chicken Shack, and White Duck Taco. Lower-profile but building buzz are Abuela's Little Kitchen, Post 25, Wild Ginger Noodle Bar, and Ivy Road Cafe and Kitchen.
Arden also has the goods for nature lovers of all ilk. Lake Julian Park, Lakeview Putt & Play, and the Bent Creek Experimental Forest are all great spots for a day out with family. For bikers, hikers, and flower lovers alike, the North Carolina Arboretum offers 434 acres of wonder. Thanks to a convenient Blue Ridge Parkway entrance right by the Arboretum, hikes like the Hard Times Loop, Mount Pisgah, and Frying Pan Lookout Tower are just a short drive away. In the warmer seasons, prime access to French Broad River put-ins (and companies like Zen Tubing) make Arden a primo spot to start a daydream of an inflatable float. Bent Creek River Park, across the street from the Arboretum, is likewise a choice launching site for kayaks and paddleboards.
Biltmore Forest - Buncombe County, pop. 1,500
The town of Biltmore Forest just goes to show that size does not negate splendor. The community has been thriving on less than three square miles of land since the 1920s. It's settled adjacent to the Biltmore Estate and reflects the famous chateau's iconic grandeur. Beautiful vintage and modern homes alike sit on tree-lined streets, giving the area an upscale atmosphere with a strong sense of privacy. With downtown Asheville only five miles away, the commute from Biltmore Forest is one residents are lucky to make.
Biltmore Forest is located off Hendersonville Road, making it easy to get to any side of town quickly. Nearby restaurants give nearly endless options to suit your mood. On Hendersonville Road alone, family-owned Apollo Flame Bistro comforts with Mediterranean cuisine and Juicy Lucy's Burger Bar and Grill serves exactly the mouth-watering meal the name promises. A Ruth's Chris Steak House welcomes fans of upmarket hearty fare. Round Earth Roasters, a local coffee shop, provides drive-thru handcrafted drinks and freshly baked goodies on the way to work.
Neighboring Biltmore Village has more culinary standouts, including Fig and Corner Kitchen, and is renowned for its boutiques and antiques establishments.
Within the town are Greenwood and Rosebank parks, perfect for relaxed time outdoors. Both have playgrounds and are open from dusk to dawn. The classy-posh Biltmore Forest Country Club has pools, tennis courts, dining rooms, bars, a fitness center, and a Donald Ross-designed golf course that wends through parts of the town.
Canton - Haywood County, pop. 4,500
Like many other towns in the area, Canton sees its share of tourism but its diverse economy is based on much more. The locals are proud to be part of a history of employment through a paper mill. Even today, Evergreen Packaging Inc. employs 1,200 people. In fact, if you're drinking from a Starbucks cup, chances are that a local helped make it. While the mill was once the main aspect of Canton known to the rest of WNC, now the town touts its ongoing and multifaceted development. Canton's downtown once only saw 20 percent occupancy; now it's into the high 80s. Around town, it's known as the Canton Comeback and thanks to a number of local businesses that have made themselves a home along the Pigeon River, including Bearwaters Brewing Company, the Southern Porch Restaurant, Pigeon River Mercantile, and Papertown Coffee.
Here, folks understand that the surrounding mountains can be the greatest resource. Fishing is wildly popular thanks to ready access to top trout rivers, and this spring, the town will open a cutting-edge new bike skills park at the in-the-works Chestnut Mountain Nature Park.
Black  Mountain - Buncombe Country, pop. 8,200
An intergenerational community that has burgeoned thanks to tourism, convenient proximity to Interstate 40, and deep local history, friendly faces abound in Black Mountain. Time-honored brick buildings hint at the backstory of the town dubbed "Western North Carolina's Front Porch," and the views of seemingly endless mountains nearby are timeless. 
Black Mountain offers a relaxed environment rooted in a rich, creative past that centers both the arts and giving back to the community. In fact, the bulk of the beautification around town is done by a committee of volunteers who want to honor their home. Each year, throngs of people seek Black Mountain out for leaf peeping, a weekend at the LEAF festivals at Lake Eden, or a visit to the Sourwood Festival, which began as a means to support charitable causes and has grown to draw up to 40,000 people every August to celebrate sourwood honey and the joys of small-town life.
It takes no time after getting off the interstate for Black Mountain to start parading its storied businesses and restaurants. Berliner Kindl German Restaurant is a favorite along with Tyson Furniture Company, which has been open for 75 years and offers thousands of furniture options across its 70,000 square feet. Cherry Street, the main passage through town, is still a can't-miss spot, bursting with anchors of the community: Veranda Cafe pledges the best lunch in town and Mountain Nest features curated art by regional artisans. Just a minute away on West State Street, Town Hardware & General Store stretches through three buildings and provides customers with basics and beyond. Head in for cookware, toys, and something playful to liven up a garden, not to mention quintessential hardware necessities. Other community pillars include Black Mountain Bistro, Coach House Seafood and Steak, and Seven Sisters Gallery.
Of course, no WNC town would be complete without ample outdoor options. Swimmers and walkers alike enjoy Lake Tomahawk, golfers will find some quiet fun at the Black Mountain Golf Course, home to one of longest par 6 holes in the world, and  local hiking trails abound, including many on the nearby Blue Ridge Parkway.
Fletcher - Henderson County, pop. 8,200
Just over the dividing line of Buncombe and Henderson counties sits Fletcher, an idyllic mix of suburban and rural. Those who arrive in WNC via the Asheville Regional Airport catch a glimpse of the town, as do those who visit the colorful fall tradition of the North Carolina Mountain State Fair at the WNC Agricultural Center. Fletcher's popularity is on the rise, but despite newfound growth it has retained a calm and modest demeanor. The safe and friendly environment makes it an ideal place for professionals, retirees, and families alike. For those with school-age children, highly rated public, private, and charter schools are all in-district.
Fletcher offers no shortage of southern hospitality. Kosta's Kitchen, which opened in 1981 and recently added a porch for outdoor dining, provides diner-style home cooking. Blue Sky Cafe is another longstanding favorite, boasting meals with fresh ingredients in a creative and eclectic environment. More recent additions include Fletcher Village Bakery and Cafe, the perfect place to grab an egg sandwich or coffee on the way to work, and seafood from Surf N Brew.
No matter the time of year, Smiley's Flea Market is a favorite local flurry of activity on weekend mornings as a thousand vendors sell goods of all kinds. Down Hendersonville Road, an old brick building that once held a feed supply store has been converted into a community center called Feed & Seed. On Friday and Saturday nights, it becomes an Appalachian music hall overflowing with bluegrass and country tunes. Bill Moore Community Park, named for a former Fletcher mayor, is a hotspot for people and pets. Baseball fields, soccer pitches, playgrounds, a disc golf course, and miles of walking trails along Cane Creek are all nicely curated and open to the public while there's daylight in the sky.
Fairview -  Buncombe County, pop. 2,900
Fairview features laid-back rural splendor just about 10 miles southeast of Asheville. Living here, prioritizing buying local is easy. Meat from Hickory Nut Gap Farm, produce from Flying Cloud Farm, and dairy from Looking Glass Creamery are all renowned and a veritable skip away.
For local dining, Fairview favorites include comfort food for all three daily meals at the Local Joint, the eclectic and wide-ranging menu of Angelo's Family Restaurant, and Sky Mountain Pizza's specialty subs, spaghetti, and of course, pizza. A sweet treat from Hilltop Ice Cream or a drink from Turgua Brewing to wash dinner down may make it a perfect night. Whistle Hop Brewing Company is also close by with added opportunities for family- and pet-friendly fun including a six-hole mini-golf course, disc-golf Connect 4 game, and outdoor half-scale bowling alley. For outdoorsy types, Bearwallow Mountain Trail is a short hike with a picturesque, full-circle view, about 20 minutes away, and Chimney Rock State Park is a nature lover's wonderland at a similar proximity.
Mills River -  Henderson County, pop. 7,300
To witness the view from the Blue Ridge Parkway's Mills River Valley Overlook (milepost 404.5) is to see why Mills River residents love calling their community home. With the Mills River, a tributary of the French Broad River and namesake of the town, babbling against the sight of the highest peaks in Henderson County, no word comes to mind more than tranquil. It's an area characterized by rich agriculture with deep family roots, as many residents have ancestral ties to the land that go as far back as the 18th century. In 2003, the town incorporated to ensure that the farmland and businesses, as well as the history, were protected.
Mills River might just be giving downtown Asheville a run for its money when it comes to breweries. Bold Rock Cider, Mills River Brewing Co., and Burning Blush Brewery are all within a three-minute drive of each other, and Sierra Nevada's Taproom and Restaurant is only five miles up the road. On a hot day, Mills River Creamery delivers with homemade ice cream made with milk from their own cows and locally procured fruits and flavors. Around the corner, Mills River Park's 48 acres offer multi-use trails, playgrounds, basketball and tennis courts, and river access with a tubing drop-in. Ample fishing spots can be found around town, and for something a little more rigorous, nearby Pisgah National Forest contains innumerable options for hiking, horseback riding, biking, and waterfall viewing. 
Woodfin -  Buncombe County, pop. 6,600
Heralded as one of the safest towns in North Carolina, Woodfin is situated between Asheville and Weaverville. Here, choice French Broad River access points, top-notch restaurants, and endearing shops help complete the draw. 
Favorite dining options include Baked Pie Company, Nick's Grill, and Bellagio Bistro. The Shops at Reynolds Village is a great spot for finding gifts from independent businesses. Outdoors enthusiasts are excited about the Woodfin Greenway and Blueway, ongoing projects that, ideally, will one day connect Woodfin to Asheville's River Arts District. And stroll through the Woodfin Library Trail, a network of tiny free libraries shaped like birdhouses and found throughout Woodfin's parks.
Marshall - Madison County, pop.800
With a population short of a thousand, Marshall is the smallest town in our roundup—and it's quite possibly the quirkiest, in the very best ways. What started as an important stop on the Buncombe Turnpike, which connected South Carolina to Tennessee via 75 miles of trading routes in WNC, is now a picturesque river community that's focused on sustainable growth. The quaint downtown is full of historic buildings, many of which have been renovated in the past decade with respect for their origins in mind. Dining options are steadily growing, and there's a rich arts community in town and throughout Madison County.
Blending the old with the new is a familiar theme uniting the businesses of downtown Marshall. The Old Marshall Jail Hotel, once the county lockup, now houses a market, bar, and restaurant on the first floor and a boutique hotel on the second. Star Diner provides fine dining in what used to be an old gas station, and Madison County's first brewery, Mad Co. Brew House, joins WNC's love of craft beer with a view of the old rail line running against the curves of the French Broad River. Two annual arts events, Art on the Island in September and the Marshall Handmade Market in November, both provide direct access to artisans and their goods. 
Time outdoors is part of the Marshall lifestyle. The Appalachian Trail runs through Madison County, and there are a number of access points not far away. Closer to town, Blannahassett Island proves one of the more unique offerings. It is, indeed, an island in the French Broad. The old Marshall High School and community center were once housed there; now, a welcoming park includes a walking trail, playground, fishing pier, and outdoor stage. For something a little more unconventional, the annual Mermaid Parade and Festival draws costumed locals and visitors to celebrate the legend of the mythological sea creature.
Weaverville -  Buncombe County, pop. 4,000
The Mayberry-esque trope of running into a neighbor at the post office can be found within 10-miles reach of Asheville in Weaverville, a walkable, close-knit, town with rife with arts and music. The goal of the Weaverville Business Association, says board president Bill Boughton, is to foster and strengthen the sense of community in the vibrant small town.
Downtown, there's no going wrong when searching for a bite: try a tasty pastry and organic latte at Well-Bred Bakery, or Twisted Laurel's Mediterranean-style gyros, platters, and pizzas, or classic sandwiches and starters at Main Street Grill, or Glass Onion's high-class Italian dinner. For some home cookin', drop by Tommy's Family Restaurant or CA's Diner. When walking around after eating, Miya's Gallery is open for perusing area art. The Weaverville Nature Park is also a gem in the middle of downtown.
In the summer, Weaverville hosts popular outdoor music series Music on Main. Just outside of downtown, five-acre Lake Louise welcomes visitors and locals alike. The surrounding park is an idyllic spot with a playground, walking paths, cookout areas, and permitted fishing. Nearby, a new community center has replaced a decades-old building once in disrepair, and while the pandemic started soon after the center was finished, it promises to be a vibrant space for programming of all types. Nearby, the Vance Birthplace is an ever-popular attraction for history buffs, and Navitat Canopy Adventures puts thrill seekers on cloud nine.
RESOURCES:
Photographs (arden) the NC Arboretum; (biltmore forest) courtesy of Historic Biltmore Village Partnership; (black mountain) Buncombe County Government; (Canton) courtesy of Papertown Coffee; (fairview) courtesy of Hickory Nut Gap Farm; (fletcher) courtesy of NC Department of Agriculture and Consumer Services; (marshall) Lauren Rutten; (mills sriver) US Forest Service; (weaverville) Robert Mitchell; (woodfin) courtesy of Baked Pie; Photographs courtesy the NC Arboretum; (Lake Julian Park) Buncombe County Government; (Biltmore park town square) Biltmore Farms, LLC; Zen Tubing; (12 bones) by Gus Cutty; courtesy of Ivy Road Cafe and Kitchen; Photographs courtesy Historic Biltmore Village Partnership; Juicy Lucy's Burger Bar; Photographs courtesy Papertown Coffee; (Chestnut Mountain Park) by Adams J. Wood; (town & mural) town of Canton; Photographs courtesy Mountain Nest; (leaf) Meg Locke; courtesy Veranda Cafe; (lake Tomahawk) Town of Black Mountain; (town) Derek Olson Photography; Photographs (fair) courtesy NC Department of Agriculture & consumer services; (bearwallow) Conserving Carolina; Hickory Nut Gap Farm; Buchanan Construction; Turqua Brewing; Blue Sky Cafe; Photographs (looking glass waterfall & biking) by Cecilio Ricardo/US Forest Service; (glass) by Patrick McCarthy; (park) town of Mills River; (brewery) Sierra Navada; Photographs (woodfin greenway)by Luke Williams; (waterfrount) by Lauren Rutten; (mad co.) by Nick Burrows; (marshall handmade) by Eliza Bell Photography; (pie) Courtesy Baked Pie Company; (library trail) Town of Woodfin; Photographs (lake ) by Robert Mitchell of Hummingbird Aerials; (downtown) by Rob Mangum; (music) by David Simchock; (zipline) coutesy Navitat; (food) Courtesy Main Street Grill; (Platt home) Kevin Meechan